June may have given away to July, but there's still a month between now and the start of Tennessee's preseason practices.
Why not pass what remains of the offseason quicker by taking an advanced look at the teams awaiting the Vols during their debut season under Jeremy Pruitt in 2018?
This month, GoVols247 will continue to take a longer look at Tennessee's 12 opponents and some of the best players and position units awaiting the Vols this season. It's now time to continue giving each of the Vols' opponent an in-depth look. We've previewed West Virginia, East Tennessee State, UTEP, Florida, Georgia and Auburn, Tennessee's first five opponents in 2018.
Next up is Alabama, which visits Neyland Stadium on Oct. 20 — the Third Saturday in October rivalry is on its rightful spot on the calendar this year.
GoVols247 takes a longer look at the Crimson Tide.
(ENJOY VIP ACCESS TO GOVOLS247 WITH A FREE SEVEN-DAY TRIAL)
2017 SEASON REVIEW
Alabama opened the season at No. 1 and stayed there throughout the regular season until losing the Iron Bowl to Auburn. Though the defeat cost the Tide the SEC West and a shot at a fourth straight conference crown, their dominance in the regular season allowed them a mulligan for stubbing their toe. Alabama won all but two of its 11 regular-season games by at least 14 points, the closest shaves with a loss coming at Mississippi State, when the Tide won on a touchdown pass with 25 seconds left, and at Texas A&M.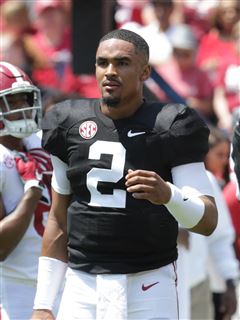 So while Alabama won neither its conference title or even its own division, it also didn't give 55 points and lose by 31 to Iowa and thus got the nod over Ohio State for the final College Football Playoff spot. After dominantly dispatching Clemson the semifinal, the Tide rode the spark provided by a quarterback change and Georgia's own skittishness to rally from a second-half deficit and win dramatically in overtime on a walk-off touchdown pass from Tua Tagovailoa to DeVonta Smith.
It was Alabama's fifth national title under Nick Saban and the fourth Pruitt has been involved with — Tennessee's new coach remained the Tide's defensive coordinator for the two CFP games.
QUARTERBACK DRAMA!
The elephant in Alabama's football program this offseason (pun not intended) has been how the quarterback situation is going to play out.
Saban made the bold but necessary move to switch from Jalen Hurts, 26-2 as a starter, to five-star freshman Tagovailoa, who had attempted 53 passes in eight appearances as the backup last season, at halftime of the CFP Championship Game, and it worked as the left-hander ignited Alabama's scuffling passing game and got their offense going after Georgia had shut it down in the first half.
So what happens next? Well, the competition never really got off the ground during spring practice as Tagovailoa suffered an injury to his throwing hand that sidelined him for essentially the entirety of the spring. Hurts is as proven a commodity as they come, but he was upstaged in Alabama's spring game by redshirt freshman third-stringer Mac Jones, who threw for 289 yards and two touchdowns while Hurts was sacked seven times and struggled against Alabama's first-team defense (19-of-37 passing for 195 yards and one interception).
What happened on the field was less juicy than Hurts's father declaring publicly that his son more or less would leave Alabama and be "the biggest free agent in college football history" if Tagovailoa wins the job, tossing a wrench of drama into a program defined by its lack of such controversy during this dynastic run.
How it plays out between now and Alabama's season opener against Louisville is one of the most fascinating storylines in college football.
REPLACING RIDLEY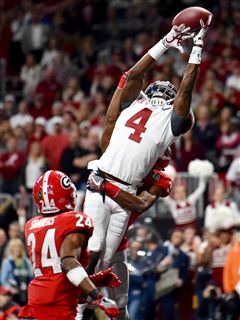 Whoever wins the quarterback job will be able to rely on a physical offensive line led by Jonah Williams and Ross Pierschbacher, a stable of skilled running backs led by Damien Harris and Najee Harris (no relation) and a defense that allows for plenty of room for error, but Alabama will need someone to step up and fill the void left by top wide receiver Calvin Ridley.
The No. 26 overall pick of the 2018 NFL Draft by the Atlanta Falcons, Ridley led the Tide with 63 catches for 967 yards and five touchdowns. Alabama's second-leading receiver in terms of receptions was running back Bo Scarbrough, who caught 17 passes. Freshman Jerry Jeudy was No. 2 in receiving yards with 267.
Jeudy, title-game hero Smith and six-touchdown freshman Henry Ruggs III, are second-year wideouts expected to step up and soak up the targets Ridley got in 2017. The Tide also have a trio of reliable tight ends who are threats in the passing game and would be wise to involve either Harris in that aspect of the offense as well. Keep an eye on four-star freshmen Jaylen Waddle and Xavier Williams.
THE MORE THINGS CHANGE ...
Alabama will have six new assistant coaches in 2018 and had to replace both coordinators after Pruitt took the Tennessee job and offensive coordinator Brian Daboll returned to the NFL as the offensive coordinator of the Buffalo Bills.
Saban elected to go with in-house promotions for the coordinator positions.
Tosh Lupoi, a strong recruiter and former defensive line coach at California and Washington, was the Tide's co-coordinator and outside linebackers coach in 2017 and will take over Pruitt's coordinator duties in 2018. Pete Goulding, the defensive coordinator at Texas-San Antonio the past two seasons, will take on a co-coordinator title while coaching the inside linebackers. Saban poached former Missouri defensive line coach Craig Kuligowski from Miami and brought in Texas Tech's Karl Scott to coach the defensive backs.
New offensive coordinator Mike Locksley likewise was a co-coordinator last season and will be in his third season at Alabama, having revitalized his coaching career after bombing as a head coach at New Mexico. New hire Josh Gattis comes over from Penn State and will coach the Tide's receivers with a co-coordinator title. Former Arkansas offensive coordinator Dan Enos is Alabama's new quarterbacks coach.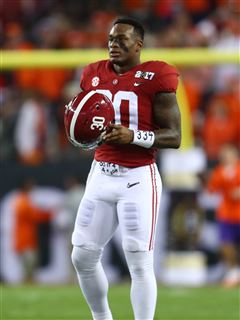 ... THE MORE THEY STAY THE SAME
Coaches and NFL-caliber talent have come and gone throughout the years, but Alabama has stayed on the same level, and there's no reason to believe that's going to change in 2018.
Offensively the Tide return four starters on the offensive line, a two-time 1,000-yard rusher in Damien Harris, have two quarterbacks who would be no-doubt starters at just about every other program in the country and plenty of talent at the wideout position.
But Alabama has buttered its bread on the defensive side of the ball, and the Tide are going to be strong there again in 2018 despite losing three first-round NFL Draft picks in Minkah Fitzpatrick, Da'Ron Payne and Rashaan Evans, plus other top-120 picks in safety Ronnie Harrison, defensive lineman Da'Shawn Hand and cornerback Anthony Averett.
Quinnen Williams is expected to slide into Payne's role up front between Raekwon Davis and Isaiah Buggs, Mack Wilson and Dylan Moses will man the inside linebacker positions and Alabama is loaded up on pass-rushers with Christian Miller, Terrell Lewis and Anfernee Jennings all returning after injury-riddled 2017 seasons.
The secondary features the most question marks with both safeties and the top three cornerbacks all gone, but LSU and junior college transfer Saivion Smith, the No. 2 JuCo prospect in the 2018 class, and five-star freshman Patrick Surtain Jr., the top corner prospect in the 2018 class, are potential immediate-impact newcomers at corner and Deionte Thompson started at safety in the CFP games last season.