June may have given away to July, but there's still almost a month between now and the start of Tennessee's preseason practices.
Why not pass what remains of the offseason quicker by taking an advanced look at the teams awaiting the Vols during their debut season under Jeremy Pruitt in 2018?
This month, GoVols247 will continue to take a longer look at Tennessee's 12 opponents and some of the best players and position units awaiting the Vols this season. It's now time to continue giving each of the Vols' opponent an in-depth look. Already we've previewed West Virginia, East Tennessee State, UTEP, Florida, Georgia, Auburn, Alabama and South Carolina, Tennessee's first eight opponents in 2018.
Next up is Charlotte, which will provide Tennessee a non-conference breather game to open November following the schedule's most brutal stretch.
GoVols247 takes a longer look at the 49ers.
(ENJOY VIP ACCESS TO GOVOLS247 WITH A FREE SEVEN-DAY TRIAL)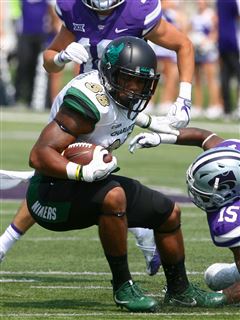 2017 SEASON REVIEW
In its fifth season of football, Charlotte won just one game, an overtime victory on a successful two-point conversion against Conference USA title contender UAB. Seven of Charlotte's 11 losses were by more than 14 points, and one of the closer games was a 35-31 home loss to North Carolina A&T, a Football Championship Subdivision team who would go on to an undefeated season. The 49ers lost by 48 to Kansas State, by 45 to Southern Miss, by 31 to Western Kentucky and by 28 to Georgia State.
Charlotte ranked 13th in Conference USA in scoring (14.2 point per game) and bottom of the league in total defense (454.6 yards per game). The 49ers had to revamp both its offensive and defensive lines and lost its top players at running back, wide receiver, linebacker and cornerback from 2016. Last season was a step back for a program surrounded by plenty of high school talent as Charlotte had doubled its overall win total and won three conference games after a 2-10 campaign in 2015, its first as a full-fledged Football Bowl Subdivision member.
STAFF SHAKEUP, PART ONE
Charlotte coach Brad Lambert, perhaps fortunate not to get the axe himself after last season, made wholesale changes to his coaching staff and brought in two new coordinators.
Shane Montgomery, who starred at NC State as a quarterback in the late 1980s before going on to a coaching career that included a stint at Chattanooga and four seasons as the head coach at Miami (Ohio), joins Lambert's staff after spending eight seasons as the offensive coordinator at Youngstown State. The Penguins had one of the best rushing offenses at the FCS level and Montgomery could bring a similar emphasis to Charlotte. The 49ers ranked seventh in Conference USA in rushing in 2017, but the passing game was a disaster.
Top running backs Benny LeMay (732 yards and 53 yards per carry in 2017) and Aaron McAllister (458 yards on 5.1 per carry) return for Charlotte — the 49ers also signed a nice three-star in Terrick Smalls — as do four starters on the offensive line, including C-USA honorable mention guard Nate Davis, who will be coached by a new offensive line coach in former Tulane head coach Chris Scelfo.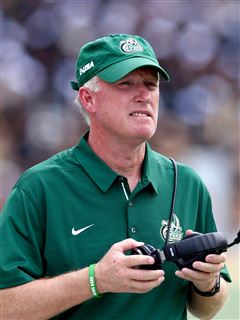 STAFF SHAKEUP, PART TWO
Lambert also made a change at defensive coordinator by ousting Matt Wallerstedt and replacing him with Glenn Spencer, who was let go by Oklahoma State in January. The Cowboys under Spencer finished middle of the pack in the offense-first Big 12 but had a brutal five-game stretch where they allowed 47 points per game. Spencer had been on Oklahoma State's staff for a decade, only half of which he was the defensive coordinator, after previous coaching stops at Georgia Tech and Duke.
Spencer inherits a defense with plenty of experience, particularly at the linebacker spot. The secondary was constantly in flux last season due to injuries and personnel shuffling, and the defensive line was a liability as the 49ers ranked 13th in Conference USA against the run and tallied the fewest tackles for loss and sacks in the league. Spencer will be shifting Charlotte back from a 3-4 defense to more of a 4-3, but he could be an upgrade for Lambert.
EYE OF THE (FORMER) HURRICANE
A new offensive coordinator bringing in a new scheme opens the door at least a little bit for a quarterback competition even though Hassan Klugh was Charlotte's starter the past two seasons. Klugh was a better fit for the spread offense the 49ers previously ran, and he ran for 426 yards and eight touchdowns in 2016 and 532 yards and nine scores last season. He regressed significantly as a passer, though, as he went from 10 touchdowns and three interceptions in 2016 to 10 touchdowns and 13 interceptions to 2017.
Charlotte added a graduate transfer quarterback in Miami's Evan Shirreffs in March. The 6-foot-5, 195-pound Shirreffs is more of a pro-style quarterback who will be a better fit with what Montgomery wants to do, but it's not necessarily guaranteed he will beat out Klugh. Shirreffs attempted only seven passes in four appearances last season after losing Miami's quarterback battle to Malik Rosier.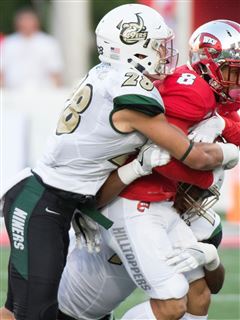 DOUBLE TACKLING MACHINES
Not many teams last season could boast a pair of 100-tackle defenders, but Charlotte was one of them. Linebacker Jeff Gemmell (106 tackles, plus 7.5 tackles for loss and four quarterback hurries) and safety Ben DeLuca (102 tackles, plus six pass breakups and five forced fumbles) both surpassed the century mark for stops and earned Conference USA honorable mention. Third-leading tackler Juwan Foggie (73 tackles, 5.5 tackles for loss, one interception and five pass breakups) joined them on that list.
Defensive end Zach Duncan (seven tackles for loss in 2017) and 2016 Conference USA All-Freshman team selection Tyriq Henry are back as Charlotte returns 10 starters and host of other contributors on defense. Significant improvement will be needed, though, particularly in terms of generating more turnovers and disruptive plays. A newcomer who should help up front is junior college transfer Dantrell Barkley, a big defensive tackle who was a top-50 JuCo prospect in the 247Sports Composite for the 2018 class.