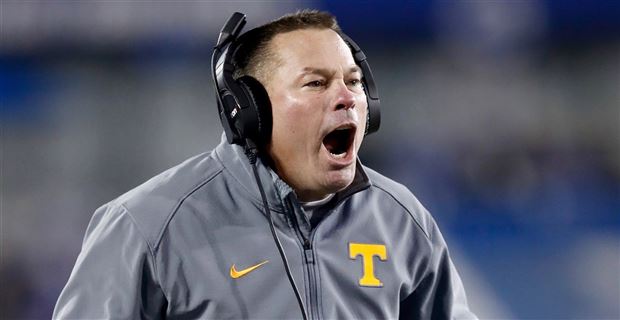 ENJOY VIP ACCESS TO GOVOLS247 WITH A FREE SEVEN-DAY TRIAL
Tennessee on Sunday released the official termination letter from athletic director to football coach Butch Jones.
Contrary to reports from some outlets, Tennessee will honor the terms of Jones' current contract and pay him the full buyout on the deal, according to the letter. That means Tennessee will pay Jones approximately $8.2 million, but that figure will be mitigated by any salary Jones earns from his next job.
Jones will be paid in monthly installments until Feb, 28, 2021, according to the terms of his current deal with the university.
Currie said during his Sunday press conference that Jones was "fired without cause," meaning Tennessee is obligated to honor the termination clause in his contract. Sunday was listed in the letter as the official date of Jones' termination.
(Want the latest scoop on Tennessee football and basketball? Make sure you're in the loop — take five seconds to sign up for our FREE Vols newsletter now!)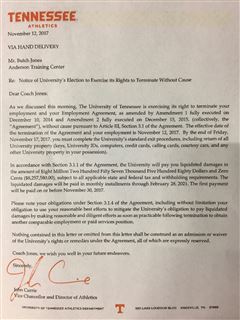 "As we discussed this morning the University of Tennessee is exercising its right to terminate your employment and your Employment Agreement," Currie's letter stated. "In accordance with … the Agreement, the University will pay you liquidated damages in the amount of $8,257,580.00, subject to all applicable state and federal tax and withholding requirements. The liquidate damages will be paid in monthly installments through February 28, 2021. The first payment will be paid on or before November 30, 2017. By the end of Friday, November 17, 2017, you must complete the University's standard exit procedures, including return of all University property (keys, University IDs, computers, credit carts, courtesy cars, and any other University property in your possession).
"Please note that your obligations under … the Agreement, including without limitation your obligation to use your reasonable best efforts to mitigate the University's obligation to pay liquidated damages by making reasonable and diligent efforts as soon as practicable following termination to obtain another comparably employment or paid services position.
"Nothing contained in this letter or omitted from this letter shall be construed as an admission or waiver of the University's rights or remedies under the Agreement, all of which are expressly reserved.
"Coach Jones, we wish you well in your future endeavors."
———————————————
Contact Wes Rucker by email at wes.rucker@cbsinteractive.com or ON TWITTER, or FOLLOW GOVOLS247 ON FACEBOOK.