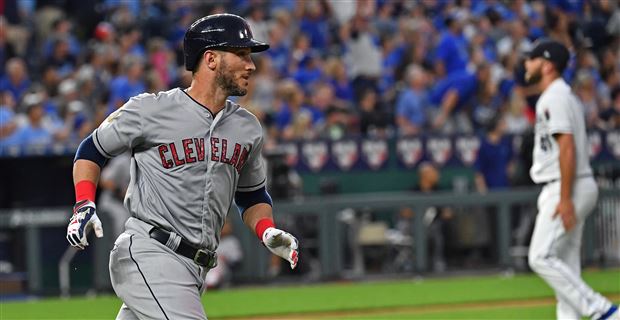 Tennessee's number of players in Major League Baseball continues to hover at three, but those players are continuing to produce.
One of those players — Cleveland Indians catcher Yan Gomes — continues to produce in a big way. Gomes has stayed hot in the past week, hitting his third career grand slam in Tuesday's 6-4 win at Kansas City.
Here's a weekly update on former Vols in MLB and minor league baseball, courtesy of Tennessee sports information department.
MAJOR LEAGUES
Zack Godley — SP, Arizona Diamondbacks
Season: 9-6, 5.07 ERA, 17 G, 92.1 IP, 98 H, 58 R, 52 ER, 50 BB, 92 K
Godley went 4-1 in June, earning wins in four straight outings to close out the month. In his most recent appearance on July 1, the right hander went 4.0 innings, allowing seven runs on nine hits while striking out five.
Yan Gomes — C, Cleveland Indians
Season: 61 G, 29 R, 55 H, 15 2B, 10 HR, 28 RBI, 16 BB, .459 SLG, .317 OBP, .252 AVG
Gomes is batting .308 with two home runs and 10 RBI over his last 15 games for Cleveland. On July 3, the veteran catcher blasted a sixth-inning grand slam over the left field wall to reclaim Cleveland's lead over the Royals and a 6-4 victory at Kauffman Stadium. It was Gomes' third career grand slam and his first of the 2018 campaign.
Drew Steckenrider — P, Miami Marlins
Miami Marlins: 3-1, 3.11 ERA, 41 G, 1 SV, 37.2 IP, 28 H, 13 R, 13 ER, 15 BB, 45 K
Steckenrider has been lights out for the Marlins, not allowing a single run in his last 20 appearances dating back to May 22. since the end of May. In that span, he's given up just nine hits through 17.2 innings pitched. Steckenrider picked up his first save of the season in a 5-4 win over Baltimore on June 16 after tossing a scoreless ninth inning.
MINOR LEAGUES
Julio Borbon — OF, Somerset Patriots (Atlantic League)
Season: 56 G, 39 R, 69 H, 16 2B, 2 3B, 5 HR, 33 RBI, 20 BB, 19 SB, .307 AVG
A former big leaguer, Borbon currently leads the Somerset Patriots with 39 runs scored, 69 hits, and 33 RBIs while ranking second in triples (two) and home runs (five). In the Atlantic League, Borbon ranks among the top three players in several categories, including runs scored, hits and doubles. Borbon's seven-game hit streak was snapped on July 1 at York. He notched eight RBIs in that span dating back to June 23.
Andy Cox — P, Billings Mustangs (Rookie - Cincinnati Reds)
Season: 0-1, 1.35 ERA, 6 G, 0 SV, 6.2 IP, 5 H, 3 R, 1 ER, 5 BB, 8 K
Cox has pitched 6.2 innings for Billings since returning from the disabled list on June 14. The lefty has gone a season-long 1.1 innings in each of his last two outings. In his most recent appearance on July 4, Cox allowed just one hit while holding the Helena Brewers scoreless.
Andrew Lee — P, Hagerstown Suns (A - Washington Nationals)
Season: 2-2, 5.19 ERA, 11 G, 2 GS, 26.0 IP, 16 H, 19 R, 15 ER, 33 BB, 34 K
Lee earned his second start of the season on June 27 vs. the Lakewood BlueClaws. In his second-longest outing (4.1 IP) of the year, the righty fired four strikeouts and allowed three runs on two hits for a no-decision. Lee recorded his first shutout performance of the season on July 4th as he struck out two of his three batters.
Will Maddox — 2B, Erie SeaWolves (AA - Detroit Tigers)
Season: 55 G, 37 R, 67 H, 12 2B, 4 3B, 2 HR, 21 RBI, 13 BB, 5 SB, .417 SLG, .344 OBP, .300 AVG
Maddox continues to produce for the SeaWolves as he's recorded 10 hits over his last 10 games. On Wednesday, the second baseman singled and scored a run in Erie's 7-5 loss to Binghamton. Earlier in the week, he had two hits and an RBI in an 11-1 rout of Bowie. Maddox currently leads Erie with four triples.
Hunter Martin — P, Tri-City ValleyCats (A-Short Season - Houston Astros)
Season: 0-0, 0.00 ERA, 0 G, 0 SV, 0.0 IP, 0 H, 0 R, 0 ER, 0 BB, 0 K
Martin has not yet made an appearance for the Tri-City Valley Cats, who opened their season on Friday, June 15. The right hander was 2-1 with a 3.86 ERA in 12 appearances for the ValleyCats in 2017.
Jeff Moberg — 2B, Grand Junction Rockies (Rookie - Colorado Rockies)
Albuquerque Isotopes: 4 G, 0 R, 1 H, 2 RBI, 0 BB, .125 SLG, .125 OBP, .125 AVG
Grand Junction Rockies: 1 G, 0 R, 2 H, 0 RBI, 0 SB, 0 BB, .500 SLG, .500 OBP, .500 AVG
Receiving an emergency call-up the night before Albuquerque's May 24 game vs. Salt Lake, Moberg made his Triple-A debut a game to remember. The second baseman lined a two-run single to left field in the eighth inning before going on to play three more games with the Isotopes. Since being reassigned to the Grand Junction Rockies, Moberg notched two hits in his first and only game with the Rockies so far this season on June 15.
Matt Ramsey — P, Fresno Grizzlies (AAA – Houston Astros)
Season: 2-1, 2.79 ERA, 19 G, 29.0 IP, 27 H, 10 R, 9 ER, 9 BB, 42 K
Ramsey signed a minor league contract with the Houston Astros as a free agent in December, playing in 19 games and accumulating a 2-1 record with the Triple-A Fresno Grizzlies before being placed on the seven-day disabled list. On May 14, Ramsey recorded five strikeouts vs. Salt Lake to tie his career high and mark the most strikeouts in an outing since 2014.
Jordan Rodgers — 3B, Florida Fire Frogs (A-Advanced - Atlanta Braves)
Season: 47 G, 12 R, 35 H, 9 2B, 2 3B, 1 HR, 11 RBI, 4 BB, .313 SLG, .256 OBP, .215 AVG
Between June 23 and June 28, Rodgers went 8-for-15 (.533) and recorded two RBIs. In his most recent appearance on July 3, Rodgers doubled for the ninth time this season and scored a run to help the Fire Frogs to a 6-1 win over Jupiter.
Benito Santiago — C, Johnson City Cardinals (Rookie – St. Louis Cardinals)
Season: 5 G, 2 R, 3 H, 1 2B, 0 RBI, 2 BB, .222 SLG, .250 OBP, .167 AVG
Since his professional baseball debut on June 20, Santiago has tallied three hits and two scored runs. The catcher recorded his first double in the minors on July 2, hitting a line drive to right field in the fifth inning. He then scored two at-bats later to help the Cardinals to an eventual 13-12 win over the Greeneville Reds.
Nick Senzel — 2B, Louisville Bats (AAA - Cincinnati Reds)
Season: 44 G, 23 R, 53 H, 12 2B, 2 3B, 6 HR, 25 RBI, 19 BB, 8 SB, .509 SLG, .378 OBP, .310 AVG
Senzel suffered a season-ending injury vs. Norfolk. The second baseman missed most of May due to vertigo, but hit .400 with seven runs scored, three home runs and 10 RBI in his last 10 games before the June 22 injury. In 19 June games, Senzel appeared at the hot corner five times with the rest of his appearance coming at second base. He ends the season with a .310 average, .509 slugging percentage and 53 hits through 44 games.
A.J. Simcox — 2B, Erie SeaWolves (AA - Detroit Tigers)
Erie SeaWolves: 45 G, 18 R, 31 H, 4 2B, 1 3B, 1 HR, 17 RBI, 9 BB, 3 SB, .274 SLG, .261 OBP, .212 AVG
Lakeland Flying Tigers: 5 G, 2 R, 6 H, 3 RBI, 2 BB, 3 SB, .375 SLG, .444 OBP, .375 AVG
On June 27, Simcox was assigned to the Lakeland Flying Tigers for five games. During that span, he went 6-for-16 (.375) and drove in three runs while scoring two. Simcox rejoined the SeaWolves on July 3, and drove in a run Erie's Independence Day outing vs. Binghamton.
Christin Stewart — LF, Toledo Mud Hens (AAA - Detroit Tigers)
Season: 72 G, 39 R, 72 H, 14 2B, 2 3B, 15 HR, 45 RBI, 34 BB, .504 SLG, .351 OBP, .269 AVG
Stewart was placed on the disabled list after suffering an injury on June 26. The outfielder was hitting .269 with a .504 slugging percentage and drove in 45 RBIs on 72 hits before suffering the injury.
Zach Warren — P, Lakewood BlueClaws (A - Philadelphia Phillies)
Season: 1-1, 2.50 ERA, 22 G, 4 SV, 36.0 IP, 24 H, 11 R, 10 ER, 17 BB, 53 K
Warren picked up three consecutive saves from June 23 through July 1. The lefty threw a combined 14.1 scoreless innings and seven strikeouts in the outings to secure wins against three different opponents for Lakewood. Warren hasn't allowed a run since June 14 and threw 1.1 shutout innings in most recent appearance on July 4.