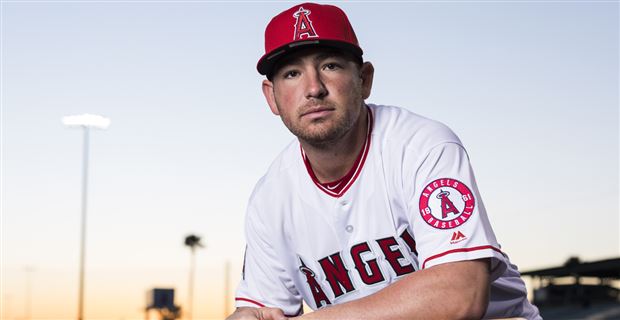 In 2016, Texas A&M catcher Michael Barash lived out a childhood dream. He saw himself drafted in the ninth round of the Major League Baseball draft by the Los Angeles Angels of Anaheim.
The senior wasted no time in signing with the club. He immediately reported to rookie ball with the Orem Owlz, where he hit .314 with 12 RBI, four doubles and a home run in 19 games with the team. He then made his way to Class A ball the same summer with the Burlington Bees. In 24 games, the 6-foot-1, 205-pound catcher batted .240 with 11 RBI, three doubles and two home runs.
Barash spent most of the 2017 season with the Inland Empire 66ers in Class A ball, finishing the year with a .237 average to go with 42 RBI, 19 doubles and 10 long balls in 84 contests. He also played three games with the Mobile BayBears in Double A, going 4-for-11 with two RBI and a run scored.
This year, Barash spent most of his time with the BayBears, though he did play three games with the team's Triple A club, the Salt Lake Bees. At the All Star break, the 23-year-old was hitting .225 with 21 RBI, nine doubles and two home runs through 52 games. However, he decided it was time to pursue a different dream.
Barash announced his retirement on Wednesday, saying that he planned to return to Aggieland to finish his degree.
"After deep reflection, I feel that it's best for me to retire from professional baseball," Barash announced, via Twitter. "I want to thank my parents, my brother Andrew, my family, and my closest family friends for supporting me over the course of my career.
"I'd also like to thank the Angels for giving this kid from Boca Raton, Florida a chance to live out his childhood dream.
"As I promised to myself, my parents, and my coaches, I'm going to return to Texas A&M and complete my degree and begin this next chapter of life which is to impact others by coaching.
"Thank you to everybody for your love and support over the years!"
Barash, who attended West Boca Raton High School, originally began his college career at LSU. He skipped his senior season, enrolling in January 2013 in Baton Rouge. He played in 18 games, including starting five, before deciding to go the junior college route, transferring to Palm Beach State College. Barash was then recruited to A&M and spent two seasons in Aggieland.
As a senior in 2016, Barash enjoyed a breakout campaign as he hit .324 for the Aggies. He had 43 RBI, 11 doubles and five home runs on the season as A&M advanced to the Super Regionals.