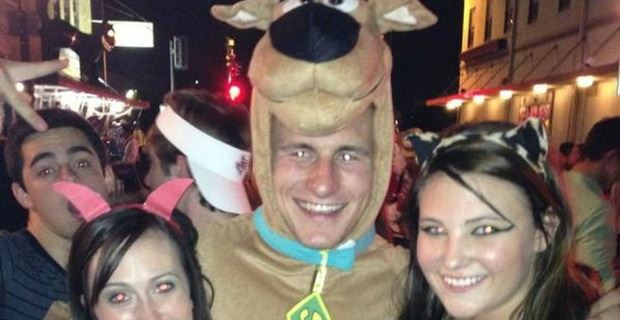 In college football's recent history, there has been no more polarizing figure than former Texas A&M quarterback Johnny Manziel. On Saturday, he was a magician. He looked like he could do anything on the field, and he was essentially a cheat code in the EA Sports NCAA video game. However, he has his fair share of issues off the field. Manziel had a reputation for partying as hard — if not harder — as he played. Manziel's off-field habits combined with his on-field performance often put the Aggies' coaching staff in a tough spot.
Current Texas Tech head coach and former Texas A&M offensive coordinator and quarterbacks coach Kliff Kingsbury joined Manziel's podcast on Barstool Sports, "Comeback SZN," to talk about a time Manziel had him shaking his head. In 2012, a photo surfaced from a Halloween party that featured Manziel dancing with a female in lingerie just a couple of days before Texas A&M was set to play Mississippi State. At first, Kingsbury wasn't worried about the photo at all. Then, Manziel didn't show up to the offensive meeting the next day.
"The Scooby Doo picture — there's a great story behind that one too because the next day we're going to Mississippi State and Johnny is nowhere to be found in the offensive meeting. The picture has already come out. As a staff, I'm like, 'That chick is hot. Good job, Johnny.' I'm thinking he's going to be on time," Kingsbury said. "He doesn't show at all for the meeting, so we're trying to cover for his ass so he can at least show up for the walkthrough. Friday before we leave to go to Starkville, here he comes. Johnny has some crazy excuse. His roommate pulled the plug on his alarm clocks — something with the electricity. But we already know what he's been doing. So he misses the offensive meeting and trots out to walkthrough. Coach Sumlin doesn't know, at this point, that he's late. He goes through the walkthrough, probably still a little intoxicated at that point. We do our deal, he gets on the plane, goes to Starkville, and lays probably the best game I've ever seen. At that point, I'm like, 'This kid is not human.'"
In that game, Manziel put up some gaudy numbers. He completed 30 of his 36 passing attempts for 311 yards. He also rushed for 129 yards and two touchdowns on 21 carries. The Aggies went on to win that matchup, 38-13. That same season, Manziel went on to win the Heisman Trophy. After the 2012 campaign, Kingsbury left college station to become the head coach of the Red Raiders.
After getting drafted by the Cleveland Browns in the 2014 NFL Draft, some of Manziel's off-field issues got the best of him. He was out of the league after just two seasons. Now, Manzield is attempting a return to the NFL. He is currently the backup quarterback of the Hamilton Tiger-Cats of the CFL.