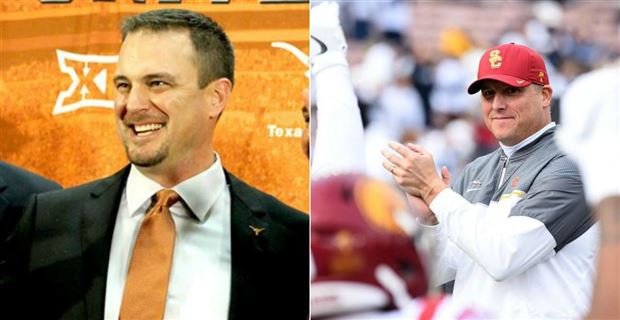 The University of Texas is warning fans early of a potential ticket shortage for the Longhorns marquee non-conference home game against USC Trojans. In a media release sent out Tuesday, UT officials claim an anticipated sell-out for the Sept. 15 game between the two storied programs, and an increase in season ticket sales is expected to only make the tickets more difficult to come by.
"Entering year two of the Tom Herman era of Texas Football, the excitement among fans is palpable as seen in the demand for season tickets," Texas officials sent out in a press release Tuesday evening. "With more than 3,000 new season tickets sold and the highest football season ticket renewal rate in four years, the momentum leading to the best atmosphere in college football continues to build.
"This season, Texas hosts one of the marquee national non-conference games on September 15 when USC visits Darrell K Royal-Texas Memorial Stadium for a matchup between two of the most storied programs in college football. Access to tickets for the anticipated sellout vs. USC is limited due to season ticket sales.
"At this time, the only way to guarantee tickets to the USC game is to purchase season tickets. Access to any remaining tickets to the USC game will be offered to season ticket holders in June in Loyalty Points order. To increase your Loyalty Points rank, consider making a gift to the Longhorn Foundation prior to June 15."
The Longhorns will face-off against the Trojans in a rematch after last season's double-overtime thriller in Los Angeles, which ended with USC on top in a 27-24 two-OT win over Texas. Considering the viewership from last year's match up, in addition to the memorable 2006 BCS National Championship Game between the two programs, it's very likely the demand for tickets will only continue as the season approaches.
According to Athlon Sports, the rematch between the Longhorns and Trojans is USC's most difficult game on its 2018 football schedule. The out of conference game, coupled with the Longhorns facing another Power Five program with the season opener on the road at Maryland, also led the publication to rank Tom Herman's non-conference schedule as the toughest among all Big 12 Conference schools.
"Who has forgotten last year's double-overtime thriller?" Athlon writer Josh Webb said of the Trojans match up against Texas. "The Longhorns need to settle on their quarterback, but whoever it ends up being already has an idea of what USC defensive coordinator Clancy Pendergast likes to do and the benefit of Herb Hand's tutelage protecting him up front. Texas wants this one bad, especially since it's at home."
What's next for the Longhorns? Make sure you're in the loop by signing up for our FREE Texas newsletter!