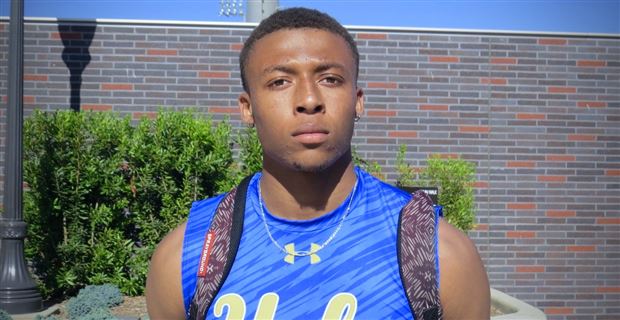 HUNTINGTON BEACH, Calif. – The half dozen is settled for William Nimmo and now the three-star safety turns his attention to sorting through those options.
Arizona, California, Florida, Oregon State, UCLA and Washington State made the cut for the 6-foot-1, 190-pound defensive back when he trimmed the list last week. Nimmo, who starred on defense for a Santa Ana (Calif.) Mater Dei team that won the competitive Edison Battle at the Beach passing tournament Saturday, told 247Sports he is looking into making a mid-season decision.
- Arizona: "Really, it's my relationship with coach Meat [Demetrice Martin]. He's a great DB coach and a lot of the players that have played for him that I've talked to like Quentin Lake and Xavier Bell, they tell me he's very good. I have a great relationship with him. I saw what he was able to do with Darnay Holmes to prepare him to play as a freshman and turn into a reliable starter. With the technique he teaches, it really helps defensive backs get better."
- California: "I have a really good relationship with coach Gerald Alexander and I know he's a great coach. When I first met him we really just clicked and I know I could relate to him. When I went up there for my unofficial visit, I really liked how genuine the coaches were. The facility is great and all the players I was able to catch up with told me it's a great place."
- Florida: "In my mind, Florida is DBU for players coming from California. I've been able to talk with coach Ron English quite a bit and I like what they do at my position. They are known just like LSU is for producing great defensive backs. I was pretty shocked when I got the offer, but I'm proud knowing I earned it. It's a great honor knowing they think highly of me."
- Oregon State: "Coach Greg Burns has NFL experience and, when I went up there for an unofficial, he knew what he was talking about. He has coached a lot of great defensive backs and I know he would be a coach that I could learn a lot from in my development."
- UCLA: "I'll be up there again right after the dead period is over. I camped with them last month and the offer right after was very big. Coach Chip Kelly came up to me and told me he loves the way I compete. Coach Paul Rhoads has a lot of experience so I look at that knowing he could get me to the next level. I really want to get more familiar with the coaches. I just got the offer so for me it's about building a better relationship and getting a better feel for the school."
- Washington State: "I'll be going to Washington State the weekend of July 26. I'm definitely looking to spend time with the coaches and see what everything is like over there. I haven't been up there so I'll be looking at the area. Campus environment is very important to me."
Nimmo is the nation's No. 59-rated safety in the 2019 class and No. 80 overall prospect in the state of California, per the industry-generated 247Sports Composite.
Not a subscriber? Sign up now to get all the great premium content on Bruin Report Online and access to the best UCLA sports forums on the Internet. Click on the ad below to subscribe.

And don't forget to sign up for the Bruin Report Online Newsletter! It's free and a great way to get all the latest UCLA Bruins information directly to your inbox!