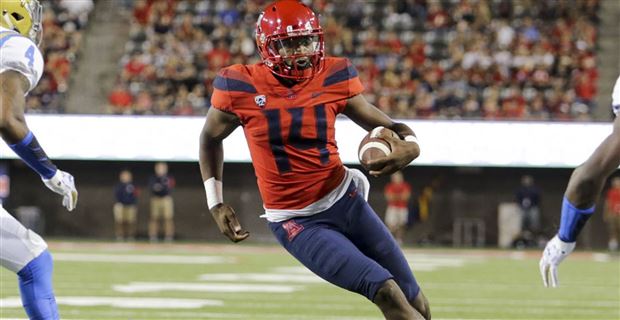 Khalil Tate's been a revelation for Arizona. If he can keep it going, the Wildcats could ruin USC's Saturday night Homecoming party – and its Pac-12 title hopes.
The No. 17 USC Trojans (7-2, 5-1 Pac-12 South) return to the Los Angeles Memorial Coliseum to host their annual Homecoming game against the No. 22 Arizona Wildcats (6-2, 4-1 Pac-12 South) on Saturday, Nov. 4, at 7:45 p.m. PDT. The game will be televised nationally by ESPN. As of Thursday afternoon, the Trojans are a 7.5-point favorite. It's the 41st meeting, with USC holding a 32-8 edge over Arizona. The Trojans have won four consecutive games against the Wildcats (and 13 of the past 15), including a 48-14 victory in Tucson last season and a 38-30 decision in the prior Los Angeles contest in 2015.
Last Saturday, Ronald Jones II's 216 rushing yards (including touchdown jaunts of 67 and 64 yards) powered USC to a surprising 48-17 victory over Arizona State in Tempe. Just one week after being manhandled by Notre Dame, the Trojans completely flipped the script, rushing for 341 yards (part of a 607-total-yard performance) while holding ASU to just 79 rushing yards and sacking Sun Devil quarterback Manny Wilkins six times. Meanwhile, the Wildcats continued their shocking midseason surge by toppling then-No. 15 Washington State, 58-37, in Tucson. Arizona topped the 500-total-yard mark for the fourth consecutive game, and the Cats' defense notched four interceptions, running their season total to 14 (nine in the past three games).
Clay Helton (23-9 at USC in his second full season) is looking for USC's 15th consecutive home victory since he took over the team in midway through the 2015 season. Rich Rodriguez (42-31 at Arizona, 162-115-2 in 24 seasons as a college head coach) is in sixth season in Tucson. After a brutal 3-9 season in 2016, not much was expected of the Wildcats in 2017. And, after starting 2-2 in 2017, there seemed no reason to revise those expectations. But a scintillating October, led by sophomore quarterback Khalil Tate (who has won four consecutive Pac-12 Offensive Player of the Week awards, a conference first) has turned Saturday's contest into the Pac-12 South's putative game of the year.
Arizona Offense
Co-offensive coordinators Calvin Magee and Rod Smith weren't exactly leading an impotent offense before Tate took over for Brandon Dawkins after the junior was injured on a late hit during Arizona's first offensive possession at Colorado on Oct. 7. In the first four games, the Wildcats were averaging 478.8 yards of offense and 41.3 points. However, Arizona had struggled for long stretches of losses to Houston and at Utah. Since Tate took the field, though, those struggles have disappeared. In the past four, the Cats have averaged almost 49 points, 567 yards, and 381.3 rushing yards. Overall, Arizona leads the Pac-12 in scoring, total, and rushing offense – and though it ranks last in passing yards per game (184.3), Arizona ranks second in pass-efficiency offense. Arizona also leads the FBS with 36 offensive plays of 30 yards or more. Tate has been ungodly, rolling up 1,583 total offense yards during the Wildcats' four-game winning streak. He's followed an FBS single-game record of rushing yards by a quarterback (327) against Colorado with 230 vs. UCLA on Oct. 11 and a combined 283 in the past two weeks. He's averaging 13.4 yards per rush – and against Wazzu, he added 275 yards on just 10 complete passes (including two TD tosses). He's rushed for eight touchdowns and thrown for six (against just three picks). Behind Tate, Dawkins' numbers are decent: 358 rushing yards, 6.4 per carry, six rush TDs to go along with 670 passing yards, a 62.3 completion percentage with five TDs and three picks.
There is even more talent in the Arizona backfield. Senior Nick Wilson (353 yards, 5.1 per carry, three TDs), whose promising career has been continually slowed by injuries, missed last week's win with an ankle injury, but is probable for Saturday. Sprightly redshirt freshman J.J. Taylor, who averaged 7.2 yards on 37 carries early in 2016 before breaking his ankle, has been excellent. He's averaging 5.6 per carry (519 yards) with four TDs – last week, he scored twice (once on a 79-yarder) and rushed for 153 yards on 14 carries. Senior big back Zach Green sees spot and short-yardage duty, averaging 5.1 yards on 54 totes, with six touchdowns.
The Wildcats lost their top three pass catchers from 2016. Junior slot man Shun Brown was expected to lead this green group. He's done just that, averaging 14.7 yards on 24 grabs with four TDs. Athletic freshman tight end Bryce Wolma (24 catches, 212 yards, two TDs) has impressed, though his production slipped after Tate took over at QB. Another slot performer, junior Tony Ellison (22 catches, 18 yards per, two TDs) has been solid. Also chipping in have been senior Tyrell Johnson (13 catches, 11.9 per) and six-foot-five senior Shawn Poindexter (nine catches for 131 yards).
Arizona returned four starters and a number of other experienced players on the offensive line – and that group has gelled nicely. Arizona has allowed just five sacks (partly a facet of its design) and is averaging 7.2 yards rushing. The core group features senior left tackle Layth Friekh, junior left guard Christian Boettcher, sophomore center Nathan Eldridge, and senior right guard Jacob Alsadek. At right tackle, senior Gerhard de Beer – a native of South Africa who came to Arizona on a track-and-field scholarship – and sophomore Cody Creason have split time.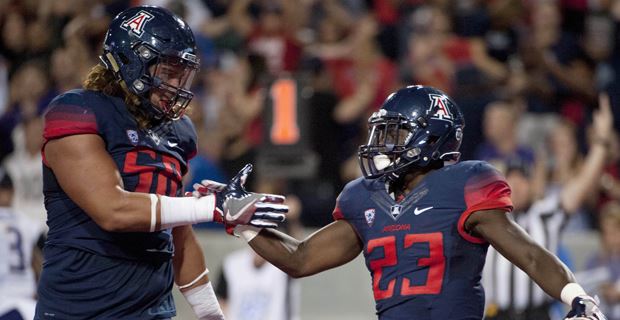 Arizona Defense
Second-year defensive coordinator Marcel Yates knew he was facing a youth movement at several key positions – and the Wildcats have had plenty of growing pains. Even during its four-game winning streak, Arizona has allowed 38.3 points per game, though it has improved its havoc numbers, notching 12 of its 18 sacks and nine of its 14 interceptions during October. Operating out of a base 3-3-5 set, the Cats rank fourth in the Pac-12 in rushing defense (147.3 yards per game, No. 49 nationally) – likely because they're dead last in passing defense (300.6 yards per game, No. 127 nationally) after giving up 602 yards through the air to Washington State. Arizona ranks ninth in the conference in scoring defense (30.3 points per game, No. 88 nationally) and 11th in the Pac-12 in total defense (447.9 yards per, No. 108 nationally). The Wildcats have forced 19 turnovers after grabbing just 14 takeaways during the entire 2016 campaign.
Up front, junior nose guard Dereck Boles (who was kicked off the Boise State team in 2016) has performed well, leading all Arizona defensive linemen with 24 tackles (0.5 for loss). Sophomore Finton Connolly (11 tackles 3.5 for loss, 1.5 sacks) backs him up. Sophomore end Justin Belknap – a former walk-on – has 12 tackles and two sacks while starting all eight. At defensive tackle, seniors Parker Zellers (12 tackles) and Luca Bruno (16 tackles) have split time, while each has been nicked up a bit during the season.
Arizona's youngest group is at linebacker, where a trio of true freshmen has started the past four – and two of those have started all eight. Wildcat fans have to like the future of this group. Weaksider Tony Fields II leads Arizona with 58 tackles (3.5 for loss, three sacks, one interception). In the middle, Colin Schooler (47 tackles, 4.5 for loss, one sack, two INTs) replaced senior Brandon Rutt (28 stops, 2.5 for loss, one sack) in the starting lineup at Colorado and hasn't fallen out since. On the strong side, Kylan Wilborn has filled up the stat sheet: a team-leading six sacks (four vs. UCLA on Oct. 14) among eight tackles for loss (24 total stops) plus four forced fumbles.
Junior "bandit" safety Demetrius Flannigan-Fowles (52 tackles and three picks), senior "spur" safety Dane Cruikshank (a starter at corner a year ago; 43 stops, 3.5 for loss, one INT), and junior cornerback Jace Whittaker (23 tackles, three interceptions in the past three contests, nine pass breakups overall) are the leaders of the Wildcat secondary. A trio of freshman is also playing key roles. Redshirt Lorenzo Burns (53 tackles, three interceptions, five pass breakups) has impressed at corner, while true frosh Scottie Young Jr. (32 tackles, three for loss) and redshirt Jarrius Wallace (16 stops, one pick) have both seen time at free safety. Young is questionable Saturday with a knee problem.
Arizona Special Teams
Junior Jake Pollock has made 43 of 45 PATs and 10-of-14 field goals – but he's had two field goal attempts blocked. Freshman Lucas Havrisik handles kickoffs, with 44 touchbacks in 61 opportunities (and he's also one-of-two on longer FG attempts, making a 57-yarder last week, with his other attempt blocked). Junior punter Josh Glatting (36.5 yards per boot, with opponents averaging 13.4 yards per return) struggled so badly that Pollock handled the duties last week, averaging 39.4 yards on five tries. Brown is a threat as a punt returner, averaging 18.6 yards with a pair of touchdowns. Johnson is averaging 28.2 yards on 12 kick return attempts.
USC Offensive Gameplan
Good news: no writing about shame! (See the last line in last week's preview). USC's offense looked as impressive as it has this season – or at least since its Sept. 9 throttling of Stanford. Not only did Jones break out to pace an impressive rushing effort against a Sun Devil defense that had allowed just 201 rushing yards combined to Washington and Utah, but Sam Darnold threw for 266 yards and three impressive touchdowns – two to rising freshman Tyler Vaughns. And USC limited its mistakes: the Trojans' lone turnover came on a fourth-down sack-fumble of Darnold.
Just about everything USC did wrong the week prior at Notre Dame, it turned around and did well. USC was efficient, averaging 7.5 yards per play, converting seven-of-15 third downs, rolling up 29 first downs, and beating ASU at its own game by holding the ball for more than 34 minutes. USC put together five first-half scoring drives and – along the way – the Trojan offensive line finally exerted its will on an opponent's defensive front for the first time in weeks.
If it's true that USC found its offensive mojo – that last week's performance wasn't a mirage – the Trojan staff must be licking its chops while watching film of the Wildcats. Yes, Arizona's made some big plays of late, but it's still a team that's allowed each of its opponents to top 200 passing yards (three with 300 or more) while also allowing five of eight opponents at least 158 rushing yards (Colorado had 300 on Oct. 7). Expect the Trojans to come out firing against Arizona's secondary, with Vaughns and Deontay Burnett looking to exploit their counterparts across the ball. However, the Trojans would be remiss not to get Jones going early. USC's offensive line simply seems more engaged in games where they are asked to open holes for the rushing attack. Finally, keep an eye on Stephen Carr, who appears ready to return to the USC backfield from a foot injury that's kept him out the past four weeks.
USC Defensive Gameplan
Like their counterparts on offense, USC's defensive stars got themselves back on track against ASU. The Sun Devils could not move the ball with any consistency: USC held Arizona State to 79 rushing yards, recorded six sacks (including three on consecutive plays by Uchenna Nwosu) and stopped 11 of the Devils' 12 third-down conversion attempts. The Trojans allowed just two touchdowns, one on a questionable review of a Hail Mary on the first-half's final play (#Pac12Refs) and the other on a solid second-half opening drive. The Trojan defense even posted points, on Ykili Ross' late pick-six.
Rasheem Green joined Nwosu with three sacks of his own, while ASU averaged less than 2.7 yards per carry. The Trojans also minimized the Sun Devils' red-zone effectiveness – mainly by keeping them out of the red zone. This group was clearly challenged by its coaches to pick up its game after the embarrassment in South Bend. It responded impressively, with the group's leaders – Nwosu, Green, Cameron Smith, and Chris Hawkins – providing experienced direction, both physically and emotionally.
They'd better be ready to respond again this Saturday, as the Wildcats are playing at warp speed and knocking out one big play after another in recent weeks. This is not the same Tate that made his first-ever collegiate start against USC last October. He has been a beast with the football in his hands – and has made players like Taylor and Brown much more dangerous. Adding the kind of passing success he had last week only makes USC's job harder. That job will start by trying to contain Tate and – likely – getting the ball out of his hands. Disciplined play by USC's ends and linebackers is a must – the Trojans must not get caught upfield allowing open running lanes for Tate and Taylor. Stops on the early downs will be a must if USC is to force Arizona into third-down passing situations and get off the field.
The Pick
Not one person can honestly tell you that, in August, they believed Saturday's winner would take the inside track to the Pac-12 South title. At best, Arizona projected as a 5-7/6-6 type team. Yet, here they are at 6-2 and one of only four Pac-12 teams with a single conference loss entering November (Stanford, Washington, and USC are the others). Not only that – they look about as dangerous, offensively, as any team USC has faced this season.
In Tate, it seems like Rodriguez has finally found the type of quarterback that made his best West Virginia offenses run earlier this century. Arizona is not only lighting up the scoreboard, but it's also making opposing defenses look foolish at times. Can USC stop the Wildcats' momentum at the Coliseum? One would think – but then you note that Arizona is 3-0 on the road in 2017.
Nonetheless, USC should (and will) score in this game. Honestly, in looking at the numbers, matchups, and Arizona's results, the Trojans can only stop themselves with mistakes – poor protection of Darnold, penalties, and those turnovers that they avoided last week. USC must also control the clock – something that Arizona hasn't shown an interest in – to keep the Wildcat offense off the field. That can help the defense achieve what it wants: getting Tate out of rhythm, forcing the Wildcats into third-and-five-plus, and getting off the field itself. Arizona's scored 45 or more in four straight. They'll need to do it again to ruin a late-night USC Homecoming game that could run into early Sunday morning.
USC 51, Arizona 41
Tom Haire has been writing for USCFootball.com for 17 years. The editor of a monthly trade magazine in the marketing industry, he graduated from USC in 1994. He's traveled from Honolulu to Palo Alto to South Bend to New York to Miami to watch college football, and has also covered the Pac-10/12 for both PigskinPost.com and CollegeFootballNews.com. He can be reached at thomas.haire@me.com or followed on Twitter at http://twitter.com/thrants (@THrants)
Not a subscriber? Sign up now to get all the great information in the War Room, access to the Peristyle and all of the premium stories on USCFootball.com! Click here to subscribe!
And don't forget to sign up for our USCFootball.com Newsletter! It's free and a great way to get all the latest USC Trojan football information right into your inbox!