Game Preview: USC Trojans vs. UCLA Bruins
Game 12: 'I'm an Innocent Bystander, Somehow I Got Stuck, Between a Rock and a Hard Place, And I'm Down on My Luck'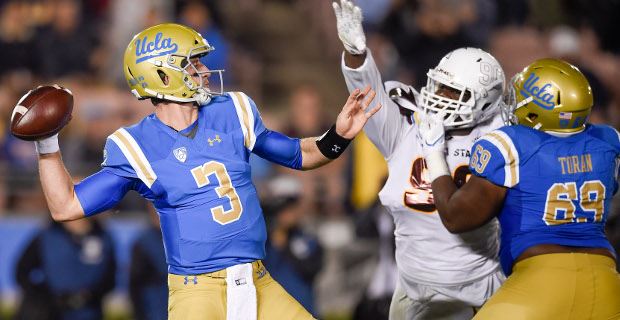 Many of the Bruin faithful have had it with Jim Mora and his explanations for UCLA's struggles. Will a date with the rival Trojans lead to relief or renunciation?
The No. 11 USC Trojans (9-2, 7-1 Pac-12 South) face the crosstown-rival UCLA Bruins (5-5, 3-4 Pac-12 South) on Saturday, Nov. 18, at 5 p.m. PST in the Los Angeles Memorial Coliseum and in front of a national ABC television audience. As of Thursday afternoon, the Trojans are a 16-point favorite. It's the 87th Crosstown Showdown, and USC holds a 48-31-7 edge after back-to-back victories against UCLA: 36-14 at the Rose Bowl a season ago, and 40-21 in the previous Coliseum meeting in 2015. The Trojans have won 14 of the past 18 contests.
Last Saturday, the Trojans opened up a 27-0 third-quarter lead and coasted to a 38-24 victory over Colorado at Folsom Field in Boulder. The win earned the Trojans their second Pac-12 South crown in the past three seasons, finalizing a date in the Pac-12 Championship Game on Dec. 1. Sam Darnold passed for 329 yards and two touchdowns (plus a 24-yard touchdown run) while Ronald Jones II rushed for 142 yards and another score. USC held stud CU running back Phillip Lindsay to just 68 yards on 20 carries. Meanwhile, the Bruins rolled up 573 total yards and overcame an early 14-0 deficit to beat Arizona State, 44-37, at the Rose Bowl. Junior quarterback Josh Rosen returned from a concussion that caused him to miss a Nov. 4 loss to Utah. He threw for 381 yards and a touchdown, while rushing for another.
Clay Helton (25-9 at USC in his second full season) is 2-0 against UCLA, and his team will be seeking its 16th consecutive home win since he took the reins in mid-2015. UCLA's Jim Mora (46-29) is in his sixth season in Westwood. After revving up Bruin fans' hopes with 29 wins (including three against the Trojans) in his first three seasons, things have gone sour. UCLA is 17-18 since the beginning of the 2015 season and, last Saturday, a group of Bruin alumni and fans funded airplanes to fly a series of anti-Mora and anti-Dan Guerrero (UCLA's athletic director) banners over the Rose Bowl prior to the UCLA-ASU contest. Suffice it to say, Mora could use an upset Saturday.
UCLA Offense
Offensive coordinator Jedd Fisch joined Mora's staff this season after serving as quarterbacks/wide receivers coach under Jim Harbaugh at Michigan in 2015-16 (he has prior OC experience in short stints at Miami and with the NFL's Jacksonville Jaguars). After the Bruins' offense stagnated last season under Kennedy Polamalu – posting one of the worst rushing seasons in recent college football history, a problem exacerbated by Rosen's season-ending shoulder injury in October – Fisch hoped to breathe new life into the unit. Consider that hope fulfilled, as UCLA has put up strong numbers: total offense, 462.5 yards per game (third in the Pac-12); passing offense, 333 yards-per-game (second in the conference, eighth nationally); and scoring offense, 35.2 points per game (fourth, Pac-12). Yes, the rushing attack (129.5 yards per game, 10th in the conference, No. 105 nationally) is still a struggle, but it's taken a huge step forward from last season. Rosen's health has been huge, as the junior ranks in or around the national top 20 in several categories. He's completing 62.2 percent of his passes for an average of 343.8 yards per game with 21 touchdowns against just nine interceptions. However, when he was lost in the second half at Washington and for the entire game at Utah, the Bruins became relatively toothless.
He's done this with a talented receiving corps that's been beset by injuries and a recent suspension. Of UCLA's three leading receivers – senior Darren Andrews (60 catches, 12.9 yards per, 10 scores), junior Jordan Lasley (18.1 yards per on 39 catches, four TDs), and sophomore tight end Caleb Wilson (38 catches, 12.9, one TD) – only Lasley is available Saturday. Wilson suffered a season-ending foot injury in early October, while Andrews suffered a season-ending knee injury at Utah. Lasley returned to the lineup just last week after serving a three-game suspension (reason unknown) and caught seven passes for 162 yards and a score against the Sun Devils. Sophomore Theo Howard has caught 33 passes (10.9 per, two TDs) in seven starts. Junior walk-on Christian Pabico (17.7 yards per on 14 catches) has made some big plays. Senior Eldridge Massington (six catches, 50 yards, two TDs) remains an enigma, while junior Austin Roberts (13 catches, 11.5, two TDs; six for 45 last Saturday) and redshirt freshman Jordan Wilson (13 catches, 8.2, two TDs) have split time at TE since Caleb Wilson's (no relation) injury.
Juniors Bolu Olorunfunmi (5.4 yards per on 89 carries, five TDs, plus seven catches for 98 yards) and Soso Jamabo (75 carries, 4.8, six TDs, with 12 catches for 9.9 per) have each had opportunities to seize the feature running back role. Olorunfunmi has gotten the most looks the past two weeks (31 carries, 142 yards, one TD). The loss of senior Nate Starks to October knee surgery opened some room for sophomore Jalen Starks (35 carries, 136 yards, four TDs in eight appearances) – again, no relation – as a third option.
One unit that's avoided a crushing in-season injury is the UCLA offensive line (senior guard Kenny Lacy – 21 career starts – was lost during camp with a hip injury). The same quintet has started all 10. They are: junior left tackle Kolton Miller, senior left guard Najee Toran, senior center Scott Quessenberry, redshirt freshman right guard Michael Alves, and sophomore right tackle Andre James. As a group, they've allowed 21 sacks (seventh in the Pac-12, No. 75 nationally).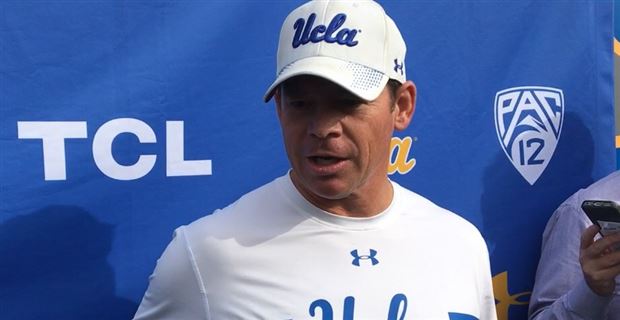 UCLA Defense
Third-year defensive coordinator Tom Bradley's group began regressing from the get-go this season, allowing 382 rushing yards and 44 points in the opener to Texas A&M. Certainly, some key injuries haven't helped along the way, but playing out of a flexible 4-3 set, UCLA's failed to get much pressure on the opposing quarterback (17 sacks, ninth in the conference), force turnovers (10 takeaways, 111th nationally), or make stops in the red zone (110th nationally). And that's all before we get to the traditional numbers, which are even worse: total defense, 499 yards per game (last in the Pac-12, 123rd nationally); rushing defense, 302.3 yards-per-game (No. 129, worst in the nation); scoring defense, and 38.6 points per game (11th, Pac-12, and 122nd nationally). Sure, the passing yardage defense is solid enough (196.7, third in the Pac-12), but that's only because the Bruins have been so poor against the run. When teams actually throw it, UCLA's pass efficiency defense ranks 10th in the conference and No. 86 nationally.
Senior end Jacob Tuioti-Mariner (who's also spent time inside during his career) is the leader up front, with 5.5 sacks and 6.5 tackles for loss among 39 tackles. He's also the only Bruin defensive lineman to start all 10. At the other end, redshirt freshman Marcus Moore (17 stops, 5.5 for loss, one sack) has started the past three as hyped freshman Jaelen Phillips (20 stops, six TFL, 2.5 sacks) has struggled to stay healthy. He missed the ASU game and spent the early part of this week in concussion protocol. Sophomore end Rick Wade (22 tackles, five for loss, one sack) has been battling a nagging knee injury. At the tackle spots, sophomores Boss Tagaloa (26 tackles, 1.5 for loss) and Chigozie Nnoruka (39 tackles, 6.5 for loss, two sacks) have combined for 12 starts, including pairing in the last three after senior Matt Dickerson (21 tackles, one for loss) underwent surgery for a collarbone injury.
Senior linebacker Kenny Young has had another solid season, with a team-leading 77 tackles (five for loss). Sophomore Krys Barnes (48 stops) has come on as the season progressed (starting seven of the past eight). Junior Josh Woods (30 tackles, 3.5 for loss, one sack) was lost for the season in late October, making room for sophomore Keisean Lucier-South (36 tackles, 5.5 for loss, one sack) to see more time. He's also capable of shifting to a rush end spot.
UCLA's secondary has fielded a pretty consistent quartet. At corner, junior Nate Meadors (40 tackles, 1.5 for loss, one sack, a pick-six last weekend, and a team-leading seven pass break-ups) and freshman Darnay Holmes (32 tackles, one for loss, two picks, two PBUs) are the starters. Holmes has been hit with more than one targeting penalty (a problem for UCLA's defense all season) and missed the first half of last week's game due to his most recent. Sophomore Colin Samuel (nine tackles, one INT, four PBUs) started in his place. At safety, junior Adarius Pickett is second on the team with 69 tackles (three for loss, one INT, two PBUs), while senior Jaleel Wadood (61 tackles, two for loss) missed last week's game with a neck injury, but appears in line to return Saturday. Senior Mossi Johnson, a converted receiver, started in his place and notched seven tackles. Junior Octavius Spencer (24 tackles, one pick) is another option.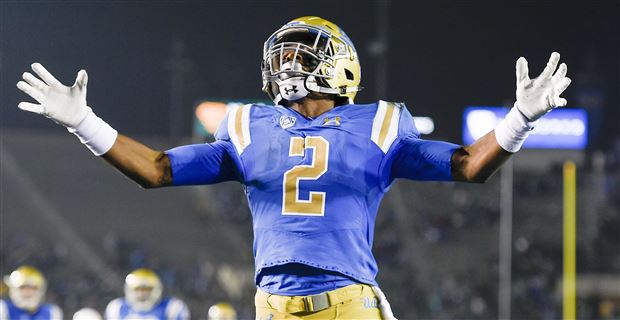 UCLA Special Teams
Sophomore placekicker JJ Molson has matured, making 12-of-15 field goals (a long of 45) and 42-of-43 PATs. He's notched just 33 touchbacks on 68 kickoff opportunities – a problem considering UCLA allows more than 24 yards per return, ranking 111th nationally on kick coverage. Junior Stefan Flintof is averaging 42.5 yards on 42 punts, but again, UCLA has struggled in coverage, allowing 10.1 yards per to rank 96th nationally. Pickett (8.5 yards on eight tries) is the punt returner. After Andrews' knee injury, freshman defensive back Mo Osling III (six attempts, 20.5 per) is the lead kick returner.
USC Offensive Gameplan
For the fifth time in the past six games, the Trojan offense topped the 500-yard mark in last weekend's win at Colorado. USC sputtered early – its first two drives ended in CU territory with a missed field goal and a failed fourth-down run – but once the Trojans broke the seal with a Darnold-to-Michael Pittman Jr. TD pass, USC scored on two of its next three possessions. Darnold's strong second half of 2017 continued: he's thrown 15 touchdowns against just three interceptions in the past six games as he's gained confidence in a maturing receiver group.
As USC's offense has risen, though, it continues to be Jones that makes it hard for defenses to focus on Darnold. Last weekend, the junior passed Reggie Bush, LenDale White, and Mike Garrett to move to sixth on the USC career rushing yards list – and his recent performances have reminded many of those greats in one particular way: the more carries Jones gets, the better he runs. Though USC continues to have solid depth at tailback – and promises to have even more with Stephen Carr finally expected to be a facet in this week's plan – it's hard to imagine the Trojans limiting Jones' touches in the season's remaining games.
Incidentally, a heavy dose of Jones seems like the right call against UCLA. Yes, the Bruins rush-D ranking is as bad as it gets, but a few more notes for perspective: UCLA hasn't held a team to fewer than 162 rushing yards (Memphis, Sept. 16) and only two opponents have rushed for fewer than 246 yards; four opponents have rushed for more than 300 yards, two for more than 400; and the Bruins have allowed 27 rushing TDs and 5.8 yards per carry. Tack on the fact that USC is averaging 247.5 yards rushing in its wins over UCLA the past two years, it's not exactly rocket science to figure out what the Trojans will try to do. That's not to say Darnold won't get his chances – after all, Helton and offensive coordinator Tee Helton are constantly preaching balance. UCLA has struggled to pressure quarterbacks, and given time, Darnold's likely to find a big play or two.
USC Defensive Gameplan
The Trojan defense allowed just 152 total yards and held the Buffaloes scoreless in last week's first half, thanks to a blocked field goal attempt (one of two for USC last weekend). But, oh, that second half. Including a major breakdown just two plays after the Trojans took a 27-0 lead – a blown coverage that resulted in a 79-yard touchdown pass – the Trojans allowed 334 yards and 24 points in the final two quarters. Overall, Colorado QB Steven Montez threw for 376 yards, but completed just 55 percent of his passes and threw two interceptions.
How much of Colorado's success through the air can be attributed to the Buffs being in comeback mode? More importantly, how much could be attributed to USC's focus on Lindsay? As noted in this space last week, Lindsay reaching 100 yards rushing is as good of a barometer as any of CU's chances of winning a game. With just 68 rushing yards against the Trojans, it marked the fifth time in Colorado's six losses that he'd failed to top the century mark.
After two weeks of focusing on stopping the legs of Lindsay and Arizona's Khalil Tate, that focus shifts to the arm of Rosen. UCLA's offense goes as far as Rosen's talent takes it. This season, that's been pretty far. The Bruins have reached at least 372 passing yards in a game six times, and have topped 400 three times. However, last week's 381-yard outing was Rosen's first 300-yard game since Sept. 30 vs. Colorado. USC, with its conference-leading 36 sacks, will do whatever it can to pressure Rosen. Expect to see – as usual – Trojan defensive backs in one-on-one situations as USC's pass rushers will likely come from all angles to, as Helton put it this week, "Get him off his spot."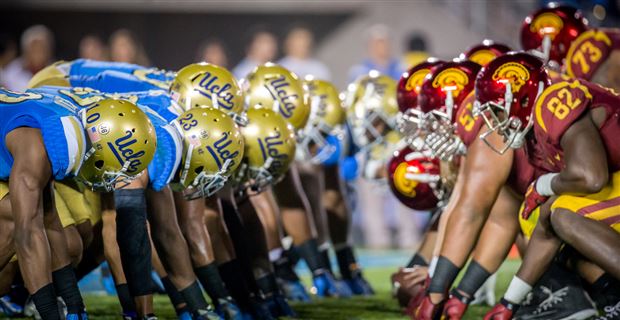 The Pick
When ranked USC is a double-digit favorite over unranked UCLA, there's one thing you can count on in the lead-up to the game: Bruin "legends" John Barnes and Eric McNeal will be interviewed somewhere. Sure, that's an interesting storyline – if such matchups happened only rarely. Unfortunately for those of us who would enjoy a more compelling rivalry storyline, this is the second straight year of such game-week "buzz." The fact of the matter is that USC is 15-6-2 in such matchups in the series. Outside of a puncher's chance for the talented Rosen, it's unreasonable to expect the Trojans will not improve on that mark.
While Rosen and the Bruins are capable of scoring quickly, they simply haven't been able to make up for their defense's incompetence on the road. UCLA is 0-5 away from the Rose Bowl, and since a three-point loss at Memphis on Sept. 16, the Bruins haven't come closer than 17 points (a 47-30 loss at Arizona on Oct. 14). The biggest reason: in those five contests, the Bruin defense is allowing 49 points per game. Its "best" performance? When Washington put up 44 in Seattle on Oct. 28.
It would take quite a turnaround for the UCLA defense to make this game competitive – that or a completely disjointed and turnover-ridden performance by USC's offense (not a wholly unlikely proposition as recently as four weeks ago). However, not only have the Trojans found an offensive rhythm the past three games, USC also has sussed out a roadmap against Mora's teams. On offense: grind them on the ground; find a few big passing plays; and control the clock (USC has averaged an astonishing 42/18 edge in time of possession vs. UCLA the past two years). On defense: pressure the quarterback; minimize the pain caused by those trick plays we all know are coming; and get off the field on third down (the Bruins are just six-of-25 on third down the past two seasons against the Trojans). Unless UCLA's offense can keep up in what could be an early-game shootout, it's likely that USC will pull away.
USC 48, UCLA 24
Tom Haire has been writing for USCFootball.com for 17 years. The editor of a monthly trade magazine in the marketing industry, he graduated from USC in 1994. He's traveled from Honolulu to Palo Alto to South Bend to New York to Miami to watch college football, and has also covered the Pac-10/12 for both PigskinPost.com and CollegeFootballNews.com. He can be reached at thomas.haire@me.com or followed on Twitter at http://twitter.com/thrants (@THrants)
Not a subscriber? Sign up now to get all the great information in the War Room, access to the Peristyle and all of the premium stories on USCFootball.com! Click here to subscribe!
And don't forget to sign up for our USCFootball.com Newsletter! It's free and a great way to get all the latest USC Trojan football information right into your inbox!