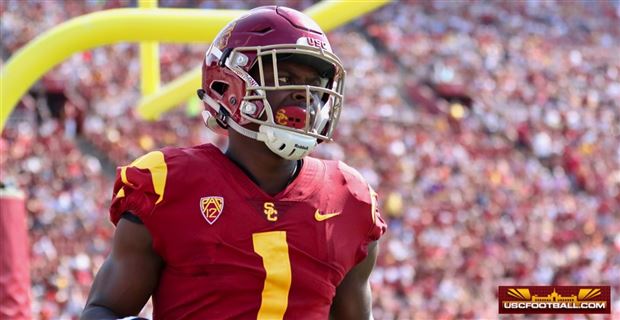 Former five-star WR and freshman Joseph Lewis was arrested on a domestic violence charge Monday afternoon per an arrest record obtained by USCFootball.com.
A LAPD spokesperson stated that Lewis was booked on a 273.5 (a) PC charge, which is defined as "corporal injury on a spouse or cohabitant." A corporal injury is defined as a domestic battery that leaves a "visible" injury on the victim. The charge is listed as a felony on the arrest record and carries up to four years in prison if convicted.
A USC spokesperson issued this statement after USCFootball.com reached out for a response to Lewis' arrest:
"USC takes all reports of domestic abuse seriously and is cooperating fully with the law enforcement investigation. While this student code of conduct issue is being investigated, the student has been suspended from all football-related activities. Student disciplinary records and student conduct proceedings are confidential at USC and protected by law."
[UPDATE] Lewis was released at 12:59 a.m. on Tuesday morning and is scheduled for his first court date on March 6th, which is the first day of spring practice for USC.
There is little information in the initial booking sheet, but it lists the bail at $50,000 and that the arrest was made at 2 p.m. at a Los Angeles address and he was booked at 4:45 p.m.
Coming out of Hawkins High the 6-foot-2 Lewis was rated the No. 31 overall recruit in the 2017 class and the No. 4 WR, according to the 247Sports.com. Lewis, a U.S. Army All-American, played sparingly as a true freshman, catching four passes for 39 yards despite flashing in fall training camp.
Lewis was expected to have a much bigger role for his sophomore season with the departure of senior Steven Mitchell Jr. and leading receiver Deontay Burnett to the NFL.
Shotgun Spratling, Keely Eure and Ryan Abraham contributed to this report
Not a subscriber? Sign up now to get all the great information in the War Room, access to the Peristyle and all of the premium stories on USCFootball.com! Click here to subscribe!
And don't forget to sign up for our USCFootball.com Newsletter! It's free and a great way to get all the latest USC Trojan football information right into your inbox!