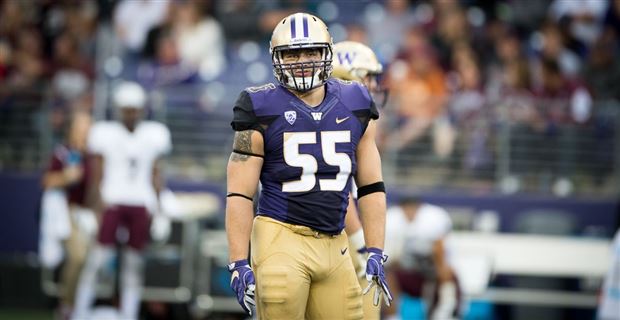 Every five days until September 1st, Dawgman will profile one Husky football player to help countdown the days until opening kickoff in Atlanta when Washington squares off with Auburn. With 55 days until then, it's fitting the series begins with an in-depth look at pass-rushing specialist Ryan Bowman.
Since arriving at the University of Washington, Ryan Bowman has made a habit of exceeding expectations. He came to campus as a walk-on before the 2016 season. His contributions went unnoticed to fans or media, as he redshirted during his first year on campus but the coaching staff recognized the hard work of the Bellevue-born pass rusher, naming him the Defensive Scout Player of the Year.
His relentless work ethic in practice carried over into fall camp the following year, where he carved out a role for himself heading into his redshirt freshman season. Prior to the first game of 2017, Bowman was listed as a co-back-up to Benning Potoa'e alongside former outside linebacker Jusstis Warren.
In his first game as a Husky, Bowman played in 35 of the team's 81 snaps on the defensive side of the ball. He recorded a hit on Montana quarterback Reese Phillips, batted down a pass, and made one tackle.
A strong start to the season catalyzed a breakout year for the former walk-on. He would proceed to play in every game for the Washington Huskies, as his consistency earned him more and more playing time. Over the course of 13 games, Bowman graded out positively as a pass rusher in 11. His nose for the quarterback helped him tally a team high 5.5 sacks.
Perhaps what's most applaudable about Bowman's game is his efficiency. Despite playing in far fewer than half of the Huskies defensive snaps in 2017, he was still the team's most productive pass rusher. His efficiency is not only impressive on a team level, but on a national level as well. Only 21 other 3-4 outside linebackers in the nation were more efficient when rushing the passer last season according to Pro Football Focus.
And the national press has started to take notice. Phil Steele has Bowman at No. 34 when it comes to the top draft-eligible outside linebackers in college football. That may not sound impressive, but that puts Bowman at number four in the Pac-12 behind USC's Porter Gustin, Oregon's Justin Hollins and Utah's Chase Hansen - all seniors.
Another important characteristic of the rising redshirt sophomore is his versatility. On top of being one of the nation's best pass rushers, he tied for fourth nationally in "run stop percentage" among 3-4 outside linebackers. He has a knack for making plays in the backfield against the run or pass, helping the Husky defense get off the field and buying more opportunities for the offense to score.
Bowman's breakout season earned him a scholarship at the end of 2017. In just 55 days, he will set out to exceed expectations again.