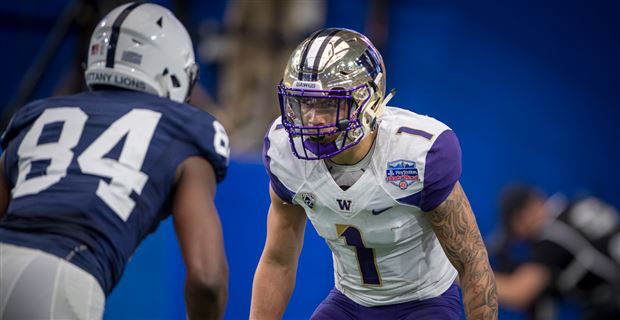 Husky nation aren't the only ones looking forward to seeing what redshirt sophomore cornerback Byron Murphy and junior safety Taylor Rapp are able to do this season. The talented prospects are already drawing the attention of pro scouts and one of NFL.com's draft analysts, Lance Zierlein, said they are two of the ten college defensive backs he's looking forward to seeing this fall.
On Murphy, Zierlein says...
"Murphy played in just the first three and last three games of 2017, thanks to a broken foot, but in those six games he finished with 10 passes defensed (including three interceptions) on just 27 targets. Murphy combines elite instincts with plus short-area quickness, disrupting more throws than most cornerbacks in the country. He is also an unusually violent hitter for a cornerback and seems to cherish run-support opportunities. Watching Murphy is very reminiscent of observing former Husky Sidney Jones, and I think the redshirt sophomore's career trajectory will be similar."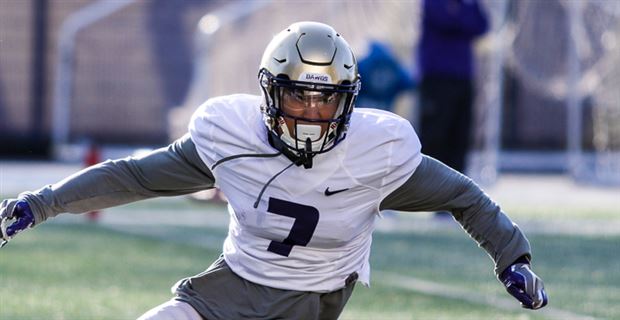 Zierlein also thinks very highly of Rapp although he noted he'll be looking at something specific this season to see where his ceiling is at...
"Rapp enters his junior year as an experienced, reliable safety who can handle deep-coverage responsibilities or mix it up around the box. Rapp has good size and shows no hesitation when it is time to come charging in to pop a ball carrier or wide receiver, but I'm still not 100 percent sold on his range as a deep safety, which is what I will be watching for this season."
After knocking the rust off from missing seven games in a so-so game vs. Utah, Murphy was back to his old ball-hawking ways with 12 tackles, four pass breakups and an interception combined against Washington State and Penn State.
Rapp was dinged up for much of the 2017 season with different minor injuries that limited his effectiveness, but he still managed to finish third on the team with 59 tackles to go along with two sacks, two pass-breakups, two forced fumbles and two fumble recoveries. Following the departures of Sidney Jones, Kevin King and Budda Baker after the 2016 season, the Bellingham native took on a more active leadership role for the Huskies in the secondary and he, along with Jojo McIntosh will form one of the hardest hitting safety tandems in the Pac 12 if not the nation.
This past spring, Murphy showed the confidence and swagger of a budding star and he didn't just let his play do the talking, he also let every receiver to come into his zone exactly what he was thinking at any given moment.
Murphy will combine with Jordan Miller, who is expected to be full-go by the start of fall camp after missing the second half of the 2017 season with a broken leg, to form one of the top corner tandems in the country and backing them up will be group of talented underclassmen that include Keith Taylor, Elijah Molden, who also plays over the slot, and Austin Joyner.
Rapp's spring was much more workmanlike. He went about his business while sporting a new number -- he is now wearing the number 7 jersey after wearing 21 for his first two seasons -- and is one of the leaders on a defense that many think could wind up being one of the best in the nation for the third year in a row.
Most draftniks think that both Murphy and Rapp will wind up declaring for the NFL Draft following the 2018 football season, but don't expect the Husky coaches to let either lose sight of the task at hand -- having outstanding seasons this fall.