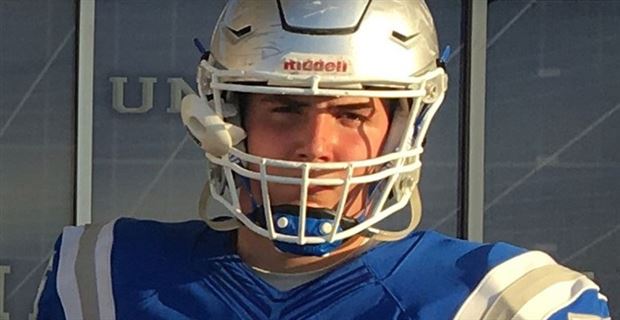 Carlsbad (NM) offensive lineman Taylor Miterko, one of the fastest rising prospects in the 2019 recruiting class, named his top ten earlier today and Washington made the list.
The Huskies are one of the latest schools to offer to the talented offensive linemen and they are joined on the list by Boise State, Arizona State, Colorado, TCU, Oklahoma State, Texas Tech, Baylor, Nebraska and Oregon.
"Coach (Scott) Huff offered me," Miterko told Dawgman.com on May 2nd. "I've been talking to him for a couple of months now and on Monday (April 30th) he was at my school and he watched me work out and then he called and talked to me and my parents and after he asked us a couple of questions, he told me I have an offer from them."
Miterko is the 10th offensive line prospect to receive a offer from the Huskies.
Washington already has commitments from Nathaniel Kalepo from Rainier Beach High School in south Seattle and Corey Luciano, a junior college prospect from Laney College and another commit, Sama Pa'ama from Kaimuki High School in Hawaii, is expected to be an offensive lineman, but things are still a bit ambiguous with him as he prefers to play defense, at least at this point.
Assuming all three commits will wind up along the offensive line, Washington is in the market for one more offensive linemen and Miterko is squarely in their cross-hairs.
Along with Miterko, who projects at right tackle or inside in guard once he gets to college, Washington is also doing very well with several other targets on their board including San Juan Hills (San Juan Capistrano, Ca.) OL Sean Rhyan and Kapolei (Hi.) OL Julius Buelow.
The Huskies lose four linemen from their two-deeps following the completion of the 2018 football season.
Trey Adams and Kaleb McGary, both starting tackles, and Matt James and Jesse Sosebee, who are battling for the starting right guard position, will all exhaust their eligibility following the season.
On a good note, Washington will add three very talented linemen in June, once the 2018 class arrives.
Matteo Mele, a three-star prospect from Arizona, is the most intriguing since he's only played one year of offensive line after spending the first three years of his prep career at tight end.
Washington then dipped into Texas to take Victor Curne, who earned offensive linemen of the year in the city of Houston. He is slated to play guard, but he could wind up at tackle if the need arises.
Lastly, one of the biggest prospects in the class, M.J. Ale, a local prospect from Fife, is a young man who is expected to come in and play guard, using his immense size and athleticism to be a destructive force up front for the Huskies.