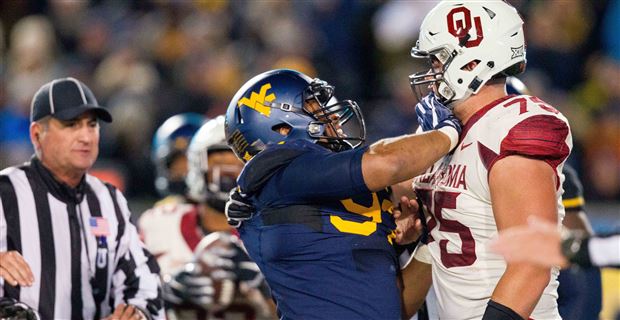 FRISCO, Texas -- There were 52 media votes in the Big 12's preseason poll. Forty-six went to Oklahoma, making the Sooners the overwhelming pick to win the conference. It's the third straight year this has happened, and if Oklahoma makes good on the media's prediction, it'll be the first time a team has won four straight Big 12 titles.
"They deserve to be picked to win our league," commissioner Bob Bowlsby said. "Whether they can do it is yet to be decided."
The truly odd part of the preseason poll was not Oklahoma's dominance but the fact four other teams split the remaining six first-place votes. There are nine other teams that want to beat the Sooners and four that are supposed to have a chance, but just one has a, shall we say, fighting chance. West Virginia picked up two first-place votes and finished second in the poll. With apologies to Texas and Oklahoma State, Oklahoma's truest rivals in the Big 12, no one wants to beat the Sooners more than the Mountaineers. The Longhorns and the Cowboys have done it before. WVU has not, and the frustrations therein were among the many manifestations from both pregame and in-game skirmishes the past two years.
"There has been some of that," Sooners coach Lincoln Riley said. "I don't know, I think it's they've had good teams and we've had good teams. They've been important games. They play with an edge. We as a program try to play with an edge, too. When you've got two forces like that meeting there, sometimes you get a little bit of that. No harm, no foul."
Disregard the shouting matches from one sideline to the other -- there is respect among the coaching staffs. Riley played quarterback at Texas Tech when WVU head coach Dana Holgorsen was an assistant coach there. Holgorsen was college teammates with Sooners offensive line coach Bill Bedenbaugh, and he was on Holgorsen's first two WVU staffs. But Holgorsen knows the story, and he knows it predates the past few games. It's why he claimed following the 2016 home loss that the Sooners "invented intimidation. Call it unsportsmanlike if you want to. It's just kind of been their M.O. for a long time. We're not backing down from anybody, so when they pull some of that stuff, we're going to stand up."
There was a dust-up at midfield before that game and then a bushel of pushes, shoves, taunts and personal fouls. In a game the Mountaineers hoped to win, they were instead eliminated from the conference championship race. Last year, the Mountaineers had less hope. They were shorthanded without Will Grier, but they battled and again brought the bravado. There were more extracurriculars and shenanigans, and it escalated until Sooners offensive lineman Dru Samia was ejected in the second quarter for throwing a punch.
"Every man has hit a point where they snap and there's nothing stopping them, and you know if you hit that point on the field, it's going to happen," Sooners offensive lineman Ben Powers said.
In the end, the Sooners beat WVU 56-28 and 59-31.
"I think West Virginia hates us more than we hate them," Powers said. "I think that's the case. They always come in and start it. We're always there to finish it."
The Sooners say they're used to this. They've spent their career atop the conference, and they've experienced teams doing all they can to make their mark. Much of it is within the rules. Some of it is not. They've played in the Bedlam game against Oklahoma State. They've played in the Red River Showdown on a neutral field against Texas. And they've noted something special with the Mountaineers.
"As it should be," defensive tackle Amani Bledsoe said. "Football is a very emotional sport. You can get excited. You play on edge. It's going to get chippy here and there. It's going to be chippy with them. It's going to be related to kind of an OU-Texas game, if you will. It's going to be high-intensity."
As fate would have it, the preseason picks to reach the Big 12 title game play in the final game of the regular season and a week before the conference champion is crowned in Dallas. It's the sort of familiarity that could breed even more contempt.
"It's fun to go against them," Powers said. "They don't like us. We don't like them. It's very clear."