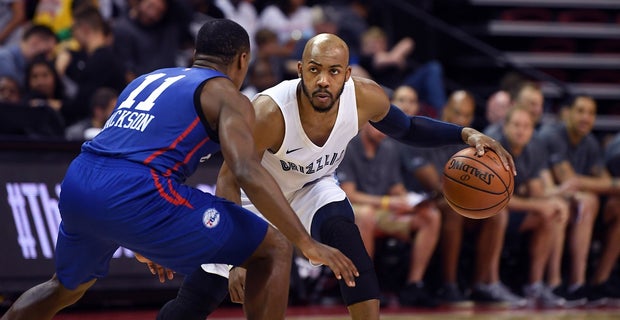 Memphis Grizzlies rookie point guard Jevon Carter suffered a torn ligament in his right thumb and will undergo surgery, according to Michael Wallace of Grizzlies.com. The injury happened during a development camp in Las Vegas when Carter's thumb got caught in an opposing player's jersey - "a freak injury," per Wallace.
According to Carter's mother, Carter will undergo surgery on Monday, and he will then wear a "cast" for a couple days. After that, he can get back to a lot of what players will be doing this offseson - conditioning and some drills - but will not be back to full health for up to eight weeks. That timeline lines up with the one given by Dr. Selene Parekh, who said Carter will need six to eight weeks "recovery to practice." Parekh is an orthopedic surgeon at Duke University.
Carter, a star at West Virginia, was drafted No. 32 overall by the Memphis Grizzlies. The second round pick was one of the to players in the NBA Summer League, participating in both leagues in Utah and Las Vegas. He played in ten games, averaging 11.4 points, 4.6 assists, 4.3 rebounds and 1.1 steals for the Grizzlies, as the team advanced to the semifinals of the Las Vegas Summer League Tournament.
In both summer leagues, Carter was credited with playing tremendous defense, which comes as no surprise to Mountaineer fans who watched him earn First Team All-Defense in the Big12 Conference all four seasons at West Virginia. Carter also won the National Defensive Player of the Year in his junior and senior seasons, all while averaging 17.3 points, 6.6 assists, 4.6 rebounds and 3.0 steals during his senior year.
Last month, Carter signed a two-year, fully-guaranteed deal with a team option for a third season. The base of the deal is two years for $2.255 million, with $838,464 in in 2018-19 and $1,416,852 in 2019-20. Both of those salaries are fully guaranteed. Carter would become a restricted free agent in 2020, but the team could exercise an option for a third season with a fully-guaranteed salary of $1,922,425 in 2020-21.