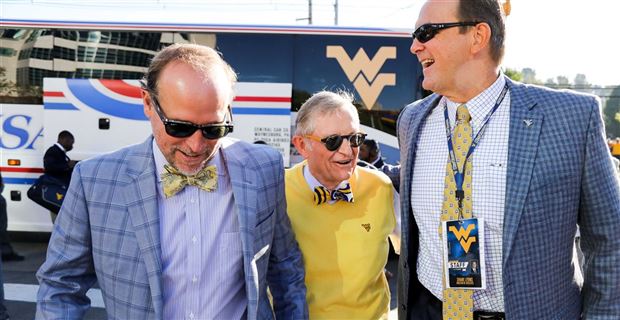 West Virginia's athletic department is working with big, black numbers. Revenue for media rights dispersed by the Big 12 and from IMG College should exceed $45 million. The Mountaineers' federal accounting shows overall income at about twice that amount. But WVU is building, spending, paying and inking big, red numbers, too, and rarely if ever in college athletics do things cost less now than they will in the future.
And the future is now. Athletic Director Shane Lyons told 247Sports budgeting practices now include setting money aside for a reserve.
"When I got here, there really wasn't any," said Lyons, who succeeded Oliver Luck in January 2015 as WVU was in its third year as a Big 12 member and had yet to receive a full share of conference revenue. "It's my goal to build up a reserve for those rainy day situations."
So, the Mountaineers don't spend all the money they make. They stash some away, hoping that cache grows over time but knowing it's there if and when it's needed. Chances are, it's going to be needed. There will be occasions when they need to spend more than they'd planned for something -- or someone -- or when they need to spend more than they were used to spending.
Lyons said there isn't a percentage or a figure they designate every year. WVU considers its budget and the revenue and finds a good number.
"If our expenses are $2 million less than the revenue, great," Lyons said. "We're going to put that into the reserve and hold onto it for when we need it. To me, the fiscal responsibility I have in this department and this university is making sure we do."
There are two applications to keep in mind here. One is still far off in the distance, hard to see on the horizon but hard to ignore, too. The lucrative Big 12 payouts are based largely on the television partnerships with Fox and ESPN. It's worth $20 million a year, but it expires after the 2024-25 year.
It's hard to predict if one, the other or both will renew those deals, but it's easy to be suspicious. ESPN, which already has a SEC network and is adding an ACC version, has been losing subscribers and managing expenses. Fox isn't as large and can't expect tremendous growth. Both are presently paying plenty for arrangements with pro and college partnerships and each has struck deals with combat sports. ESPN is in for $300 million a year for five years with the UFC. Fox committed $205 million annually across five years to the WWE. Both those deals are up before the Big 12 deal is, but both could also be renewed and perhaps at a greater rate before then.
In short, there's no guarantee one of those networks, any other network or a streaming service is going to be there to guarantee WVU and all the other big 12 schools those massive paydays. Putting some money away makes sense.
The other application is more immediate and no less practical, and it's already come in handy. When WVU renovated the Coliseum two years ago, there were complications after discovering asbestos and then delays for purchasing and delivering materials. The costs added up, but the reserve was there to handle it, and WVU didn't need to take money from another team or another project.
"When you're dealing with facilities and older facilities, there are things that can go wrong, from air conditioning units to piping to electrical -- there are a number of different things you might not normally budget for that we have money set aside for just in case one of those things would happen," Lyons said. "It could be $1 million or $2 million in a specific year, and it could be $3 million or $4 million.
"We're in a phase now where we're trying to play catch-up with some of our facilities, so we might take a look at that money. And of course, when you're building and it's not 100-percent fund-raised, you're going to have more debt service that you have to pay."