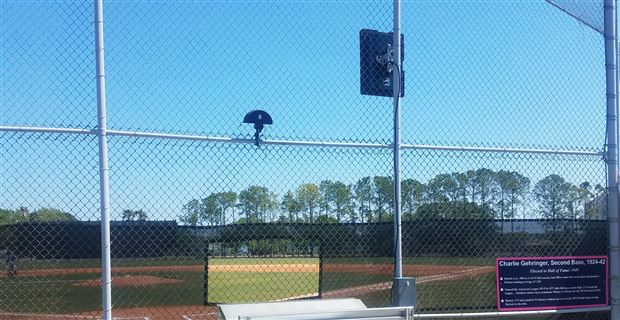 Last week's action saw all nine teams in the system take the field, with multiple extra-inning contests, walk-offs, offensive explosions, and dominant starts.
Detroit Tigers Minor League Week in Review: 6/18 - 6/24
Toledo Mud Hens
44-30 Overall, 1st in the West Division, 3.5 Games Ahead
The Mud Hens had Monday off so they could travel to Georgia for a three-game set against Gwinnett. Mikie Mahtook hit a double and a homer, Artie Lewicki (5IP, 4H, ER, 2BB, K) kept the Stripers' bats at bay, and Junichi Tazawa (IP) made his organizational debut in a 7-4 victory. Dawel Lugo hit a two-run triple and then scored on a Christin Stewart single as Toledo jumped out to a 3-0 lead in the first on Wednesday, and Tyler Alexander (5IP, 6H, 2ER, BB, 4K) was solid in a 5-3 win. Mike Gerber hit a two-run homer in the first on Thursday, and then he hit another two-run shot with 2 outs in the 9th to pull the Hens within a run. Three batters later a Jim Adduci single tied the same at six, but Gwinnett was able to avoid the sweep in the bottom of the frame when Dustin Peterson scored Danny Santana from second on a walk-off single. Jacob Turner (6IP, 3H, 2BB, 4K) continued his outstanding work for the Mud Hens on Friday, and Mahtook (2-for-4, BB, HR) and Adduci (3-for-4, 2B) led the offense to a 4-0 win in Charlotte. Toledo's week of solid pitching continued on Saturday as Kyle Dowdy (7IP, 6H, ER, 2BB, 5K) put together what was probably his best start of the season and Zac Houston (IP, H, 2K) picked up his first save of the year in a 2-1 victory over the Knights. The Hens couldn't complete the sweep on Sunday, however, despite taking the lead late on a two-run Stewart homer. Kevin Chapman came in to pitch in the 7th and immediately gave up a game-tying home run, and then in the 8th Zac Reininger gave up a leadoff triple and a single, and Toledo lost 5-4.
- Mahtook and Adduci combined to play 138 games for the Tigers last year, but so far this season Mahtook has played 21 games for Detroit, and Adduci has played none. That has been Toledo's gain, however, as the outfield duo combined to go 16-for-42 last week, with two doubles, a triple, four home runs, 12 runs scored, and 10 RBIs.
- Reliever Paul Voelker has quietly gone about his business this year, and among the eight pitchers to top 30 innings for the Mud Hens this year, he owns the lowest ERA, at 2.80. He's currently in the midst of a nine-inning scoreless streak.
- Stewart's home run on Sunday was his first since May 29th, a span of 21 games. Prior to this stretch he had never gone more than 14 games without a homer in his pro career. And yet, his 14 home runs still lead the International League.
Erie SeaWolves
33-40 Overall, 5th in the Western Division, 8.0 Games Behind
Erie's Monday game against New Hampshire was postponed because of rain, so the teams squared off twice on Tuesday. Beau Burrows (5IP, 5H, 2ER, 2BB, 2K) was solid, if unspectacular, in game one, and the SeaWolves forced the game into extra-innings thanks to a three-run 6th, but the Fisher Cats and the new extra-inning rules conspired against John Schreiber (1 1/3IP, 3H, ER, K) in a 5-3 loss. The Wolves dropped the second game in extras, too, despite a strong AA debut from Alex Faedo (6IP, 2H, 2ER, 2BB, 7K) and a big game from the freshly promoted Daz Cameron (2-for-3, 2BB, 3B, 2R). The score was knotted at two heading into extras, and the clubs each scored a single run in the 8th and 9th, but New Hampshire scored in the 10th and then protected their 5-4 lead to scrape out the win. Wednesday's game was yet another extra-inning affair, and yet another Erie loss. Sandy Baez (2 1/3IP, 7H, 5ER, 3BB, 3K) was knocked out of the game early, but the Erie offense, led by Will Maddox (3-for-6, 2B, 2R, SB) and Josh Lester (3-for-4, BB, HR, 3R, 3 RBIs), kept the club in the game and eventually tied it at eight in the 8th. But Schreiber's extra-inning woes struck again, and his record fell to 0-5 on the season as the Fisher Cats prevailed 10-9. Thursday was an off day, and Matt Hall (4IP, 3H, 5K) got the start on Friday when Spencer Turnbull was placed on the disabled list. The Wolves held a 1-0 lead over Altoona until the 6th inning when the offense exploded for eight runs on three singles, three walks, two triples, and a wild pitch in an eventual 9-3 win. Jake Robson and Cameron both hit home runs in the first inning on Saturday, but Kyle Funkhouser (4 2/3IP, 7H, 2ER, 2BB, 6K) wasn't at his best, and the Curve pulled away for a 5-3 win. Cameron continued his impressive debut with the SeaWolves on Sunday, hitting a grand slam in the 5th inning to help boost Burrows (6IP, 4H, 2ER, 4BB, 11K) to a 9-4 victory.
- Cameron instantly stepped into the #3 slot in the batting order and didn't miss a beat last week, going 11-for-25 with two doubles, a triple, two homers, three walks, two steals, and six RBIs.
- Schreiber's 0-5 record is deceiving this year, because four of those five losses have come in extra innings, when runners are automatically placed on 2nd base. This is an issue for him, because batters post a miniscule .279 OPS against him with the bases empty, but a .722 OPS with runners on. And 4 of his 11 walks were intentional, which also doesn't help him much because he's an extreme fly ball pitcher who hasn't had a single double play turned behind him.
- Burrows set a new single-game career high with his 11 strikeouts on Sunday. This after striking out just eight batters in 15 2/3 innings over his previous three starts.
Lakeland Flying Tigers
39-34 Overall, 3-0 Second Half, 2nd in the North Division, 0.5 Game Behind
Lakeland's first-half playoff hopes were dashed on Monday when they fell 5-4 to Charlotte. Liarvis Breto (5 1/3IP, 4H, 2ER, BB, 6K) gave the team a strong effort, and Danny Pinero (3-for-5, 2 2B) had a big game, but Drew Carlton (IP, 3H, ER, 2K) couldn't hold the 3-2 lead in the 9th. The Flying Tigers took a 4-3 lead in the 10th only to see Evan Hill walk in the tying run in the 10th, and then give up a game winning fielder's choice in the 11th. The clubs played twice on Tuesday, with Charlotte pitchers scattering six hits in a 2-0 game-one triumph, but the Flygers getting revenge with a 3-2 win in the 9th in game two. They went to extras for the third straight game on Wednesday. Anthony Castro (5IP, 8H, ER, 3BB, K) pitched his way around 11 baserunners, and Isaac Paredes (3-for-5, 2B) had a big game, but Carlton took the loss when the Stone Crabs won 6-5 in 11 innings. Thursday's outing was suspended after just one inning, but Lakeland completed a 4-1 win on Friday when Eudis Idrogo (7IP, 4H, ER, BB, 4K) shut down St. Lucie. The teams were able to play twice on Saturday, with the Flygers emerging with wins in both contests. Alfred Gutierrez, Fernando Perez, and Eduardo Jimenez combined to hold the Mets to two runs on eight hits in a 4-2 win in game one, while Troy Montgomery (2-for-3, BB, 2B, 4 RBIs) and Wladimir Pinto (2 2/3IP, 5K) led the way in an 8-3 win in game two. Sunday's outing was postponed due to rain, so Lakeland finished with a 4-3 week.
- Paredes probably had the best week of anyone on the team, going 11-for-22 with two doubles, a triple, and three RBIs. The 19-year-old native of Mexico posted an .871 OPS in April, but it plunged all the way down to .530 in May. He seems to be back on track in June with an .839 OPS through 19 games, though his power and patience numbers are still a bit low.
- The Flying Tigers are off to a good start to the second half of the season, and if they make a playoff run it will likely be thanks to some unexpected starting pitchers. Greg Soto and Anthony Castro remain from the original rotation, but it looks like the remaining starts will belong to Spenser Watkins, Alfred Gutierrez, and anyone else they can find.
- Kenny Wilson is 28, and has played for 14 different minor league teams since he was drafted in 2008. He's not a prospect, but he proved to be a valuable member of the organization last week by accepting a demotion to Lakeland and going 6-for-18 with four walks, four doubles, a homer, and two steals.
West Michigan Whitecaps
38-36 Overall, 2-2 Second Half, T4th in the Eastern Division, 2.0 Games Behind
West Michigan didn't have a game on the schedule until Friday because of the Midwest League All-Star break and a rainout on Thursday. They bid farewell to shortstop Cole Peterson and outfielder Ulrich Bojarski, welcomed back infielder Anthony Pereira, and added their first 2018 draftee to the roster in the form of Brock Deatherage. They managed to get one game in on Friday, with Elvin Rodriguez (7IP, 7H, ER, 5K) putting together a strong start and Rey Rivera (2-for-4, 2B, 2 RBIs) leading the offense to a 5-3 win. A different Rodriguez stifled the Fort Wayne bats on Saturday, as Jesus (7IP, 6H, 2ER, 7K) essentially matched Elvin's efforts, and the bats were able to scratch out enough offense to win 3-2. The teams met twice on Sunday, and the TinCaps took both games, outscoring West Michigan 14-6. Brad Bass (4IP, 7H, 5ER, 2BB, 4K) got knocked around in game one, while Endrys Briceno (3IP, 5H, 4ER, 3BB, K) took it on the chin in game two, spoiling a solid day from Rivera (2-for-6, 2B, HR).
- Deatherage became the first member of the 2018 draft to make it to a full-season league when he played center field for the Whitecaps on Saturday (1-for-3, BB, SB). He was soon joined by seventh rounder Eric De La Rosa, who manned left field and DH on Sunday (1-for-6, 2B, SB).
- The brothers Rodriguez (not actual brothers) have been huge for the West Michigan rotation over the last month or so. Jesus, born 2/16/98, owns a 2.89 ERA with 26 strikeouts and six walks over 28 innings in his last five starts, while Elvin, born 3/31/98, sports a stellar 1.24 ERA with 42 strikeouts and seven walks over 36 1/3 innings in his last six starts.
- Neither member of the Whitecaps saw a ton of action in Tuesday's All-Star game, with Peterson getting robbed of a single in the 8th inning, and Brandyn Sittinger pitching to just one batter in the 8th, though he did strike him out on a 97-mph fastball.
Connecticut Tigers
2-8 Overall, 4th in the Stedler Division, 4.0 Games Ahead
Connecticut's first full week of action was an utter disaster, and it started with a whimper as Vermont pitched to all of one batter (a walk to Isrrael De La Cruz) before the game was suspended due to rain. The teams played twice on Tuesday, with the Tigers tying the game at four on a wild pitch in the eighth inning of game one, only to see the Lake Monsters hit a two-out triple and then walk three times in the 9th to win 5-4. The second game was perhaps even more frustrating for Connecticut, as Jack O'Loughlin (4IP, 5K) and Billy Lescher (3IP, 2BB, K) combined to throw seven no-hit innings, but the offense could only muster three hits of their own, and Vermont walked off again in the 8th on their lone hit of the night. The Monsters completed their sweep on Wednesday when they scored eight times in the 7th and 8th to win 10-3 and spoil the first home run of De La Cruz's pro career. Wilkel Hernandez (1 2/3IP, 2H, ER, 3BB, 6K) was scheduled to start Monday's outing, but instead made his organizational debut on Thursday with an eventful first inning in which he gave up a home run, walked two batters, and struck out four. The offense could only scratch out two hits, though, and the Tigers lost to Brooklyn 6-0. Their woes continued on Friday when the Cyclones beat up on Jose Vasquez (3 2/3IP, 5H, 3ER, 2BB, 6K) in a 9-1 drubbing. It looked like Connecticut would end their losing streak on Saturday, as a big game from De La Cruz (4-for-4, 2B, 2R, SB) and a decent start from Gio Arriera (5IP, 7H, 3ER, 4BB, 5K) had the club ahead 4-3 heading into the 9th. But Daniel Gonzalez (2/3IP, 5H, 5ER, 2BB, K) had a disastrous outing, and Brooklyn prevailed 8-4. The Tigers capped off their winless week with a rain-shortened 7-1 loss to Hudson Valley, with their only run coming on a 5th-inning double from Teddy Hoffman.
- De La Cruz was essentially the long bright spot on offense for Connecticut, going 6-for-19 with a double, a home run, two walks, and five runs scored. Cesar Gonzalez (3-for-9, 2B, 3R) was the only other member of the team who scored more than once, and he was released on Saturday.
- Long outings for starters are rare in the New York-Penn League, so the best pitchers thus far have been relievers Drew Crosby (7IP, 4H, ER, BB, 9K), Mitch Stalsberg (6 1/3IP, 4H, ER, 7K), and Lescher (7IP, 2H, 2BB, 6K). All three were drafted in the 17th round or later in 2017.
- An 0-7 week and an eight-game losing streak might suggest some poor statistical performances, and sure enough, the Tigers rank second-to-last in the league so far in hits, runs, homers, strikeouts, slugging percentage, and batting average. And the pitching staff sports the third worst ERA in the league, at 4.82.
Gulf Coast League Tigers East
2-3 Overall, T2nd in the Northeast Division, 1.0 Games Behind
The GCL season officially began on Monday, with a handful of 2018 draft picks making their pro debuts, including shortstop Kelvin Smith (1-for-4, BB, 2SB), but the Tigers fell 3-2 to the Braves. That reasonable game gave way to the sort of unbridled insanity that only rookie-level action can offer, as the Tigers East won 24-8 over the Yankees West on Tuesday, with Clark Brinkman (3-for-4, 3BB, 2B, 3B, 5 RBI), Justin Childers (4-for-5, 2BB, HR, 3 RBIs), and Moises Bello (3-for-5, 2B, 7 RBIs) all having monster games. Wednesday's action saw Jared Tobey (4IP, H, BB, 3K) and Chavez Fernander (4IP, H, 4K) make strong pro debuts as the Tigers outhit the Pirates 12 to 2 in an 8-0 win. The team had Thursday off and then took on the Yankees East in a wild, back-and-forth game on Friday that the Yankees eventually won 11-8. The Tigers finished the week with a thud, falling 7-1 to the Blue Jays, with their lone run coming on Avery Tuck's first professional homer.
-Tuesday's wild game saw the Tigers rack up 33 baserunners on 18 hits, 13 walks, and two hit batters. The club sent 11 men to the plate in the eight-run 4th inning, 11 more in the five-run 6th inning, and 15 batters saw action in the nine-run 7th.
- Most of the college hitters performed well last week, but Childers (8-for-17, 3BB, HR, 9R, 7 RBIs) and Brinkman (5-for-13, 6BB, 2B, 3B, 5R, 5 RBIs) were particularly tough outs.
- Fernader is an interesting arm to watch, if not necessarily a prospect. He was the only native of the Bahamas drafted in 2018, and he has reportedly seen his fastball hit 93-mph in the past.
Gulf Coast League Tigers West
5-0 Overall, 1st in the Northwest Division, 1.0 Game Ahead
The Tigers West club began their season with a little more luck than their East counterparts, largely thanks to an absurd pro debut from 2018 10th-round draft pick Brock Deatherage (3-for-5, 3HR) in a 9-3 win. Deatherage (2-for-4, BB, HR, 4 RBIs) did it again on Tuesday, hitting a grand slam in the 2nd inning, while infielder Jeremiah Burks (1-for-2, 2BB, HR, 3 RBIs) hit his first career homer, and Kingston Liniak (3-for-6, 2R, 3 RBIs) hit a walk-off single in his first pro game to give the Tigers a 12-11 win over the Blue Jays. The Braves were the victim of an 11-1 thrashing on Wednesday, with Garrett Hill (5IP, 3H, ER, BB, 7K) picking up his first career win, and Eric De La Rosa (3-for-5, 2B, 2 RBIs) leading the offense. Rain canceled Thursday's outing, but the Tigers West kept the wins coming with a 5-1 triumph on Friday over the Phillies West that saw De La Rosa hit his first pro homer, and Adam Wolf (3IP, 2H, 3BB, 2K) and Tarik Skubal (IP, H, K) make their professional pitching debuts. The Tigers made it a perfect week on Saturday, topping the Phillies East 7-4 behind strong games from Burks (3-for-5, 2B, 2 RBIs) and Jordan Verdon (3-for-5, 2 2B, RBI).
- Four different 2018 draftees posted an OPS of better than 1.100 in their first week of pro action. Deatherage (5-for-9, 4 HR) led the way with his absurd start, but Burks (5-for-12, 2BB, 2 2B, HR), De La Rosa (6-for-13, 2B, HR) and Verdon (7-for-17, 4 2B) weren't far behind.
- Sandel De La Cruz likely isn't long for the GCL, but the 21-year-old reliever had a strong first week anyway, tossing 4 1/3 scoreless innings and striking out six.
- Some of the young Latin players might get lost in the shuffle with all the new draft picks making their debuts, but don't forget about Wenceel Perez. The ultra-athletic switch-hitting shortstop is the second youngest player on the team -- about two weeks older than Liniak -- and he was impressive in his U.S. debut, going 6-for-17 with two walks and two doubles.
Dominican Summer League Tigers1
7-11 Overall, T5th in the San Pedro Division, 5.5 Games Behind
Shortstop Alvaro Gonzalez (2-for-4, 3B, 2SB) led a strong offensive effort for the Tigers1 on Monday, but the pitching couldn't hold up and the club lost 12-9. Ricardo Silva (5IP, 5H, 3ER) was decent on Tuesday, and catcher Danuerys De La Cruz hit a two-run single in the 8th to give the Tigers a 5-3 win over the Phillies White. Wednesday's game was ugly, with the Tigers making five errors and their pitchers combining for six walks and just two strikeouts in an 11-1 loss to the Phillies. The Tigers were able to shake that off, though, and take two from the Mets2, winning 4-3 on Thursday, and then riding the hot bat of Kevin Nivar (4-for-4, 2B, RBI) and a strong start from Joseph Salazar (6IP, 4H, BB, 4K) to a 6-3 win. Saturday's game against the D-Backs2 was suspended due to inclement weather.
- Gonzalez continues to look like the most dynamic hitter on the team, and he seems worth of the big bonus he received last year. He was 6-for-17 last week with a double, a triple, three walks, and two stolen bases.
- Jose Pina has a very interesting, and misleading stat line this year. He currently sports a 0.77 ERA through 11 2/3 innings, despite surrendering 14 hits. He's bailed out by the fact that seven of the eight runs he has allowed have been unearned.
- De La Cruz's game-winning hit on Tuesday came in his first and only pro appearance. Not a bad way to start a career.
Dominican Summer League Tigers2
11-7 Overall, T2nd in the Northeast Division, 0.5 Games Behind
The Tigers2 had a strong week, going 4-1 thanks to good pitching and timely hitting. Their slate of action began against the Pirates2, with the Tigers getting dominant relief from Jose Diaz (2IP, 2BB, 5K) and a huge, two-out, two-run single from Jimmy Mojica in the top of the 9th to squeeze out a 4-3 win. They survived another tight game on Tuesday, besting the Giants 5-4 on a wild play that saw Tigers shortstop Carlos Irigoyen throw the ball away with two outs in the 9th, only for first baseman Eliezer Alfonzo to throw home and gun down the potential tying run to end the game. Rain spoiled Wednesday's contest, and then on Thursday they played two against Colorado, managing just one hit in a 1-0 loss in game one before another late comeback in game two. The teams went to extras tied at 2, and then the Tigers scored four in the top of the 9th and held Colorado to just two runs for a 6-4 victory. The club ended their week with a strong performance, getting a terrific relief outing from Emmanuel Quinones (5IP, 2H, BB, 3K) and offensive contributions from Alfonzo (2-for-3, 2 RBIs) and Frank Veliz (3-for-4, 2R) in a 3-0 win.
- Veliz was the top hitter on the club last week, going 5-for-11 with a double and five runs scored. The 18-year-old Venezuelan is hitting just .213, but he has already surpassed his RBI total from last year.
- Cleiverth Perez went just 1-5 in his first season in the DSL last year, and the Venezuelan lefty is only 1-2 this year, but he currently sports a strong 2.75 ERA with 18 strikeouts to just five walks in a team-leading 19 2/3 innings.
- The Tigers needed just one hit to score four times in the wild 9th inning on Friday night, as Colorado helped with three wild pitches, two hit batters, a walk, a throwing error, and a balk.