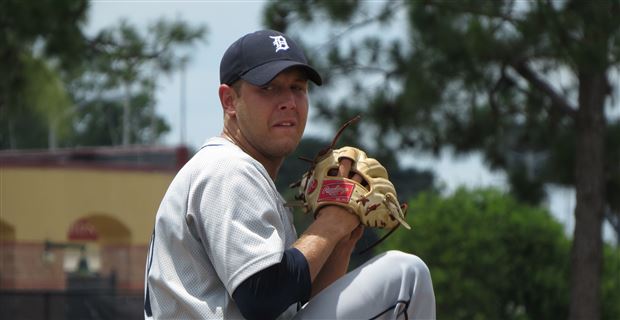 Last week's action included dominant pitching in West Michigan and Connecticut, a home run explosion in the GCL, and an impressive scoreless streak in Erie.
Detroit Tigers Minor League Week in Review: 7/02 - 7/08
Toledo Mud Hens
49-39 Overall, 1st in the West Division, 2.5 Games Ahead
Toledo's long homestand continued on Monday with the start of a two-game series against Columbus. The Clippers put the first game out of reach pretty early, knocking Jacob Turner (3IP, 6H, 6ER, 4BB, 3K) out of action quickly, and holding the Hens to just two hits in an 11-1 drubbing. On Tuesday the Mud Hens rode a solid start from Kyle Dowdy (6IP, 8H, 3ER, 4BB, 3K) and a four-run 3rd inning to an 8-3 win. The teams then traveled to Columbus to finish their four-game series, with the Clippers scoring a run off Zac Houston in the 8th to spoil another strong game from Jake Robson (2-for-5, HR, 3 RBIs) and win 5-4. Mike Gerber hit a three-run homer in the 1st on Thursday and Dawel Lugo knocked in two runs, but Drew VerHagen (2IP, 3H, 2ER, 5K) gave up two late runs and Toledo fell 6-5. A.J. Ladwig (5IP, 5H, 2ER, BB, 2K) was decent against Louisville on Friday, but the Hens were trailing 2-0 until the 7th when Lugo drew a rare walk, Jason Krizan hit a game-tying homer, and then Grayson Greiner immediately followed with a solo shot. Warwick Saupold tossed three scoreless innings of relief and Houston closed out the 3-2 win for his second save of the season. Toledo took down the Bats with another late rally on Saturday, scoring three times in the 8th to secure a 5-3 victory, but Louisville salvaged one game in the series on Sunday, out-hitting the Hens 15-5 in a 6-1 win.
- Gerber had one of his better weeks of the season, going 7-for-26 with a triple, two homers, and five RBIs, but he may be getting passed in the outfield prospect pecking order by Robson, who just continues to produce. Last week he went 11-for-28 with three doubles, a homer, four walks, and eight runs scored.
- Houston gave up a pair of runs last week, just his third and fourth allowed for Toledo, but he continues to rack up strikeouts and limit baserunners. He owns a 0.98 WHIP on the season, and he has recorded at least two strikeouts in 18 of his 27 outings this season.
- The Hens head into the All-Star break in first place for the first time since 2007, and in the All-Star Game they'll be represented by Chad Huffman and Dawel Lugo. Christin Stewart, Ronny Rodriguez, and Jim Adduci were also named to the team, but Stewart is on a rehab assignment and the other two are currently playing for the Tigers.
Erie SeaWolves
41-46 Overall, 5th in the Western Division, 9.0 Games Behind
While the Mud Hens we're losing 11-1 on Monday, the SeaWolves were winning by the same score, getting another spectacular outing from Matt Hall (6 1/3IP, 2H, BB, 8K) and piling up 16 hits against the Baysox, with Daz Cameron (2-for-4, BB, 2B, HR, 3 RBIs) leading the way. Kyle Funkhouser (5IP, 7H, 2ER, 2BB, 3K) was decent on Tuesday, but the Howlers were trailing 3-2 in the bottom of the 9th until Jake Rogers hit his second walk-off homer of the season for a 4-3 win. Erie then traveled to Binghamton for a rare five-game series, with the Rumble Ponies handing Beau Burrows (3 1/3IP, 5H, 5ER, 3BB, 4K) his worst outing of the season in a 7-5 loss on the 4th of July. Thursday's game was wild, with Alex Faedo (3 1/3IP, 6H, 7ER, 5BB, K) getting roughed up as Binghamton took a 7-3 lead. But Danny Woodrow hit his first pro homer as part of a career day (4-for-5, 2B, HR, 3 RBIs) and Erie came all the way back to win 12-9. Thursday's offensive explosion gave way to a bit of a pitcher's duel on Friday when Liarvis Breto (4 1/3IP, 6H, 8K) took on Binghamton's Michael Gibbons (6IP, 6H, BB, 6K). Unfortunately Erie went 0-for-8 with runners in scoring position, and some unearned runs led to a 3-0 loss. They turned the tables on Saturday behind another fantastic performance from Hall (6IP, 4H, BB, 10K) and big games from Cameron (1-for-3, 2BB, 2 RBIs) and Rogers (2-for-5, 2 2B) in a 10-0 blowout. The Wolves took an early 4-0 lead on Sunday, but Funkhouser (3 1/3IP, 6H, 5ER, 3BB, 6K) hit a bit of a speed bump in the 4th inning, putting five of the first six men he faced on base before getting pulled from the game. Erie rallied late, but Binghamton held on and sent them to the All-Star break with an 8-6 loss.
- Rogers still sports an unsightly .210/.303/.374 line on the season, but he went 7-for-21 with three doubles, a homer, two walks, and seven runs scored last week, and since June 1st he is hitting a terrific .294/.394/.612
- Since returning to the rotation Hall has thrown 21 1/3 scoreless innings while allowing just 12 hits and 2 walks against 26 strikeouts, and he hasn't given up an earned run in 30 innings. If that sounds familiar, perhaps it's because he did the same thing last year in Lakeland. In June and July of 2017 he went 30 1/3 consecutive scoreless innings, and 43 innings without allowing an earned run
- The SeaWolves will be well represented in Wednesday's All-Star Game. Funkhouser and Burrows both made the Western Division pitching staff, and Will Maddox and Danny Woodrow (replacing Jake Robson) will get a chance to hit.
Lakeland Flying Tigers
46-39 Overall, 10-5 Second Half, T1st in the North Division, 0.5 Games Ahead
Isaac Paredes hit his seventh homer of the season on Monday, and Dylan Burdeaux added his sixth, but that wasn't enough for Lakeland to take down Clearwater, because Gregory Soto (3 2/3IP, 5H, 2ER, 3BB, 2K) struggled and took the loss in a 7-3 game. Tuesday's contest took just over two hours to complete, but the Flying Tigers couldn't quite muster enough offense and lost 3-2. They returned home to Lakeland to host Jupiter for a quick two-game series, with Matt Manning (5IP, H, 2BB, 9K) absolutely stifling the Hammerheads and Paredes going yard again in a 6-0 win. Thursday's game was rained out, and then Tampa came to down for a weekend series, though rain again caused issues on Friday, keeping the game to just five innings. That was enough for Anthony Castro (5IP, 3H, ER, BB, 6K) and the offense to scratch out a 4-1 win, however. Saturday's contest was over in a flash, with Alfred Gutierrez (6 1/3IP, 2H, 2ER, BB, 8K) pitching terrifically but the two teams combining for just eight hits in a 2-1 Tarpons win. Soto (6IP, 2H, ER, 2BB, 9K) put together his best start of the season on Sunday, but once again Tampa pitching stifled the Lakeland bats, holding them to just two hits in a series-clinching 3-0 shutout.
- Paredes was the best offensive performer on the week, going 6-for-20 with two homers and two walks against just a single strikeout. The 19-year-old struggled mightily in May, but since June 1st he's hitting .304/.353/.510, and if he remains in Lakeland he's almost certain to become the first teenager to hit 10+ home runs in the Florida State League since Giancarlo Stanton and Matt Dominguez did it in 2009.
- Soto still leads the FSL in walks by a healthy margin, but he has been much better overall in the last few months. In his last five starts he owns a 1.96 ERA, and his 3.86 ERA over his last ten starts is solid, particularly when he gave up seven runs in just 2 1/3 innings in one of those outings.
- Wladimir Pinto is another player who seems to have turned a corner lately. After dominating Connecticut and West Michigan the hard-throwing righty received a rude awakening in Lakeland, giving up 12 hits and 10 earned runs in his first 7 1/3 innings. But he has basically thrown a no hitter in his last five appearances, pitching a total of 9 1/3 scoreless, hitless innings while walking just two and striking out 13.
West Michigan Whitecaps
45-43 Overall, 9-9 Second Half, 5th in the Eastern Division, 3.0 Games Behind
West Michigan lost their fifth consecutive game when they fell 4-0 to in-state rival Lansing on Monday, with the offense managing just four hits and Wilkel Hernandez (3 2/3IP, 5H, 2ER, 5BB, K) taking the loss in his wild Whitecaps debut. They took some revenge on Tuesday, though, getting another solid start from Dane Myers (5 1/3IP, 7H, 2ER, 6K) and a big game from Garrett McCain (2-for-3, 2BB, 2B, 3B, 2 RBIs) in an 8-4 win. The teams then took their series to Lansing, where Kody Clemens (2-for-5, 2HR) hit his first pro homers and Brock Deatherage (5-for-5, 3B) had a huge 4th of July in support of Elvin Rodriguez (6IP, 6H, 3ER, 2BB, 2K) in a 7-3 win. The Caps finished off their series win on Thursday when McCain (2-for-3, 2BB, 2 2B) and Jesus Rodriguez (7 2/3IP, 8H, 2ER, 2BB, 5K) led the club to a 6-2 triumph. West Michigan traveled to Lake County for a weekend series, and on Friday they used a big six-run 4th inning and a solid outing from Brad Bass (5IP, 5H, 2ER, BB, 7K) to win 6-2. The Captains shuts down the Whitecaps on Saturday, however, holding them to just four hits in a 3-0 blanking, and on Sunday they stifled the offense again, winning 7-1 despite Hernandez (6IP, 3H, 2ER, 7K) putting together the best start of his young career.
- McCain doesn't get much fanfare, but the 2017 10th-rounder was solid last week, going 7-for-26 with three doubles, a triple, six walks, and five runs scored. He's been upstaged by 2018 10th-rounder Deatherage, who was 9-for-25 with two triples, two walks, and two steals
- The six innings Hernandez completed on Sunday were a new career high, and his seven strikeouts tied his career best. He needed just 69 pitches to complete his outing, an impressive feat considering he also threw 69 pitches in his start on Monday, which lasted just 3 2/3 innings.
- Clemens hasn't been knocking the stuffing out of the ball the way he did in college this season, but he still had a strong week, going 7-for-26 with two homers, four RBIs, three walks, and two steals.
Connecticut Tigers
11-12 Overall, T2nd in the Stedler Division, 2.0 Games Behind
Connecticut's modest four-game winning streak came to a halt on Monday. They scored on a first-inning single from Dayton Dugas, but never again, while 2018 draft picks Adam Wolf (3IP, 2H, 2ER, BB, 3K) and Tarik Skubal (3IP, 3H, ER, BB, 4K) made their New York-Penn League debuts in a 3-1 loss. They got back on track on Tuesday, though, besting Lowell 4-3 thanks to a solid offensive performance in which all nine starters recorded at least one hit. The Tigers then returned home to host the Spinners for three games. Gio Arriera (7IP, 6H, 3ER, 2BB, 12K) was dominant, but Connecticut trailed 4-2 heading into the 9th. An Ulrich Bojarski walk, an Alexis Garcia triple, and three more walks tied the game at four, but Lowell then scored three times in the 10th to win 7-4. The Tigers got strong pitching again on Thursday, with Carlos Guzman (5IP, 4H, 6K) excellent in a starting role, Jack O'Loughlin (4IP, 2H, BB, 6K) providing terrific relief, and Eric De La Rosa (4-for-4, 2 2B) sparking the offense to a 5-2 victory. Their series ended with an extra-inning triumph on Friday. Lowell scored once in the top of the 10th to take a 2-1 lead, but with Bojarski automatically placed and second base to begin the bottom of the inning, Moises Nunez hit a two-run walk-off homer for the 3-2 win. The Tigers trekked to Vermont on Saturday and won yet again, getting strong pitching from Wolf (5IP, 4H, 2ER, 5K) and Skubal (3IP, 6K) and a big day from DH Gresuan Silverio (3-for-5, 2 2B, 2 RBIs) in a 6-3 victory. Connecticut was the only team in the entire organization to win on Sunday, besting the Lake Monsters 5-2 to pull to within one game of the .500 mark and two games of first place.
- De La Rosa had an impressive first week for Connecticut, going 6-for-14 with two doubles, two walks, two steals, three runs scored, and three RBIs in four games.
- The Tigers took Arriera in the 4th round of the 2017 draft out of Palm Beach State Junior College in Florida. Free from restrictive pitch counts this year, he has set a new career high in innings pitched in each of his first four starts, and he ranks second in the league in strikeouts and strikeout percentage, and third in strikeouts per nine innings.
- Connecticut figured to have an interesting catching tandem this year with the 19-year-olds Silverio and Sam McMillan handling the pitching staff. On offense, McMillan has struggled to a .172 batting average, but Silverio has turned it on a bit of late, and last week he went 7-for-16 with three doubles.
Gulf Coast League Tigers East
9-7 Overall, 2nd in the Northeast Division, 1.0 Games Behind
The Tigers East began their week of action against the Yankees West in what was a low-scoring affair until the teams combined for ten late runs. The biggest blows were a three-run double from Clark Brinkman in the 7th and a two-run homer from Kelvin Smith in the 8th, and the Tigers won 8-5. Luis Laurencio and Daniel Reyes went deep on Tuesday as part of a 5-0 win over the Blue Jays, but then after a day off the Phillies West beat up on a rehabbing Franklin Perez (3IP, 2H, 3ER, K) in a 7-1 thrashing on Thursday. The Phillies East took their turn on Friday, scoring four times in the first off Jayce Vancena (5IP, 4ER, BB, 5K) in a 6-3 win that spoiled Smith's second homer of the week. The Tigers finished off their week with a win, though, beating the Braves 7-4 behind another homer from Laurencio and multi-hit games from Reyes (2-for-5, 2 2B), Matthew Jarecki (2-for-5, 2 2B) and Keyder Aristigueta (3-for-3, 2B).
- Laurencio's impressive offensive performance continued last week as he went 5-for-14 with two homers and three walks. The 19-year-old first baseman is among the early league leaders in hits, home runs, and OPS, but he also ranks second with 24 strikeouts.
- The Tigers signed pitcher Juan Aguilera as an undrafted free agent on June first, and the former reliever for the Arizona Wildcats has dominated in limited action as a pro, using his above-average slider to strikeout ten over seven hitless innings.
- Smith has struggled a bit at the plate this year, hitting just .226 with 19 strikeouts through 14 games, but he has also flashed his impressive athleticism and potential. He has two home runs and six steals, and no other player in the GCL with two homers has stolen more than three bases.
Gulf Coast League Tigers West
9-5 Overall, 1st in the Northwest Division, 0.5 Games Ahead
The Tigers West began their week with an 11-3 win over the Blue Jays in which shortstop Wenceel Perez (3-for-6, 2 RBIs), DH Jordan Verdon (3-for-6, HR, 4 RBIs), and outfielder Reece Hampton (3-for-5, 3R) all had big games, and Australian lefty Jake Baker picked up his first career win with 2 2/3 innings of scoreless relief. The Phillies East got the best of the Tigers in a 7-2 win on Tuesday, but the Westies took out their frustrations on the Yankees West on Wednesday with a 7-0 thumping led by Perez (3-for-4, 2 2B) and first baseman Nick Ames (2-for-5, 2HR, 4 RBIs). After a day off on Thursday the Tigers bats were back at it in a wild win over the Pirates on Friday. Verdon knocked in three runs and Ames plated five, including a grand slam in the eight-run 4th, to help their club to a 13-12 triumph. Ames went deep twice more on a Sunday, and it looked like starter Xavier Javier (7IP, 4, ER, 3BB, 3K) would cruise to a win, but the Yankees East scored seven times over the final two innings to stun the Tigers in an 8-6 defeat.
- Few people in all of baseball had a more productive week than Ames, who went 6-for-19 with five home runs and 14 RBIs. The 15th-round-pick out of UNLV suddenly leads the GCL in homers, RBIs, and slugging percentage.
- Chance Kirby is an undersized right-hander who the Tigers took in the 25th round out of UTSA, and so far he's proving to be too advanced for the GCL competition. His 0.71 ERA is the second lowest in the league, and his 15 strikeouts ranks in the top ten.
- If it weren't for Ames, perhaps we'd be talking more about Verdon, who also had a monster week. The 23rd rounder from San Diego State went 7-for-18 last week with a double, a triple, a homer, four walks, and eight RBIs. He was rewarded with a promotion to Lakeland, although it may be temporary.
Dominican Summer League Tigers1
12-19 Overall, 7th in the San Pedro Division, 7.5 Games Behind
The week started off well for the Tigers1, with the club scratching out a 7-6 win over the Brewers on Monday thanks to an 11th-inning RBI groundout from Esney Chacon. Then they took two games from the Cubs2, winning 5-4 behind a fantastic outing from Keider Montero (6IP, 3H, 6K) on Tuesday, and taking Wednesday's tilt 7-5 thanks to strong games from outfielders Chacon (2-for-4, 3B, 2 RBIs) and Jose Reina (2-for-3, RBI). Unfortunately that was it for wins on the week, as the Phillies White outscored the Tigers 17-5 in two deflating losses, though Rodolfo Fajardo (5IP, 2H, 4K) pitched well on Friday. The club finished its week with a poor offensive showing, managing just four hits in a 4-1 loss to the Mets2 on Saturday.
- The team averaged just over four runs per game last week, but no one player really stood out, as seven different hitters knocked in at least two runs, and only Chacon (4-for-21, 3B, 6BB, 2SB) knocked in three.
- Fajardo remains unblemished on the season, having allowed no earned runs and just two runs total in 20 1/3 innings. He has struck out 20 while allowing just 13 hits and one walk, and his 0.69 WHIP would rank in the top five in the league if he had a few more innings under his belt.
- Thursday's 12-4 loss featured a rare 11-run inning that began with three walks, a wild pitch, and another walk from starter Adolfo Bauza. Two more Tigers pitchers threw in that inning, giving up four singles, a double, a triple, and two more walks.
Dominican Summer League Tigers2
16-15 Overall, 4th in the Northeast Division, 4.0 Games Behind
The Tigers2 ended their four-game skid with a solid 3-0 win over the Giants on Monday, with Francisco Jimenez (5IP, H, BB, 5K) picking up the win in relief, but it was an otherwise up-and-down week. Colorado rode a four-run 1st to a 5-3 win on Tuesday, but the Tigers split the series on Wednesday with a 9-8, extra-innings win led by outfielder Jimmy Mojica (2-for-6, HR, 2 RBIs), first baseman/catcher Eliezer Alfonzo (3-for-6, 2B), and third baseman Pedro Martinez (3-for-5, RBI). The Royals2 turned the tables on Thursday, winning 9-8 on a walk-off error after a sac bunt. The Tigers2 once again forced a series split, however, beating the Royals 9-5 on Friday despite being outhit 12-6. But it was back down again on Saturday when the team picked up six hits, but the Mariners won 4-1.
- Alfonzo had a down week by his standards, going just 8-for-23 with two doubles and five walks. He still hasn't hit a home run, but he has ten doubles and a triple, and he's batting .410 with 19 walks against just five strikeouts.
- Victor Acosta is old for a DSL player, having just turned 20 after signing as a 19-year-old, but he's been the most untouchable pitcher on the roster so far. He threw 3 2/3 innings of no-hit ball last week, and on the season he owns a 0.60 ERA with 14 strikeouts, zero walks, and just eight hits allowed in 15 innings.
- It's been a struggle for Pedro Martinez in his first taste of pro ball. He's hitting just .200/.309/.256 through 27 games, and he leads the team with 13 errors. He did have a decent week, though, going 7-for-24 with a triple and five RBIs.