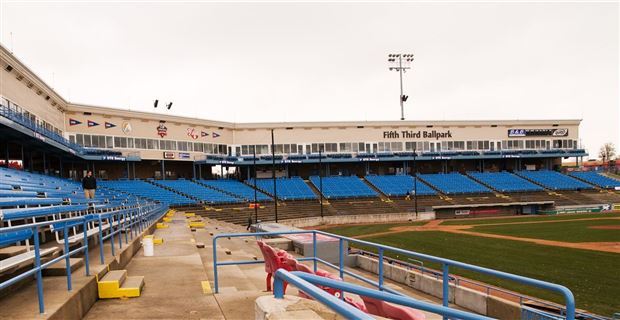 The minor league season officially began last week, and despite frigid temperatures in the north the Tigers four main affiliates missed only one game due to weather.
Detroit Tigers Minor League Week in Review: 4/05 - 4/08
Toledo Mud Hens
2-1 Overall, T1st in the West Division
The Mud Hens began their season a day after the rest of the teams in the organization, but they kicked things off the right way with a 6-4 win at Louisville on Friday. Toledo starter Ryan Carpenter had a rough go of it (3 1/3 IP, 6H, 2ER, 3BB, 2K), but the Hens bullpen struck out seven Bats and gave up just one run on three hits over the final 5 2/3 innings. That gave the offense time to come back, and they did thanks to three RBIs from Ronny Rodriguez, a homer and two RBIs from Mike Gerber, and a solo shot from Christin Stewart. The Hens couldn't quite make it two in a row to begin the season, falling 4-3 in the bottom of the 9th on Saturday. Toledo jumped to an early 2-0 lead thanks to three hits in the first, but the Bats scratched back and held a 3-2 lead heading into the final frame. The Mud Hens tied the game on a Ronny Rodriguez walk, a Dawel Lugo single, and a Jim Aducci groundout, but it was all for naught as Mark Montgomery began the 9th by giving up a single, throwing a wild pitch, and then surrendering the game-winning hit to Tyler Goeddel. The Hens bounced back and made it a series win on Sunday when Gerber hit another two-run homer in the top of the first inning, and Artie Lewicki (5 1/3 IP, 3H, ER, 4K), Blaine Hardy (2/3 IP, K), Louis Coleman (2 IP, H, 2K), and Zac Reininger (IP, 2H, K) made it stick for a 2-1 victory.
- Gerber was on fire to begin the season, going 7-for-12 with two doubles and two homers, and he currently leads the International League in hits, home runs, RBIs, slugging percentage, and batting average.
- Reininger wasn't particularly dominant on the mound, giving up four hits, one walk, and one run in two innings while striking out three, but he picked up two saves, giving him 28 for his minor league career.
- Lugo had a relatively quiet week, but he managed to go 5-for-14 with a double, while first baseman Edwin Espinal also picked up five hits.
Erie SeaWolves
3-1 Overall, T1st in the Western Division
The SeaWolves kicked off their season with a very impressive road win over Reading, with starter Beau Burrows (5 IP, 1H, 2BB, 6K) dominating the Fightin Phils' bats, and the offense putting up nine hits and seven runs in the first four innings to glide to a 7-1 victory. On Friday it was Sandy Baez's turn to dominate the Phils, as he racked up ten strikeouts in 4 2/3 scoreless innings, giving up just three hits and a walk. It was a scoreless tie until the 6th inning when Jake Rogers and Dominic Ficociello picked up RBI singles, then Jake Robson knocked in a run in the 7th, and Gabriel Quintana went yard for the second time in as many days in the 8th, and the Wolves took home a 4-1 win. Erie got another solid starting pitching performance on Saturday as Spencer Turnbull (4 2/3 IP, 4H, ER, BB, 7K) held Reading's bats down, and the offense once again scored early, putting up a three-spot in the first and then scoring three more times in the 4th. The Wolves led 7-4 in the 9th when the Phils managed to bring the tying run to the plate with one out, but it took closer Mark Ecker just two pitches to induce a game-ending double play and earn the save. Erie scored early once again on Sunday, taking a 3-2 lead into the 6th inning before Reading broke out for five runs against Matt Hall (2 1/3 IP, 4H, 3ER, BB, 2K), who had come in to relieve starter Kyle Funkhouser (3 IP, 5H, 2ER, BB, 2K). The Phils tacked on another in the 8th and eventually won 8-3 to salvage one game in the series.
- Sergio Alcantara is considered a glove-first infielder, but he had a terrific week with the bat, going 6-for-14 with two doubles, a triple, and three runs scored while batting 9th in the order.
- Burrows started 15 games for Erie in 2017, and only one of them was as good as his opening day outing on Thursday. Baez, meanwhile, saw two starts in Erie at the end of last season, but began this year by posting just the third double-digit strikeout effort of his career.
- Kenny Wilson is an 11-year minor league veteran with little hope of making the Majors, but he had an outstanding overall performance last week. The 28-year-old was 5-for-13 with a double, a triple, four walks, and two stolen bases.
Lakeland Flying Tigers
2-2 Overall, T3rd in the North Division
Lakeland began their season at home with Gregory Soto on the mound, and the left-handed fireballer kept the Tampa Yankees off the board with a very strong start (5 IP, 1H, 2BB, 5K). Shortstop Isaac Paredes announced his presence with authority by homering in his second high-A plate appearance, and then picking up an RBI single in his third trip to the plate, but Alfred Gutierrez and Joe Navilhon each gave up two runs in relief and the Flying Tigers fell 4-2. Friday's starter was Alex Faedo, the Tigers first-round-pick last year, who was making his professional pitching debut. He didn't have the most impressive first inning, giving up solo home runs to the 2nd and 3rd batters he faced, then hitting the 4th, but he settled in terrifically after that, using his 89-91 mph fastball and outstanding slider to retire the final 14 batters in order. Daz Cameron reached base four times in the game, catcher Andres Sthormes hit a big 2-run double, and closer Eduardo Jimenez stranded a leadoff triple in the 9th to finish off the 6-5 win. Austin Sodders (6 IP, 4H, 2ER, 7K) gave his club a strong outing on Saturday night in Tampa, but the offense went 0-for-5 with runners in scoring position and the Flying Tigers fell 2-0. Runs were hard to come by again on Sunday, but this time Lakeland came out on top 3-1 by plating single runs in the 5th, 8th, and 9th. Starter Anthony Castro (4 2/3 IP, 4H, 3BB, 5K) was solid, Anthony Pereira hit his first homer of the season, and Eduardo Jimenez made things interesting in the 9th (IP, H, 2BB) before picking up the save.
- Blaise Salter isn't really a prospect, but he had Lakeland's most productive week at the plate, going 6-for-12 with two doubles and a triple, though strangely he didn't score a single run.
- Lakeland's starters combined to give up just four earned runs and strike out 21 over 20 2/3 innings, but the only wins went to relievers Spenser Watkins (2 1/3 IP, 2H, ER, BB,K) and Drew Carlton (1 1/3 IP, 2H, ER, 2BB, 2K).
- Last year's Flying Tigers got 11 total home runs in 259 combined games from their middle infielders. This year shortstop Paredes and second baseman Pereira have the team's only homers so far, and they both have a shot to hit more than 11 apiece.
West Michigan Whitecaps
2-1 Overall, 3rd in the Eastern Division
The Whitecaps celebrated the first game of their 25th season by defeating the South Bend Cubs 6-2. Starter Dane Myers (4 IP, 4H, ER, 3BB, 5K) was solid over 65 pitches, and Burris Warner (3 IP, 2H, 5K) was excellent in relief to get the win. First baseman Jordan Pearce knocked in three runs, and light-hitting second baseman Alex Garcia went 2-for-4 with the first home run of his professional career. It was cold, windy, and snowy in Grand Rapids on Friday night, so the game was postponed until June 9th. The Whitecaps and Cubs switched venues on Saturday, with the action heading to South Bend, but the the weather wasn't much better in Indiana. The temperature was 32 degrees when the game started, and the Caps' bats weren't any warmer as the club managed just five hits in a 1-0 loss, spoiling a strong start from Eudis Idrogo (5 IP, 3H, ER, BB, 5K). West Michigan ended up taking the home-and-home series on Sunday in a fairly wild affair that saw the Whitecaps plate seven runs in the 3rd inning and then weather a five-run 8th from the Cubs to hold onto an 8-7 victory. Starter Garett King (4 1/3 IP, 4H, 2ER, 8K) was dominant at times in his professional debut, the offense saw Cole Peterson, Dylan Rosa, and Ignacio Valdez all pick up two RBIs, and hard-throwing reliever Wladimir Pinto (1 1/3 IP, 2BB, 3K) worked around some wildness to pick up his first save of the season.
- Rosa isn't much of a defender, and there are questions about his plate discipline, but he owns plus raw power and he showcased that a bit last week as one of two players on the team with multiple extra-base hits. Overall he went 5-for-12 with a double, a triple, and three runs scored.
- Reliever Max Green would probably prefer to forget his first outing for the Whitecaps, as he gave up four hits, a homer, a walk, and five runs (three earned) while recording just two outs.
- Peterson owns the opposite profile of Rosa as a sure-handed shortstop with a solid approach at the plate but almost no power. He probably had the team's second best offensive week, though, going 4-for-10 with a double, three steals, and three runs scored.