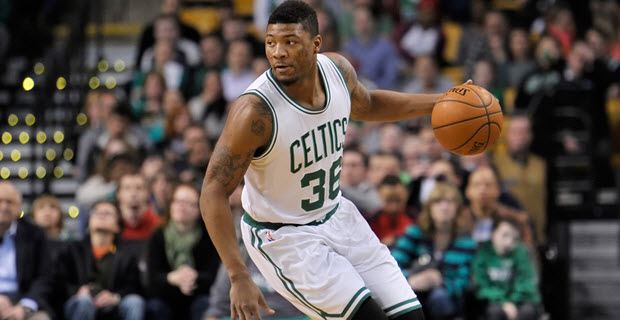 Marcus Smart is drawing some interest on the open market.
The Memphis Grizzlies and Brooklyn Nets have reportedly inquired about a sign-and-trade for Smart, according to Yahoo Sports' Jordan Schultz.
Smart has had no communication with the Celtics since free agency started at the beginning of July, but a previous report from Gary Washburn of the Boston Globe stated that the Celtics are interested in bringing back the scrappy guard.
From Washburn:
"A team source said the Celtics want to bring back Marcus Smart and keep Terry Rozier for added depth and being a fully loaded roster next season, where they will be the favorites to win the Eastern Conference.

...

Smart is a restricted free agent, meaning the Celtics have the right to match any offer and they will allow Smart to fish out those offer sheets and determine whether they should match. Smart's market value is difficult to determine because he's an erratic offensive player who makes plays at critical moments.

If he signed a multiyear offer sheet in the neighborhood of $12 million per season, will he demand a bigger offensive role with another club? Any team that signs Smart has to understand he may never become a better shooter or a bona fide starter.

The Celtics have overlooked his warts and embraced his strengths. It seems like a match for both sides. Smart doesn't complain about coming off the bench. He has the skills to do things no one else on the Celtics roster can consistently do and Stevens loves his tenacity.

If Smart doesn't get an offer sheet, the Celtics should try to get him to commit to a workable extension that allows him a raise and contract security. Don't break the bank for Smart but give him enough of a bump to show he's appreciated. The Celtics need to bring him back."
Though Smart would like to remain in Boston, he has a lot of factors to consider.
"I got a lot to think about. There's a lot of factors that go into it. But that being said, I want to be in Boston. I want to be here," Smart said of his pending free agency, via ESPN. "I love this city, I love this team, I love the atmosphere it gives off. I've been here for four years. My heart's here. But there's definitely going to be some factors going into it."
Smart has been a member of the Celtics since the franchise selected him with the sixth overall pick in the 2014 NBA Draft. Over the course of his four seasons with the Celtics, Smart averaged 9.4 points, 3.9 assists, 3.7 rebounds, and 1.5 steals in 28.7 minutes of action per performance.