After having the third-best odds of winning the No. 1 overall pick in the NBA Lottery, the Dallas Mavericks were forced to by Tuesday night's end settle for pick No. 5.
Or maybe "settle" is the wrong word. And "content" surely is.

"We are never content," Mavs owner Mark Cuban tells DallasBasketball.com. "We will be open to any and all options."

This response could be Cuban mood-powering his way through a lotto result that was just a case of rotten luck, plain and simple. (Oh, and "sickening,'' as Fish writes here.) And when you look at the Mavs' franchise history when it comes to having top-six odds in the lottery, you'll see that the trend of either staying put or moving down continued here. To wit:
The Mavs have had top-six odds only six times since lotto started in 1985. The results:
'91 - 6th worst record, 6th pick
'92 - 3rd worst, 4th pick
'93 - worst, 4th pick
'94 - worst, 2nd pick
'98 - 6th worst, 6th pick
'18 - 3rd worst, 5th pick
But ... what is the point of the Mavs spending any time licking their wounds ... instead of reading to examine all options.

*Are they content with staying at No. 5 and simply picking the best available player? OK, "content" is the wrong word. But the right guy - Texas center Mohamed Bamba or Michigan State's Jaren Jackson Jr. or Missouri's Michael Porter Jr. or Duke's Wendell Carter Jr. or the Bridges bros or others - can be big helpers. Or, heck, maybe somebody like Marvin Bagley drops. So there could be a reward for sitting pat. (We dig into all the possible names in our NBA Mock Draft 1.0 here.)

*Is Cuban's pledge that the Mavs aren't tanking anymore a sign of super-aggressiveness in player acquisition? Maybe ... but Dallas already has a reputation for doing that.

*If the front office has that mindset, and if they also had their hearts set on DeAndre Ayton, Luka Doncic or Marvin Bagley III in their top three, as suggested by Fish recently on 105.3 The Fan, wouldn't it be an educated guess that the Mavs might try to go "all in" to get one of those guys, even if it means parting with, say, next year's first-round pick?

*How about trading the pick for an established star? We call it unlikely, but in another of our recent interviews with Cuban, he doesn't discount the possibility.

*How about a pre-Draft trade to add another pick? (Yes, we've got the details on such a proposal here.) How about if Dallas somehow owns two picks and trades up from there? (We already have rumors of NBA teams willing to swap out of their lofty spots.)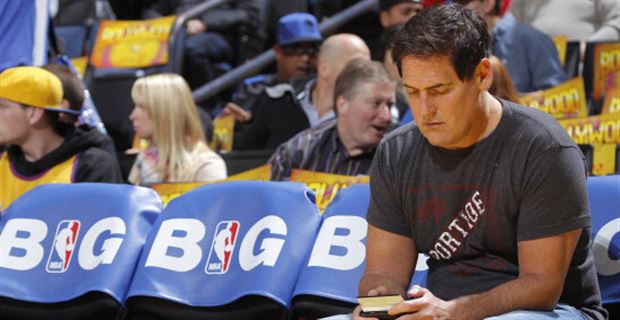 It would've been nice to simply land in the top three (or one) and not have to entertain these other possibilities, but here we are.

And here Mark Cuban is, immediately bothered by the lotto results but now ready to deal with them ... and maybe ready to deal, period.