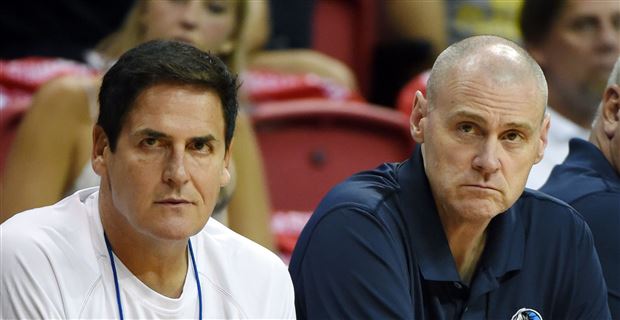 A media report out of Wisconsin that has Dallas Mavericks coach Rick Carlisle interested in the Milwaukee Bucks job opening seems ridiculous on its surface.
Once we dig around a little deeper, it remains seemingly ridiculous, according to the Mavs themselves.
"That," Mavs owner Mark Cuban told DallasBasketball.com on Wednesday when informed of the report,"is absurd."
UPDATE: And here's a late-night text to a DBcom and a handful of reporters:
ALERT: late-night text from #Mavs Rick Carlisle: "Rumors that I have interest in the Milwaukee #bucks job are completely inaccurate. I work for @MCuban and the @dallasmavs ' https://t.co/J27qIVn4cu

— mike fisher ? (@fishsports) May 10, 2018

Long-time Bucks reporter Gery Woelfel is the originator of the story, the Racine Journal Times columnist saying on a Wisconsin radio station that "a name nobody has talked about is Rick Carlisle ... The word going around is that he is interested in the Bucks job. And if that's true it would be a no-brainer."
The problem, obviously, is that "the word" from Dallas is that this "no-brainer" idea is ... not true.
Carlisle himself recently addressed the challenges of his rebuilding job in Dallas, where his coaching of the 2011 NBA title team cements his reputation as one of the best in the business.
"I have chosen to be here," Carlisle said recently. "I have a long deal (at a reported $7 million annually through 2022). "I knew we were probably going to hit a lower point. It's just part of the cycle of the NBA. But I'm not going to bail on my owner who has been so good to me."
As DallasBasketball.com has noted often, the "Triangle of Trust" - Cuban, Carlisle and GM Donnie Nelson - is uniquely strong one. And the bond is unbroken, even after a lottery-earning season, even as the Mavs go about the arduous talk of working to add pieces alongside rookie Dennis Smith Jr. by possessing a top pick in the upcoming NBA Draft and by trying to wisely spend what can be $25 million of summer cap room.
Said Carlisle: "The job of head coaching in the NBA isn't as simple as jumping from city to city looking for good talent to coach and get wins. For me, after everything I've been through with Mark and (everything) he's done for me,and I've done some good things for him along the way, this is a bigger picture, a deeper landscape than that. We're in this for the long haul."
The Wisconsin media report cites as Bucks candidate "front-runners" Mike Budenholzer and Monty Williams as Milwaukee looks for a full-time replacement for Joe Prunty, the former Mavericks assistant who took over when Jason Kidd was fired. And that sounds more legit, just as we believe Carlisle when he said, on numerous occasions over the last two seasons, "The losses are no fun. But to turn this around, when we get there, it will be one of the most meaningful things that I've been involved with."