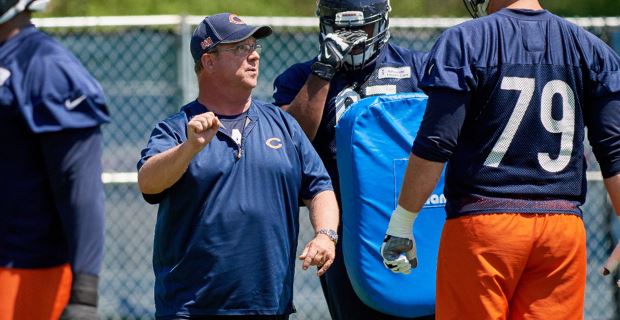 Harry Hiestand was right in the middle of forging an impressive career as an offensive line coach with Notre Dame before he made the leap back into the NFL this offseason with the Chicago Bears. Hiestand is as highly regarded as they come in terms of the position he coaches, meaning he could have quite possibly had his choice of where he wanted to coach if and when he was ready to leave the Irish. He enjoyed his time at Notre Dame, but the opportunity to go back to the Bears was something he could not pass up.
"Chicago Bears. That's an awesome place," he said after Chicago's OTA session last month, via NBC Sports Chicago's JJ Stankevitz. "A great franchise. It was something, I always wanted to go back, I didn't know where I would get that opportunity. So I'm just very fortunate it just happened to be back at the same place that I was before."
Hiestand's stop in Chicago this time around is not his first. He came to the Bears with offensive coordinator Ron Turner in 2005 and remained through the 2009 season. Prior to that, he spent a big part of his life jumping around the country for various positions. He first began as a student assistant at East Stroudsburg in 1981 before becoming the offensive line coach there in 1983. In 1986 he left to be the tight ends coach at Penn, a position he held for two season. Hiestand then moved out to the west coast, working at USC in 1987 and 1988 as a graduate assistant.
In 1988 he took his first major job as the offensive line coach at Toledo. In 1989 he took over as the offensive coordinator/offensive line coach at Cincinnati, a position he would hold for five seasons. After three years at Missouri as the offensive line coach he joined the Illini with the same position. In 2000 he earned the promotion of assistant head coach before following Turner to the Bears in 2005.
During his first run with the Bears he helped center Olin Kreutz and guard Ruben Brown earn Pro Bowl nods and he was in charge of an offensive line that helped lead the Bears to an appearance in Super Bowl XLI. Hiestand moved on to Tennessee in 2010 before joining the Irish in 2012. During his time at Notre Dame he has helped churn out some of the NFL's best linemen. The most notable player he worked with during his time there was Dallas Cowboys guard Zack Martin. In Martin's four years in the league he has been to the Pro Bowl four times and has been named a first-team All-Pro twice and a second-team All-Pro twice.
Tackle Ronnie Stanley went in the first round of the 2016 NFL Draft to the Baltimore Ravens, while center Nick Martin (Zack's brother) was taken in the second round of the same draft by the Houston Texans. In April he saw two more of his pupils go in the first round of the draft. Guard Quenton Nelson went sixth overall to the Indianapolis Colts and tackle Mike McGlinchey went ninth overall to the San Francisco 49ers.
Hiestand has a new young project to work with in second-round pick James Daniels who will be making the move from center to guard this season in Chicago. Additionally, he will be tasked with getting the most out of an offensive line that will be tasked with protecting quarterback Mitch Trubisky.
Leaving Notre Dame may have been a hard decision for Hiestand but it is clear he is happy to have returned to the organization he previously spent five seasons with back in the early-2000s.