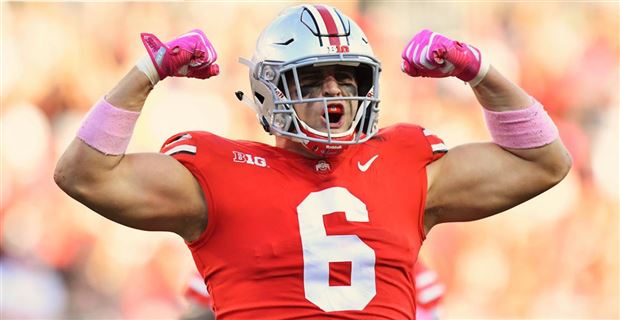 It was recently reported that Ohio State cornerback Denzel Ward would take a pre-Draft visit to Cleveland Browns headquarters.
However, unless the team wants some one-on-one time with the Ohio native, there is no need to bring him in separately. The NFL allows each team to host a local day in which they can invite players from nearby schools. Those visits do not count against the league's 30 pre-Draft visit allowance. According to NFL Network's Ian Rapoport, the Local Pro Day will take place Monday, Apr. 9. Wyoming quarterback Josh Allen visits Thursday and Louisville quarterback Lamar Jackson visits Friday.
The Buckeyes had sent several players to the NFL Combine. On defense, outside linebacker Jerome Baker, defensive end Jalyn Holmes, defensive end Sam Hubbard, defensive end Tyquan Lewis, cornerback Denzel Ward, safety Damon Webb and inside linebacker Chris Worley represented the central Ohio team. On offense, quarterback JT Barrett, tight end Marcus Baugh, offensive tackle Jamarco Jones and center Billy Price were all in attendance.
At the NFL Combine, Price suffered a partially torn pectoral muscle, which will keep him sidelined for four months. Price, Hubbard, Baker and Jones are likely Day Two selections, which covers the second and third rounds. Ward is considered a top-10 prospect in this class. The others are likely facing a potential Day Three selection.
It is unclear how many of those players will attend the visit in Cleveland. General Manager John Dorsey can ill afford to turn away a free look at any prospect at this stage.
The Browns sent offensive line coach Bob Wylie, special teams intern Josh Cribbs and other representatives to Columbus for the Ohio State Pro Day last month.
Afraid of missing the latest Browns Draft news? Sign up for Browns247's FREE email newsletter. Add your email address, click Sign-Up and the day's best news will be sent directly to your Inbox!
Cleveland has not taken a player from Ohio State since second round wide receiver Brian Robiskie in 2009. Before him, fans would have to go back to the 2002 NFL Draft to find sixth round tight end Darnell Sanders. The Browns have taken 21 Buckeyes all-time in the NFL Draft. There was a period in the league's history where it was easiest to scout local colleges without much exposure to the west coast. In those years, the Browns loaded up on Ohio State players with 12 from 1950-1965. The highest a Buckeye has been drafted by the Browns was linebacker Craig Powell, who was taken No. 30 overall in the 1995 NFL Draft.
This off-season, Dorsey signed running back Carlos Hyde to a three-year deal worth $15.25 million. He was taken in the second round, No. 57 overall, by the San Francisco 49ers during the 2014 NFL Draft.
Toledo quarterback Logan Woodside is another prospect that could be in attendanc.e
The Browns have nine draft choices in the 2018 NFL Draft, including picks No. 1 and No. 4 overall.