Back in the middle of April, on the weekend the Dallas Cowboys parted ways with Dez Bryant, I asked the high-profile wide receiver for a "wish list'' of teams he might like to land with. Bryant was playful in some spots, serious in others.
His top choice, the way I read him, was the New York Giants. As I wrote on April 16:
NEW YORK GIANTS - Bryant is very specific here in describing his thoughts on joining the Giants.
"The Giants,'' he says, "got a helluva defense, they're going to pay OBJ (fellow wideout and pal Odell Beckham Jr.), so coming back. Playing with him, Sterling (Shepard) ... the tight end (Evan Engram), (QB Eli) Manning? Crazy. ... They draft (Penn State running back Saquon Barkley with the No. 2 overall pick)? That'd be crazy!''
Bryant enjoys visiting the Big Apple and only half-jokingly adds how much he'd enjoy being a fashion plate there.
"You get to wear your nice winter coats on the streets of New York there,'' he laughs.
My sense (again, regardless of what the Giants themselves want) is that this would be Dez Bryant's No. 1 choice.
But I asked Bryant about other destinations, too. For instance, New Orleans. What I wrote then:
NEW ORLEANS SAINTS - Had the Cowboys been wise enough to make a goodbye-Dez decision efficiently, they could've shopped Bryant to coach Sean Payton in trade a month ago. Now? New Orleans has Michael Thomas as the top guy, it signed Bears ex Cameron Meredith to be the second guy ... but still: Dez in New Orleans playing the old Marques Colston role as a supplemental receiver?
There is sense there, and not just because Payton follows Dez on Twitter.
That "sense'' on my part hasn't changed much. Almost three months have passed, and we know that Bryant has passed on some opportunities (most publicly, an offer from the Baltimore Ravens). He remains "unemployed'' but remains optimistic that that status will change when the time is right.
NFL training camps, including the Saints' in Metairie, open in less than three weeks. The timing is getting close, I think, to being "right.''
It is not difficult to envision Bryant succeeding in Payton's offense. Payton understands this player. He runs an offense that already has a "No. 1 receiver'' in Michael Thomas (meaning Bryant could be freed to play Marques Colston's old role, as a guy who lines up inside and uses his size to his advantage). The QB, Drew Brees, has many of the same skills that Tony Romo possessed -- and Bryant's best work was done, of course, in combination with Romo.
Is there a "need'' in New Orleans? My first thought when the Saints signed restricted free agent Cam Meredith from the Bears is that they were full-up. And then they drafted Tre'Quan Smith out of Central Florida. But isn't there always room for talent, especially if it fits a system, and especially if the head coach has a relationship with a player that helps ensure that effort and emotions are properly funneled? (An issue that of course has been a focal point of Bryant's time in Dallas.)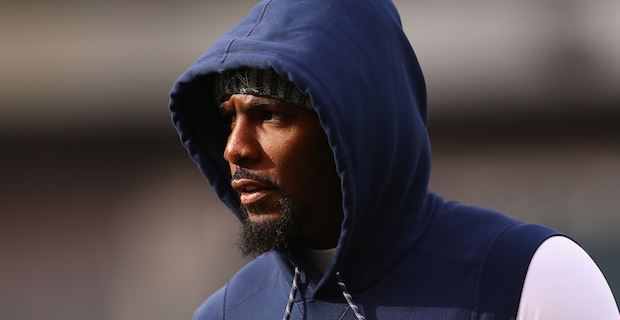 Some might think the biggest issue with a Dez-Saints connection is about salary. Currently, the Saints have just $4.2 million in cap space; that makes for a tight squeeze. But reflect back on my original story about his "Deztination'' and note that among Bryant's desires is to play for a contender and to play against his old friends in Dallas (the Saints and Cowboys do meet in 2018) and among the things that wouldn't get in the way, he promised, are salary demands.
"It won't be about the money,'' Dez said then when I ask him about wanting "market value.'' "It won't be about 'market value.' No. No. Not at all.''
But it will be about "value.'' To me, a Saints-Bryant marriage would offer exactly that, to both parties.