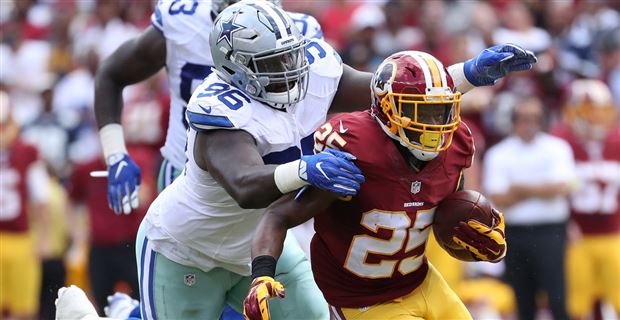 The Cowboys now, potentially, have a defensive tackle problem. The Cowboys started the week flush with the anticipation that they could add to their depth at defensive tackle after the Washington Redskins released Terrell McClain, who played for the Cowboys from 2014-16 and proved to be a good fit inside. He usually played the one-technique, but he was versatile enough to play the three-technique, too. A reunion between the Cowboys and McClain made too much sense for it to not happen. And yet, it didn't happen.
McClain went to the Falcons instead. Almost immediately after that multiple outlets reported that Cowboys defensive tackle Maliek Collins will be out for three months with a broken foot. That puts his status for the season opener in a bit of jeopardy. Though, it's fair to point out that Collins had a similar injury his rookie season, albeit on the other foot, missed three months of the offseason and was ready for the opener. So, it's not dire. But signing McClain would have given the Cowboys a measure of security.
Now, without Collins, the starting inside tackles would be some combination of Tyrone Crawford, David Irving, Brian Price and Richard Ash. Irving is the most imposing of the group, but one could argue that the interior was at its best last season when Irving and Collins were on the field together.
So, now what do the Cowboys do? Well, they need some protection inside in case Collins' rehab doesn't go as expected. Our Mike Fisher (@FishSports) was on top what the Cowboys are hoping to do next earlier this week.
Keep an eye on this situation as the offseason develops. It seems small, but it could become much bigger if Collins isn't able to come back on time and if no one beyond Irving steps into that void.
2. Here's a story that kind of went under the radar this week. Fort WorthWell, I take it back. It got over-reported this week that linebacker Jaylon Smith is no longer wearing a brace for his drop foot. On the continuum of Smith's recovery from his horrifying leg injury in the 2016 Fiesta Bowl — which I witnessed in person — this is a huge step. Once the surgery and the initial rehab was complete, the drop foot was always going to be the X-factor. Sometimes drop foot never goes away, and if it never did then Smith could still be a functioning NFL linebacker, but perhaps not at the level he was in college.
It's a cool story, especially if it's true that Jaylon is suddenly "Notre Dame-fast.''
But here's something cooler: Jaylon Smith told this to us three weeks ago, in a Cowboys podcast with Fish. Here's Jaylon, in his own audio words, about his improving health. Click on in!
3. Game On's Wess Moore and I talked this week about the Cowboys' plans after the retirement of Jason Witten. We talked about which player might step into his role among the tight ends that are currently on the roster. Give it a listen and be sure to check out Wess every day on radio stations across Arkansas, on the TuneIn app and at FoxSportsArkansas.com.
4. So why aren't the Cowboys pursuing Coby Fleener? It may have something to do with this bit of information, tweeted out on Saturday by NFL.com's Herbie Toepe.
If Fleener is still working to get medically cleared from a concussion, then NFL teams will be wary — at least until he gets clearance. The Saints signed him to a massive deal two years ago — a five-year, $36 million contract — and are absorbing a tremendous cap hit as a result. To me, that means the team is wary of the idea of Fleener getting medically cleared any time soon. That's the only significant reason I would have, as a Saints GM, to outright release a player with 255 career receptions.
So how does this impact the Cowboys? Well, you know Jason Witten retired and left the Cowboys with a group of tight ends with a combined nine career receptions, right? So, a player like Fleener would be worth taking a flier on, especially since you could get him for a greatly reduced cost. But Jerry Jones appears determined to see what the Cowboys have internally first.
So, I get the concussion issue. I'd be wary of that too. But if Fleener is cleared, I think the Cowboys should pounce, even if it's on a one-year deal. Just as McClain would have been a good security blanket for the defensive tackle group, Fleener would make a good security blanket for the tight ends, along with quarterback Dak Prescott.
Or is Fleener not "Dak-Friendly" enough?
Actually, Fish breaks the story on the Cowboys' no-Fleener reasoning here.
5. Our Mike Fisher did a Q&A with Cowboys fans earlier this week about everything from the Amazon series All-or-Nothing" to the enduring function/dysfunction of Cowboys owner Jerry Jones. Fish digs into a lot of great issues and answers a lot of great questions. But I'll ask you to pay attention to Question No. 3 about the need to get the story out first and to be accurate while doing so. Yes, it's a wonky journalism question (and I'm a wonky journalist, so I appreciate it), but it gives perspective on how reporters track stories, how they source and how they report them. Journalism isn't actually that hard. You seek out the truth and you report it. The problem is that sometimes the truth changes and you have to report that, too.
Fish is one of the best at what he does, but he's not the only one in this market that adheres to the same coda. Writers like ESPN's Todd Archer, The Fort Worth Star-Telegram's Clarence E. Hill, Pro Football Talk's Charean Williams, the Dallas Morning News' Jon Machota, NFL Network's Jane Slater, KD Drummond, Bobby Belt, and our 24/7 crew (led by Fish and Patrik Walker) work to approach the job the same way. That also holds true for the DallasCowboys.com crew, led by David Helman, Bryan Broaddus and Nick Eatman. And there are a host of others that would take too long to rattle off. I know this because I've worked open locker rooms with these reporters, in some capacity, over the years and seen how they operate.
So, if you're getting your Cowboys news from this group, then count yourself some of the best-informed fans in football.
6. The Randy Gregory appeal is coming soon. And it's going to feature an epic amount of paperwork.
I'd love to know if that's an NFL reinstatement appeal record. Because it ought to be.
7. Cole Beasley's highly-anticipated rap album (words I never thought I would type in my life) "Autobiography" came out this week and it's already creating a buzz.
To be honest, I'm not sure why Ben Rogers tagged both Oprah and Bill Clinton in that tweet.
Former Cowboys wide receiver Dez Bryant (also words I never thought I would write until he was, you know, retired) was out there stumping for his former teammate on Friday.
It is wrong that I just wanna hear Cole re-cut "Oklahoma Nights" with Troy Aikman?
8. Sometimes questions need to be answered.
First, this is the time of year when NFL team toy with moving players to different positions, so this isn't unusual. Second, we're talking about the fullback. So let's take a step back and remember that we're talking about the FULLBACK. How often do the Cowboys really use that player?
Then again, if you're SUPPOSED to be a power running team, well…
9. Tweet of the Week:
Dez Bryant to Jason Witten TD ?? @DezBryant @JasonWitten pic.twitter.com/FNuVRaD33d

— Amanda ?? (@amandapanda_5) May 4, 2018
This really doesn't get old, does it?
10. This week's "Great Moments in Headline Porn" — "Ezekiel Elliott is the key to the Dallas Cowboys success in 2018" from foxsports.com
File under headlines, obvious.