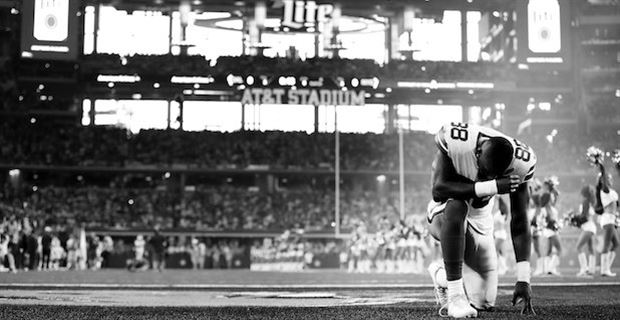 It's a fun game. Let's call it "Deztination!'' Which NFL Team Will Dallas Cowboys Ex Dez Bryant Join? Which Does He Want To Join?
There are a couple of ways to play this game.
We could guess, by spinning the NFL.com wheel. Fun!
We could guess by doing our best to ask around the NFL, as prominent media folks are doing, working to eliminate this team and that. Because of Bryant's immediate post-release statements to me and to Jane Slater regarding his NFC East desires -- all based, of course, on being able to play Dallas twice and therefore helping him forge his revenge for having been "done wrong'' here -- media types like the respected Chris Mortensen have worked to knock the Eagles, Redskins and Giants off the list.
I'll buy that ... especially because "it's early'' and maybe one of those teams bends when it discovers that Bryant's salary demands won't end up being very demanding. But this piece is about Dez Bryant's desires, not about what other teams think, and certainly not what those of us in the media think.
What Dez told Slater and me: "I'm kinda hoping it's an NFC East team. If it's somewhere else, that's fine. But I'd like to play the Cowboys twice.''
One of the reasons some teams might get crossed off the list of suitors is due to either our thinking (or more importantly, theirs) that Bryant will be too expensive. Bryant himself tells me that should not be a concern.
"It won't be about the money,'' Dez says when I ask him about wanting "market value.'' "It won't be about 'market value.' No. No. Not at all.''
Via a retweet, he reiterated that view on Sunday.
So what is it about? A chance to compete for a title. A chance to oppose the Cowboys twice. And other things that come to light when, in a one-on-one conversation, I throw various team ideas at him.
I do want to throw a couple of asterisks in here, before we get started: One, I didn't ask about 31 teams. So this isn't the be-all-end-all to possibilities. And two, just as teams can change their minds (heck, starting with the Cowboys, who in the last 100 days involved themselves in an in-house tug-of-war), Bryant's outlook can change, too. So these responses are initial ones, mostly off-the-cuff, driven by -- well, emotion, because that's what's probably always going to drive this man.
It's one of the most important and intriguing stories in the NFL right now.
So, Deztination? Why Don't We Just Ask Him?
GREEN BAY PACKERS - It makes sense to me; Jordy Nelson is gone and Aaron Rodgers is a stud. But...
"It wouldn't seem right,'' Dez tells me, smiling. "Too much history.''
Hmm. I guess.
HOUSTON TEXANS - The Texans are on Bryant's list. He gets to remain in his home state, gets to retain those important Lufkin ties, and gets to say "yes'' to all the Texans players who have tweeted at and texted him.
@DezBryant pic.twitter.com/gNP4Y4ZkMA

— Deandre Hopkins (@DeAndreHopkins) April 13, 2018
And yeah, he retweeted a photoshop of him in a Houston uniform -- a photoshop first spread on social media by Houston receiving star DeAndre Hopkins.
Oh, and then after that? Dez made some more social-media friends in Houston, friending players like Will Fuller, JJ Watt, DeAndre Hopkins and Texans QB DeShaun Watson.
JACKSONVILLE JAGUARS - Dez thinks this can be a match. Ironic, as the Jags just moved on from Allen Hurns, who arrives in Dallas to play the X. But sure: If Dallas thinks Hurns can do Dez-like things here, maybe Jacksonville thinks Dez can do Hurns-like things there.
LOS ANGELES RAMS - Bryant is very specific here. Loves the city. Loves the direction of the team. "The QB (Jared Goff) is going to be special and (Todd Gurley) is a beast,'' he says. "(Newly-acquired Brandin) Cooks is a good deep threat. That'd be fun.''
And of course, most players like L.A.
NEW ENGLAND PATRIOTS - This seems like such a natural, especially with Cooks having been traded away. It'd feel like Randy Moss II, to some, as I mentioned here in the new Mock Draft post-Dez Bryant release.
Maybe the only downside is that being part of a Super Bowl in New England might feel less special because Super Bowls is what they do, with or without Bryant. Dez would like this move to feel "special.''
NEW ORLEANS SAINTS - Had the Cowboys been wise enough to make a goodbye-Dez decision efficiently, they could've shopped Bryant to coach Sean Payton in trade a month ago. Now? New Orleans has Michael Thomas as the top guy, it signed Bears ex Cameron Meredith to be the second guy ... but still: Dez in New Orleans playing the old Marques Colston role as a supplemental receiver?
There is sense there, and not just because Payton follows Dez on Twitter.
NEW YORK GIANTS - Bryant is very specific here in describing his thoughts on joining the Giants.
"The Giants,'' he says, "got a helluva defense, they're going to pay OBJ (fellow wideout and pal Odell Beckham Jr.), so coming back. Playing with him, Sterling (Shepard) ... the tight end (Evan Engram), (QB Eli) Manning? Crazy. ... They draft (Penn State running back Saquan Barkley with the No. 2 overall pick)? That'd be crazy!''
Bryant enjoys visiting the Big Apple and only half-jokingly adds how much he'd enjoy being a fashion plate there.
"You get to wear your nice winter coats on the streets of New York there,'' he laughs.
My sense (again, regardless of what the Giants themselves want) is that this would be Dez Bryant's No. 1 choice.
NEW YORK JETS - The Jets still have almost $20 million in cap space ... but no QB and no apparent shot at contention. Not a wish-list topper.
OAKLAND RAIDERS - Oakland's top wideouts are Jordy Nelson and Amari Cooper. That doesn't exactly scream "need.'' But while all Cowboys fans know which NFL team is Dez' favorite, few know the identity of the other NFL team he's always rooted for, from boyhood to now.
That would be the Raiders.
PHILADELPHIA EAGLES - Philadelphia doesn't have much room ($1.6 mil) and then there is this: As fine a team as the Eagles are, they just won a Super Bowl. The challenges to repeat greatness are real.
SAN FRANCISCO 49ERS - The 49ers can afford to pay, and coach Kyle Shanahan would know how to use Bryant in tandem with young quarterback Jimmy Garoppolo.
This is a playbook match.
WASHINGTON REDSKINS - Regarding Dez' "play Dallas twice'' remark: Financially, Washington (with $17 mil of room) is the only NFC East team with present financial flexibility to make this move. I don't think this is a Dez chart-topper, though.
Again, there can be others. Baltimore has already signed Michael Crabtree but the Ravens do have $10 mil in cap room. The Bengals, putting him alongside A.J. Green and doing so on the cheap? Seattle lost Jimmy Graham; a different position than Dez, of course, but maybe the same dynamic? The Bears need to give QB Mitchell Trubisky help; have they done enough with Allen Robinson, Taylor Gabriel and Kevin White? How about the Bills on a short-term deal? The Vikings? The Colts? What about the word from Baltimore?
Again, most of the ideas in the above paragraph represent my questions, not Dez'. And none of them come from the teams; obviously, beat writers in every city are propping up or shutting down possible connections between the local team and Bryant. Meanwhile, maybe clubs want to fully investigate Bryant -- watch our interview here:
And work to make sure he's not excessively finger-pointing, that he's not claiming clean-hands innocence for what went wrong in Dallas (he's not), that he'll be a positive locker-room influence moving forward rather than the "distracting'' one, as he's been portrayed by some power-brokers here inside The Star.
"I should've been better at controlling my emotions,'' Dez says, taking what be believes is his share of the business. "I should've been a better professional. I said I was going to work on that and that's what I am doing.'' ... (But) football means everything to me. I come from nothing. Football gave me life. It gave my family life. ... It's the love of my life.''
And right now, Dez Bryant, high-profile free agent with a wish list, needs football to love him back.