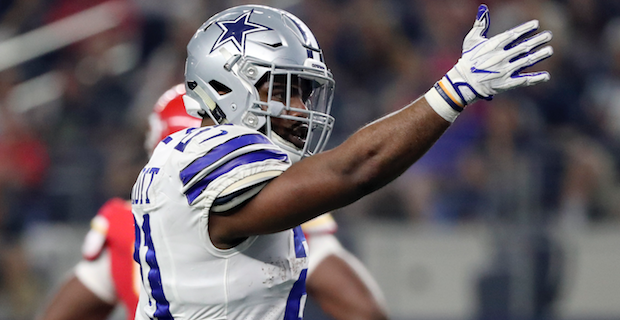 Are you ready for some fantasy football?
Obviously, that question is rhetorical.
The National Fantasy Football Convention (NFFC) is now legendary for its battles with the NFL, after the league continued to do all it could to prevent the event from taking place in two consecutive attempts, before it ultimately occurring in 2017. The first two conventions were to be held in Las Vegas, NV and Pasadena, CA, respectively, but the league shut the convention down by threatening sanctions against players who were slated to make an appearance -- most notably, former Dallas Cowboys' quarterback Tony Romo.
Adding fuel to the fire between the two sides, Romo has also been both the face and part owner of NFFC, which explains why he wouldn't back down when commissioner Roger Goodell and the NFL's front office sought to cut the budding event off at the knees.
It's inaugural go in 2017 was a resounding success in though, held in Dallas, and now they'll double-down in bringing the party right back to the Metroplex for 2018. This time around Romo is joined by a new co-owner though, current Cowboys' running back Ezekiel Elliott -- who is also slated to headline this year's event. Executive Director Andy Alberth divulged the intel to Clarence Hill, Jr. of Fort Worth Star-Telegram, making it clear the All-Pro saw the potential in the event and wanted in, in a very real way.
"It's more than doubled from where it was last year," said Alberth. "The players are excited. The fans are excited. It's Disneyland for fans of all ages.
"You can buy a ticket to a football game, leave and never meet a player. Here you can do so much more. You can reach out and touch players. There is no better way for fans to interact and engage with their favorite players."
Set to be held from July 13-15 at Will Rogers Memorial Center in Fort Worth, a slew of players are scheduled to appear, including but not limited to, Michael Irvin, Jason Witten, DeMarcus Lawrence, Byron Jones and a slew of other stars from nearly every team such as Kareem Hunt of the Kansas City Chiefs and a host of others. And in case you were wondering, former Cowboys' star and their resident all-time leader in receiving touchdowns, Dez Bryant, is also scheduled to attend as he joins Irvin and the Drew Pearson as the triad that is known as "the 88 Club" makes it presence felt.
With over 200 NFL stars set to descend upon the Metroplex to celebrate both fans and the global popularity of fantasy football, Alberth has already built something not before seen and with both Romo and Elliott in his corner -- it's hard to see how even the sky is the limit.
For complete info on the event and how to register, leap into this link.