Alfred Morris and Rod Smith aren't the only Dallas Cowboys' running backs ready to show up and show up.
As it stands, Ezekiel Elliott is now suspended for six games by the NFL after losing his latest motion for an emergency injunction and the focus now shifts to the stable of veterans the Cowboys' currently employ. A group once led by Darren McFadden, whom the team saw fit to sit on the inactives list the first seven games of the 2017 season.
**Follow @VoiceOfTheStar on Twitter for up-to-the-second news and analysis!**
With Elliott not in the picture until likely late December, the Cowboys plan to execute a run-by-committee approach with Morris taking the lead. Not having any game reps leave some to wonder just how impactful McFadden will be beginning this Sunday against the Atlanta Falcons, but he's not concerned in the least.
The 10-year veteran is as confident as he's ever been, but he admits it'll take a few snaps to shake off the cobwebs.
"I think it all starts with practice. I know game speed is different but that's where it starts," he said, via the team's official website. "I've been going against our first-team defense. I think I'm going to be a little rusty but it won't take me long to knock that off."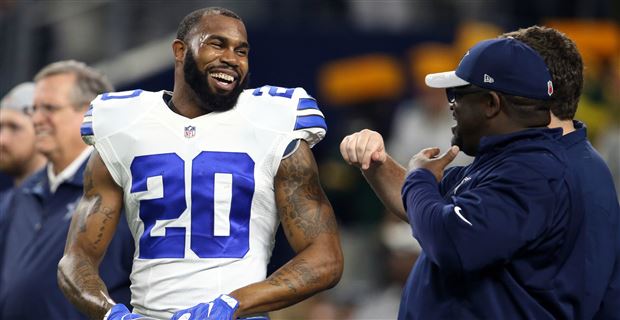 The 30-year-old is the elder statesmen of the group, but don't go calling him an old man. The way he sees it, if he's given a chance to break the game open -- good luck to the defenders chasing him.
"I definitely still have speed to break away," McFadden said, via Fort Worth Star-Telegram. "So if you see me in the open field, don't look for me to get caught. ...I've seen Al run 70 yards, Rod run a 45 yarder and I definitely don't look to get caught from behind if I get an open field. Just out there practicing running around and watching myself on film, I still feel like I'm the same guy."
While that remains to be seen, this is still a player who rushed for 1,083 yards in 10 starts only 1.5 seasons ago. Having been welded to the bench for each game in 2017, he's also rested with no hits on his body. All of those variables add up to support McFadden's claim, but it'll ultimately be the Jupiter-sized chip on his shoulder that helps to buoy his performance during this stretch.
Add in the fact this is another contract year for the veteran and, well, there's a can of kerosene approaching this campfire.
The Cowboys are making their run at Super Bowl 52! Don't miss any breaking news, take a second to sign up for our FREE Cowboys newsletter!