DeMarcus Ware is ROH candidate, wants new roles with Cowboys
The future Hall of Famer really wants to dig his heels in to help the Cowboys improve.
DeMarcus Ware wants to do more for the Dallas Cowboys.
The now-retired NFL linebacker spent his final few seasons with the Denver Broncos before returning to the Cowboys to officially hang up his cleats for good. In the span of his absence, the team has yet to see a pass rusher of his caliber grace their halls. It wasn't until 2017 that anyone even remotely came near his legendary single-season production, with defensive end DeMarcus Lawrence racking up 14.5 sacks -- once being on pace to blow past Ware's historic 20-sack mark set in 2008.
**Follow @VoiceOfTheStar on Twitter for up-to-the-second news and analysis!**
To this day, Ware remains the Cowboys' all-time franchise leader in sacks (117) and is a shoo-in first ballot Hall of Famer. Given his love for the team and the team's love for him, it's a no brainer he'll also one day end up in the coveted Ring of Honor. As a matter of fact, owner Jerry Jones has already confirmed to Ware it'll happen and even told him when, more or less.
The former first-round pick will keep the last part to himself for now, though.
"He did have a (timeline) but I won't say," Ware said, via ESPN. "When you first come here and you see all the names around the Ring at the old Cowboys stadium and I see now at the new Cowboys stadium, it's almost like you can make your mark at the new star, that's what I call the new stadium. When Jerry told me that, that meant a lot. When Charlotte (Anderson) says that, it means a lot.

"You can etch your name in stone in history here with the Dallas Cowboys."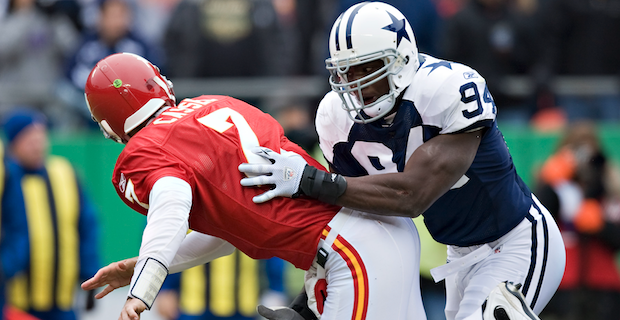 There are currently 21 members in the Ring of Honor and that'll likely increase to 22 soon with the Cowboys planning to immortalize legendary cornerback Everson Walls, who just barely fell short of the Pro Football Hall of Fame in 2018. It's not an annual induction process with Darren Woodson being the most recent addition in 2015, so Ware may have to wait a bit to see his number raised.
And he's just fine with that.
In the meantime, he's been named one of the Cowboys' ambassadors for the 2018 NFL Draft that'll be held at AT&T Stadium this coming April -- alongside fellow legend Drew Pearson, whose 2017 draft speech rattled the very soul of Philadelphia Eagles' fans. For his part, Ware is honored to get the nod but also wants to do more on the field for his former team. He was seen at practice in 2017 lending his knowledge to the young defensive line with the hopes of helping inject some fresh ideas to truly get their games on track.
Ware wants to do more of that going forward, balancing it with also potentially joining the Cowboys' media department.
"But I'm talking about really making an impact this year," Ware said when asked about helping out the defensive line group in 2018. He spent only one day last season with the assist but really wants to dig his heels in now. He'll get no gruff from defensive coordinator Rod Marinelli, who welcomes all the wisdom Ware brings to the table.

"[Marinelli] loved it because he knows I'm a technician and that's what he predicates his game off of," Ware said. "It's about technique, knowing the strategy and that's what I do very well and he enjoyed when I was out there."
The one thing he won't do for the Cowboys or any other team is return to football though, making it clear he's concrete in his retirement -- despite fielding three serious calls from teams for his services. His focus is now on the future which includes ingratiating himself deeper into the Cowboys' organization in a way that might even land him a coaching position down the road.
That may not necessarily be his focus at the moment, but his story arc is certainly building towards it.
"I wouldn't want to get back on the field, but in talking to some of the guys and the coaches I'm really trying to get back into mentoring the guys and maybe doing some pass-rush stuff with the guys throughout the week and doing some broadcasting stuff," said Ware. "I think it will be a great opportunity."
Indeed, and for everyone involved.
The Cowboys are heading to the offseason with lots of questions. Don't miss any breaking news, take a second to sign up for our FREE Cowboys newsletter