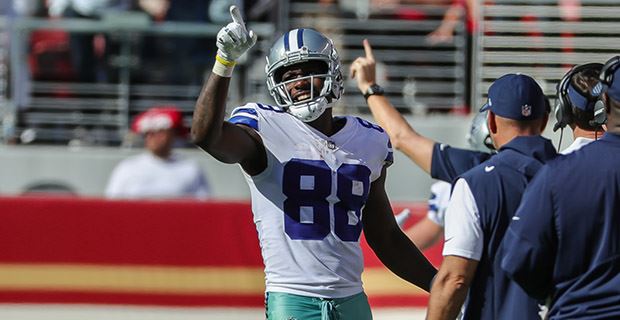 Dez Bryant has a message for NFL players, including the draft prospects hoping to become one in 2018:
Don't play injured.
The All-Pro wideout joined the Ben and Skin Show on 105.3FM The Fan recently and gave an impassioned speech covering everything from his diehard love for the Dallas Cowboys to his intentions going forward which, by all accounts, sounds very much like a man possessed and going nowhere this offseason. Bryant is coming off of a season wherein his production took a major dip for a variety of reasons, some being accountable to lack of coaching adjustments and the struggles of quarterback Dak Prescott -- while others are simply due to Bryant being distracted mentally, to his own admission, but also choosing to play while hurt.
**Follow @VoiceOfTheStar on Twitter for up-to-the-second news and analysis!**
The latter is something he vows to never again do, and urges others to understand the risks of doing so.
"I've been grinding," Bryant said, via Jon Machota of The Dallas Morning News. "I've been on that field hurt. I got scars. I got bruises on me just because how much I love the game and how much I want to see the Dallas Cowboys win.

"I want these people to understand that. From Mondays to Sundays it's a real grind. On Mondays, there's times where you feel like you can't even play on Sundays. That's real. You got to get your mind right. You got to get that body right to go out here and do that.

"I feel like a lot of these fans forget that. It's real out here. Ain't nothing phony out here. ...I'd tell [younger players] to get their body right. I would tell them that that's a mistake that I made. I'd tell them to get their body right.

"Keep it healthy, that should be the No. 1 goal. Sometimes you got to make those sacrifices. It's hard. You want to be out there on that field. You want to make plays. You want to be out there with your teammates.

"But you can't compromise your body. That's what I'd tell them."
Pushing through pain isn't something alien to Bryant, who has routinely done it throughout his career when his body would actually permit him to. One example would be him returning prematurely from a foot injury to help save a floundering season in 2015, but instead found himself on injured reserve heading for a surgical repair after attempting to do so. It was of no consequence on the field anyway, as the Cowboys went on to finish 4-12 that season.
More recently, he battled through knee and ankle injuries in 2017 yet played every single game, but his production took a hit because of it.
The all-time franchise leader in receiving touchdowns will now head into what will likely be the most pivotal season of his career, one in which he vows to "shut some people up". A big part of that will come by way of him remaining healthy, because he'll no longer take the field going forward if he isn't.
The Cowboys are heading to the offseason with lots of questions. Don't miss any breaking news, take a second to sign up for our FREE Cowboys newsletter