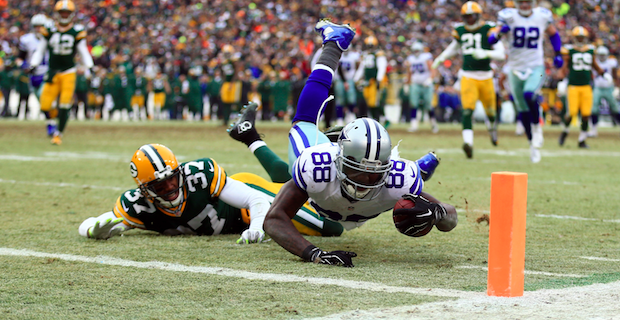 Dez Bryant and Calvin Johnson will be the two biggest fans of the newest rule change coming to the NFL.
In case you happen to be one who believes either or both did not reel in the ball during their respective controversial plays, you're formally invited to ingest a plate full of crow. Still stinging from the gut-wrenching decision by NFL official Gene Steratore to overturn Bryant's late game heroics in the 2014 NFL Divisional Round against the Green Bay Packers, as well as the now-legendary call against Johnson against the Chicago Bears in 2010, fans of both the Dallas Cowboys and Detroit Lions have long awaited answers and an apology.
"If you read the rule, it's not a catch," said New York Giants president John Mara in 2011, via SI.com. "The reason it's not a catch is you've got to control the ball when you hit the ground. It makes it easier to officiate. It's a bright line that you can draw."
That was then and this is now.
Fact is, both Bryant and Johnson caught the ball, and Mara has finally been forced to admit it. Speaking from the NFL Competition Committee meetings, the Giants' co-owner told ESPN's Kevin Seifert the infamous "no catch" on both players will now become a reception according to an amendment to the rules that were agreed upon by the NFL's Competition Committee.
The NFL competition committee appears to have unanimous agreement that controversial catch rulings involving Dez Bryant and Calvin Johnson should have been ruled complete, according to Giants owner John Mara. So the committee is working on changing the rule to relax the "going to the ground" requirement.
While this offers some type of solace to Bryant, Johnson and fans of the both teams, it's taken with a grain of salt considering the outcomes of those games can't ever be changed. That's more of a groin-kick to the Cowboys than it is the Lions, considering the call on Bryant not only ended the storybook 2014 season for Dallas, but was also the last meaningful game ever played by quarterback Tony Romo.
Ouch.
It also won't do anything to save the 2017 season for the Pittsburgh Steelers, who saw tight end Jessie James have a crucial TD catch overturned on replay that could've sent the New England Patriots home during the AFC Championship Game. While the coming rule change will finally keep things like this from happening again, hopefully, it's already left some major damage in its wake.
The Cowboys are heading to the offseason with lots of questions. Don't miss any breaking news, take a second to sign up for our FREE Cowboys newsletter
[H/t Patrik Walker of 247Sports, Twitter: @VoiceOfTheStar]