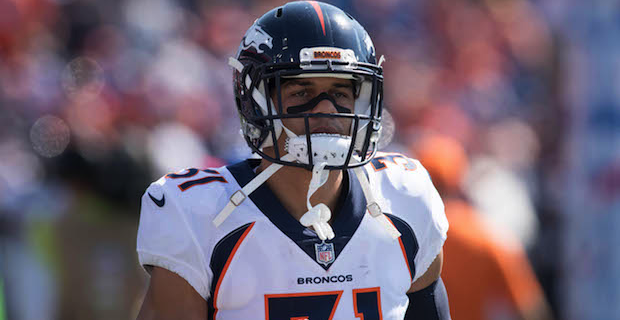 Coming off their Super Bowl 50 World Championship, the Denver Broncos invested in the back-end of their defense, selecting Boston College safety Justin Simmons in the third round of the 2016 NFL Draft. As a rookie, Simmons fit in rather quickly, seeing almost starter's snaps behind T.J. Ward and Darian Stewart when the Broncos deployed their 'big nickel' sub-package.
The 6-foot-2 Simmons was ideal for what the Broncos needed in a 'matchup safety' — a player who could line up against some of the big, athletic pass-catching tight ends of the NFL and neutralize them. While he was far from perfect, Simmons' contributions as a rookie were more than encouraging.
He appeared in 13 games (three starts), totaling 30 combined tackles (25 solo), one sack and two interceptions. The highlight of Simmons' rookie campaign was when on the road in New Orleans, he blocked an extra point attempt late in the fourth quarter, which was picked up by fellow 2016 draft pick Will Parks and returned for a two-point score.
Denver went on to win the game by that two-point margin, 25-23. The league's rules on extra-point attempts have since changed. Players can no longer leap over the center, even if they are untouched as Simmons was in the Superdome.
The Broncos were so confident in Simmons heading into year two that the team cut veteran team leader T.J. Ward on the doorstep of the season opener. In a full-time role, Simmons would go on to start 13 games in 2017, finishing with 68 combined tackles (49 solo), one sack and another two interceptions, one of which was a pick-six against the Dolphins.
Now headed into year three, the Broncos are even higher on Justin Simmons. With his natural charisma and by-example leadership traits, it wouldn't surprise me to see him earn a team captain nod, even as a third-year player.
Get access to Denver Broncos inside info, deep-dive analysis and in-depth film reviews! Don't wait – become a Mile High Huddle VIP subscriber today!
Simmons has the potential to be a Pro Bowl-caliber safety, and the Broncos know it. But in this case, Defensive Coordinator Joe Woods doesn't want to put the proverbial cart before the horse.
"The biggest thing he has to do is just go out there and do his job," Woods said last week during mini-camp. "He's a talented player and he has versatility. If you just go out and make the plays you're supposed to make, then you'll get those types of awards. We just want him to be a great team player and help us get to the Super Bowl first."
Versatility, Simmons has in spades. Not only can he match up against tight ends, but he has the physicality to seek-and-destroy in the box, while also possessing the long-speed to cover the deep-third of the field.
But if Simmons has anything to prove in year three, it's that he can be durable. In each of his first two seasons, he missed time due to injury. He finished 2017 on injured reserve, after he tweaked his ankle celebrating with Brandon Marshall following a strip-sack against the New York Jets.
"No celebrating period," Simmons said eariler this month, laughing. "That's definitely taken out of the playbook. But as far as being frustrated goes, it was definitely frustrating. I think the most frustrating part was that I could've played. But due to the circumstances of the season not going the way we wanted it to and just letting other guys get in there and see what we had as far as backups and other guys getting some playing time for the future."
As a safety, it's not easy to notch multiple interceptions in each of your first two years. Simmons' accomplishment in that regard is a strong sign that he's not only instinctive and opportunistic, but also that he studies his film.
He has potential in spades, but at the end of the day, Simmons has to find a way to stay healthy and on the field for the Broncos. The front office has reloaded the roster, which has benefited the defense greatly. This unit is poised to be among the NFL's best once again.
"There's always room for improvement," Simmons said. "That's the cliché saying, but it's so true. Year three, that's really the year that things are supposed to click. I feel comfortable, and once again, I'm not taking a hold of 100 percent of the secondary. I still have Stew [S Darian Stewart], I still have Chris [CB Harris], I still have [CB Bradley] Roby, so although I am taking a bigger leadership role, I still have those guys to lean on and to ask questions… This defense is going to be great again. We expect greatness, and we expect to compete for that No. 1 defensive spot and to earn that spot. Like I said, I'm just looking forward to year three. I know I can contribute big time."
If the Broncos do indeed get a "big time" contribution from Simmons, it'll lead to nothing but good things for the team. He is already viewed as a young leader, and has even been referred to by rookie cornerback (and fellow Boston College alum) Isaac Yiadom as "The Goat, The God, and The Perfect Man".
Pretentious, sure, but the perception of Simmons in the Broncos locker room is rock solid. Don't sleep on Simmons as an under-the-radar Pro Bowl candidate in Denver, and potentially a surprise youngster to be voted a team captain.