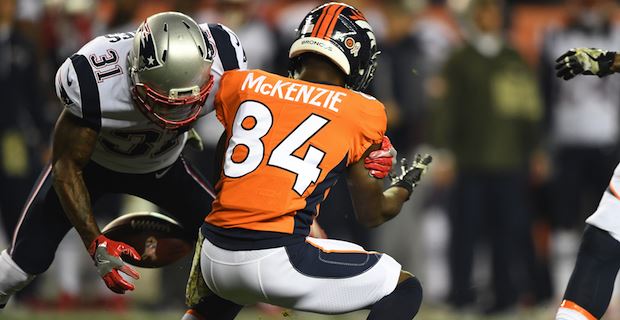 It's been awhile since the Denver Broncos had a formidable weapon returning punts and kickoffs. As fortuitous as Jordan Norwood's 61-yard record-setting punt return was in Super Bowl 50, let's face it; that return was the exception, not the rule for Norwood.
You have to go all the way back to circa 2012-13 in Denver to find a returner who could consistently flip field position and threaten to score every time he touched the ball. The problem was, Trindon Holliday eventually became just as likely to fumble as he was to do anything positive for the Broncos.
Denver hoped they had solved this problem by investing a fifth round draft pick in Isaiah McKenzie last year. In fact, the team was so confident in the 5-foot-8 McKenzie that Vance Joseph christened him the starter about a week into training camp.
That fateful decision backfired on Denver, as McKenzie would go on to put the ball on the ground six times before being finally benched late in the season. Chalk it up to an irrational belief in McKenzie by Coach Joseph, or perhaps dereliction of duty by then Special Teams Coordinator Brock Olivo, but McKenzie was given too many opportunities to hurt his team, despite being clearly mired in a cataclysmic slump.
Fast forward to 2018 and the Broncos have a new guy coordinating the third phase in Tom McMahon. With more than 10 years of experience as a Special Teams Coordinator, McMahon has stepped into his new role with the Broncos and stabilized the unit.
Get access to Denver Broncos inside info, deep-dive analysis and in-depth film reviews! Don't wait – become a Mile High Huddle VIP subscriber today!
The returner job is once again open for competition, with guys like McKenzie, and rookies Phillip Lindsay and DaeSean Hamilton, among others, all vying for the opportunity. However, with the entire Offseason Training Program in the books, no player has yet laid claim to the job.
"It's going to be interesting to see who pops and who separates themselves," McMahon said during mini-camp earlier this month. "That's what I'm waiting for. Nobody has separated themselves yet. You really can't until you get into preseason games and it's a live ball, it's coming down the field. We'll know then, but I like what they're doing. They're catching the heck out of the ball. After practice everybody is working hard and they're catching the ball in practice, too."
The good news is that Denver's hard-earned priority of securing the catch is taking hold in the returner group. McMahon has been pleased with this aspect at least.
But the veteran coach is right. Until the Broncos get under the bright lights of preseason action, it will be next to impossible to see any separation in this competition. Everyone looks good in shorts and shells. But in live-bullet scenarios, that's when a player's mettle is truly revealed.
When 11 elite athletes are barreling down the field at full speed, looking to knock your block off, that separates the wheat from the chaff pretty quickly. Winning this job would be the undrafted Lindsay's surest path to a roster spot.
By virtue of his draft pedigree and performance in OTAs, Hamilton is virtually guaranteed a roster spot, irregardless of whether he wins this job. For McKenzie, his place on the 53-man roster could very well be determined by this competition, as he's yet to create any additional value for himself on offense. But that could change.
When Jordan Taylor returns to the practice field sometime in early August, he'll factor into this mix as well. However, we kind of know what Taylor's ceiling is as a punt returner. If all you need is someone to secure the catch, Taylor can be relied on.
But the Broncos are also looking for a returner who can be dynamic with the ball in his hands, and flip field position. Decision making is paramount, but the Broncos also need a returner that is a threat to take it to the house every time he touches the ball.
We won't have any resolution on this competition until August. But it's one of the most compelling roster battles heading into training camp.