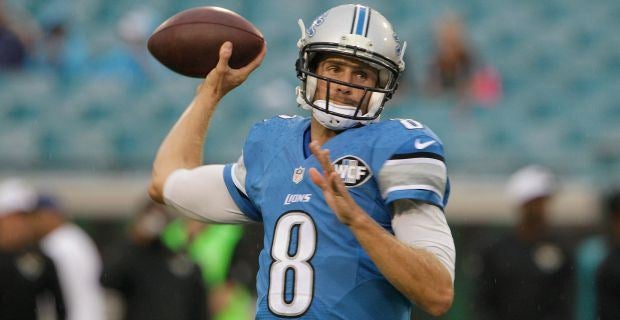 The Detroit Lions have a former quarterback who is a rising star in the media ranks, and Dan Orlovsky is ready to take over the world by his own admission. This week, Orlovsky heads to the NFL's broadcast bootcamp in order to help him in honing his craft further, and it's a craft he's already been quite impressive at while breaking things down on his own Twitter page.
There, since his retirement, Orlovsky has posted videos and breakdowns, which contribute an elite combination of humor, insight and personal knowledge on several NFL teams. He's branched out and had some of his breakdowns featured on multiple different outlets, but some of his best work has come as it relates to letting fans know exactly where the Lions stand on several moves.
Orlovsky, though, is angling for a bigger outlet perhaps, and admitted that he's going to be shaking things up in his Twitter post, while asking the fans what they want to see out of their analysts. "Ok this is legit. Next few days I'm at the NFL Broadcast Bootcamp preparing for world domination. As football fans, what's 1 thing you wish you would get more of from your broadcasters/analysts/commentators. 1 thing-GO," he tweeted.
Plenty of fans would likely tell Orlovsky to continue being himself and keep up with the intelligent commentary, as those have been his hallmarks since he took up on this endeavor. His knowledge, being he played the game for eight years, is unparalleled, especially as it relates to issues at quarterback and offensively, and he's also lent some great insights on the defensive side of the ball, given his knowledge of reading defenses. He's also been self-deprecating, given he has routinely laughed about his most infamous moment on the field, where he stepped out of the end zone in Detroit's 0-16 season, leading to possibly the NFL's most remembered safety.
The boot camp, which was established to give former a leg up in the media world, has assisted several players in the past at finding their roles within the sports media. As the NFL Player Engagement site explained, the goal of the period is to give players a look at what they can do and give them the needed training in order to take a step forward with their new career.
"This year Player Engagement celebrates the 10th annual Broadcasting Boot Camp. Broadcasting Boot Camp provides players on-set training in broadcasting to build experience and determine interests. Players can explore multiple on-air job functions in television/media. Key learnings include: Tape study, show preparation, field reporting, and production meetings," the release read.
The Detroit Lions are getting ready for a key NFL Draft this month. Stay up to date with everything --take five seconds to sign up for our FREE Lions newsletter now!
Perhaps the Lions biggest success story from this is Nate Burleson, who rose from a talkative former wideout to become one of the better personalities in football sports media with the boot camp's help. It wouldn't be a stretch to see the Lions land another such player in the media world like this with Orlovsky, who has been good already, but might only be set to take on a bigger role with his intelligent analysis.