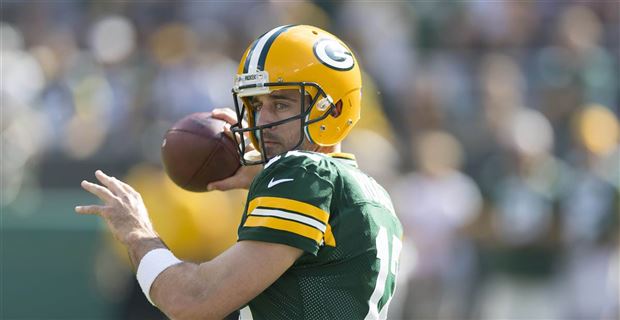 Aaron Rodgers is ready to put on a show this season. After being sidelined more than half of last season with a broken collarbone, Rodgers is healthy and ready to show the world the Packers aren't going anywhere.
Before the injury, Rodgers was on pace to have an MVP-type season, completing 66 percent of his passes and throwing 13 touchdown passes and three interceptions in five games. He did return to action in Week 15 vs. the Carolina Panthers and threw for three touchdowns and three interceptions in a 31-24 loss.
Rodgers was able to fully participate in the Packers' offseason workouts, so there will be no setbacks when it comes to his injured shoulder. But Rodgers being healthy is not the reason he will be the league's best player this season.
Here' are five reasons why Rodgers will win MVP in 2018.
This offseason, the Packers brought back Philbin to be the team's offensive coordinator. He was the Packers OC from 2007-2011 and that was when the offense was at it's best, especially in 2011 as they averaged 35 points per game which led the NFL. Rodgers had his best season in 2011, completing 68.3 percent of his passes and throwing for 4,643 yards, 45 touchdowns and six interceptions. It led to him winning his first MVP award and the Packers finished the regular season with a 15-1 record.
One of the things that have been missing with the Packers offense is a tight end that can stretch the middle of the field. That shouldn't be an issue this season with the team signing Graham back in March. The five-time Pro Bowler is not the same player he once was when he was with the New Orleans Saints, but he can still get the job done as he led all tight ends in touchdowns receptions with 10 last year. Rodgers is going to have a lot of fun throwing to Graham.
Running backs
The Packers normally don't have a consistent running game, but the should have it this year after getting good production from Jamaal Williams and Aaron Jones in 2017. Ty Montgomery will also play a role in the running game and the Packers can line him up as a receiver. Williams is also effective in the passing game and Jones has the ability to score from anywhere on the field. Having the running backs being able to make plays will make Rodgers life easier, which will mean more efficient numbers from him.
Green Bay Packers news never stops, even in the offseason. Stay up to date with everything – take five seconds to Sign up for our FREE Packers newsletter now!
Consistency
Consistency has been Rodgers' middle name since becoming the starter in 2008. Rodgers has thrown for over 4,000 yards six of his 10 years as a starter and he has thrown at least 28 touchdowns in every season except 2013 and 2017 which was the two years he suffered collarbone injuries. And when it comes to his passer rating, Rodgers has broken 100 every season except 2008, 2015 and 2017.
Revenge
Rodgers was not happy when he broke his collarbone last year. So he will likely use that frustration to get back at the rest of the NFL. When Rodgers broke his collarbone in 2013, he was able to return in 2014 and win his second MVP award as he threw for 4,381 yards 38 touchdowns and five interceptions. It would not be a surprise if Rodgers matches those numbers in 2018.