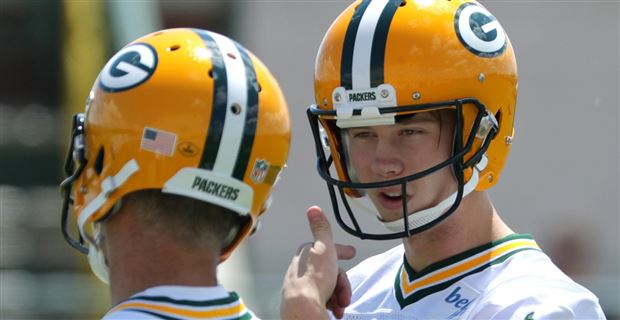 Whether or not JK Scott will become a legitimate, difference-making NFL punter remains to be seen, but there's no doubt the rookie from Alabama possesses an elite skill-set.
Making his public debut on Tuesday, the first day of minicamp, the fifth-round pick put on a dazzling display. In 11 full-field punts with only an occasional breeze to inflate the numbers, Scott averaged 53.1 yards. In all, he punted 14 times (with three from midfield) and averaged 4.68 seconds of hang time.
"I thought it was a good day because I think I got better," Scott said after Wednesday's practice. "There's always things that you can improve on. That's the thing about yesterday is I continued to learn and continued to improve the craft. Yesterday, we did that."
Beyond the numbers, what stood out was Scott's consistency. Of the 11 full-field punts, Scott had only one bad kick – a 37-yarder with 3.58 seconds. He had only one other punt with less than 4.50 seconds of hang time – a 46-yarder with 4.16 seconds of hang time that came after a low snap by fellow rookie Hunter Bradley.
VIPs: OUR 53-MAN ROSTER PROJECTION
"There's no question that he's got a big gift there in his leg but, for the most part, he has been fairly consistent, which is sometimes not the case with a young guy," special teams coordinator Ron Zook said after Tuesday's practice. "I like his attitude. I like that he has come in here and he's talked to Mason (Crosby) and Mason's talked to him. He's all ears and to me that's a sign (that) he wants to get better, he wants to do well, and you like that kind of attitude."
Scott was born and raised in Denver. That's where Tom Rouen spent most of his 13-year NFL career. Rouen and Scott's dad were connected through a mutual friend, and that led to Rouen becoming Scott's personal coach.
"Each year," Rouen said, "I tried to introduce a little more of, 'Let's start working directionally. Let's start going a little faster, a little faster, a little faster.' Our goal, really, was I wanted NFL teams to turn on the film and say, 'This kid is ready for the pros right now.' He can kick directionally, he can kick inside the 50, he can kick from backed up. He's got great hang time, great direction, gets the ball off fast and he's a pure two-step punter. I wanted him to have everything so all they've got to do is draft him. That's what we really worked on coming into his senior year. He did a really great job of that."
Scott was Alabama's four-year starting punter. A first-team All-American as a freshman, he left as the school's career leader with a 45.6-yard average. Heading into his senior season, Alabama incorporated the Packers' punting philosophy of sacrificing distance for hang time and placement. The result was remarkable. While his season average was 43.0 yards, his net average was 42.3. Only five of his 54 punts were returned.
Their relationship runs deeper than punting. Rouen has become a mentor and trusted friend over the last six years.
"He had experience going from high school to college, college to the NFL," Scott said. "He's prepared me so much from the stories he's told me, the experience he's had, and the things that he's taken from these experiences are the things that I need to focus on to prepare. He's had me so prepared. That's the thing about Tom. I've always felt prepared because of the things that he's told me."
Combine the mental with the physical, and Scott has a chance to be the long-term solution at punter for the Packers. From 2010 through 2015, Tim Masthay set the franchise record for career net punting average. Last season, rookie Justin Vogel set the franchise single-season record for net punting. After drafting Scott, Vogel was granted his release.
Still, there are things for Scott to work on. Those three midfield punts on Tuesday were good but not great, going to the 10, 10 and 16. He punted four times from midfield on Thursday. The first might have been a touchback, the second was a touchback, the third went to the 11 and the fourth was fielded at the 22. The average hang time of 5.12 seconds, however, was exceptional.
"I feel good," Scott said. "I feel like I'm progressing the way that I need to. You can't peak right now. You need to be working your way up and continue to improve all the way through the season. I feel like we're in a good rhythm right now and we're right where we need to be."