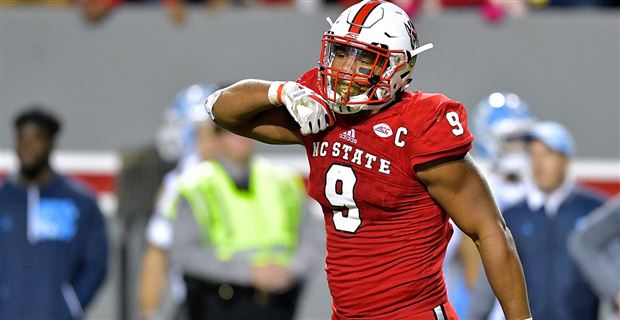 The Green Bay Packers' biggest need is edge rusher, which is why a number of experts have the Packers drafting Marcus Davenport in the first round. Davenport was productive in his final season at Texas-San Antonio and he had a strong performance at the Senior Bowl. So it looks like it would be a smart move for the Packers to draft Davenport. However, John Breech of CBS Sports believes the Packers can make a smarter move if the draft takes an interesting turn. Breech released his draft board for the Packers and he listed a trade the team could make in the first round. It's possible the Packers could trade up to draft Bradley Chubb who will be a top-10 pick. However, the only way this happens is if Chubb falls to No. 10. Here's what Breech had to say about the move.
The Packers absolutely need to grab a pass-rusher in this draft and no one would check that box better than Bradley Chubb, who's not just the best pass-rusher in this class, but he's the best player available out of everyone this year, according to our draft guru Chris Trapasso. Although this pick sounds like a pipe dream, we tried to base it at least somewhat in reality. For Chubb to land in Green Bay, a few things are going to have to happen. First, he's going to have to drop in the draft, which is completely possible. As a matter of fact, in one mock draft put together by Pro Football Focus, Chubb falls all the way to the 10th spot. If that happens, the Packers could realistically pull the trigger on a trade.
Chubb was very productive during his time at N.C. State. In his last two seasons, Chubb recorded a combined 44 tackles for loss and 20 sacks. Along with being named to the All-ACC First Team, Chubb was a unanimous All-American and he won the ACC Defensive Player of the Year Award as well as the Bronco Nagurski Trophy which is given to the best defensive player in college football.
The 2018 Green Bay Packers Draft cap will be available HERE at Fanatics at 8am ET on Thursday 4/12!
With the Packers having 12 draft picks, they have the ammo to trade up in the draft. But as Breech mentioned, they should trade up for Chubb only if he falls to No. 10 which could happen because the top three picks have yet to be set in stone. Based on previous reports, there has been no indication of the Packers being interested in Chubb, but they likely have him high their draft board. So things could get real interesting if for some reason Chubb falls in the draft.