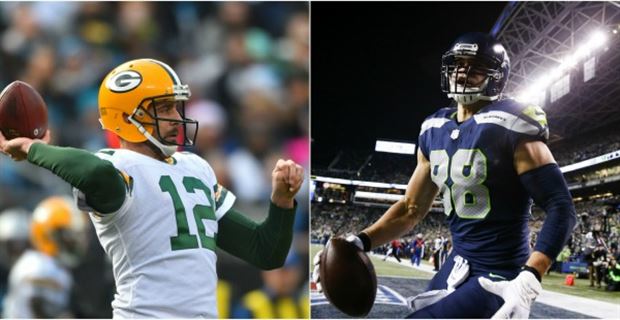 Aaron Rodgers and Jimmy Graham would be an attraction for Green Bay Packers and NFL fans heading into the 2018 season, and it looks like that could happen. On Monday, it was reported the Packers have interest in signing Graham who will be a free agent on Wednesday. But the Packers may have the edge to signing Graham because of both Rodgers and the Pro Bowl tight end have been in touch and have talked about playing together according to Mike Garafolo of the NFL Network (via Will Brinson of CBS Sports).
Graham has been in the NFL since 2010 and has reached the Pro Bowl five times including his last two seasons with the Seattle Seahawks. He spent his first five seasons with the New Orleans Saints and was a Pro Bowler three times during that span. In 2017, Graham recorded 57 receptions, 520 yards and 10 touchdowns. And if you compare that to the four Packers tight ends who saw action last year, they combined for 68 receptions, 627 yards and two touchdowns.
Win $1,500, 5-year subscription and more playing 247Sports Pick'em
Rodgers is coming back from a broken collarbone he suffered in early October. Since Jermichael Finley was forced to retire from the NFL after the 2013 season, Rodgers has not worked with an impact tight end consistently. The Packers did sign Martellus Bennett last year, but he was waived midway through the season and he did not score a touchdown when Rodgers was on the field. In 2016, it looked like Jared Cook was going to be a solid tight end for the Packers as he finished the year with 377 yards and one touchdown. However, the Packers were not able to re-sign Cook as he joined the Oakland Raiders in 2017.
So the Packers could be on the verge of signing Graham. And when it comes to the asking price, it will likely be around $6 million per season which is less than what the Packers offered to Bennett. A few other teams including Graham's former the team, the New Orleans Saints, have shown interest in the All-Pro tight end. But the idea of working with Rodgers has to be very appealing to Graham, and the fact they have already built a relationship off the field will make it easier to make plays on the field.