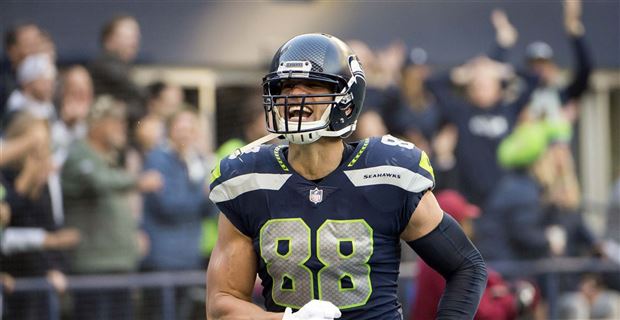 The Green Bay Packers have started to make their moves in the free agency period. On Monday, NFL teams got the green light to start negotiating with players who are going to be free agents on Wednesday. And the Packers wasted no time as they are looking to sign the top tight end in free agency. According to Mike Garafolo of the NFL Network, the Packers have reached out to the representatives of Jimmy Graham who has spent the last three seasons with the Seattle Seahawks. The Packers are in need of a tight end after waiving Martellus Bennett halfway through last season.
Graham has been in the NFL since 2010 and has reached the Pro Bowl five times including his last two seasons with the Seahawks. He spent his first five seasons with the New Orleans Saints and was a Pro Bowler three times during that span. In 2017, Graham recorded 57 receptions, 520 yards and 10 touchdowns. And if you compare that to the four Packers tight ends who saw action last year, they combined for 68 receptions, 627 yards and two touchdowns.
Win $1,500, 5-year subscription and more playing 247Sports Pick'em
The market value for Graham is $6.7 million per season, which will be slightly less than what Bennett signed for last year. Graham would be a strong addition to the Packers roster and it would give Aaron Rodgers another weapon to work with. However, there will be a number of teams who will be after the All-Pro tight end, so the Packers will have their share of competition for Graham. If the Packers can't get Graham, there are a few more free-agent tight ends the teams can go after. Tyler Eifert, Ed Dickson and Austin Seferian-Jenkins are a few of the tight ends who could be fits for the Packers, or they can get a more seasoned veteran player like Antonio Gates or Benjamin Watson. But it's clear the Packers want another big target for Rodgers to go along with Davante Adams.