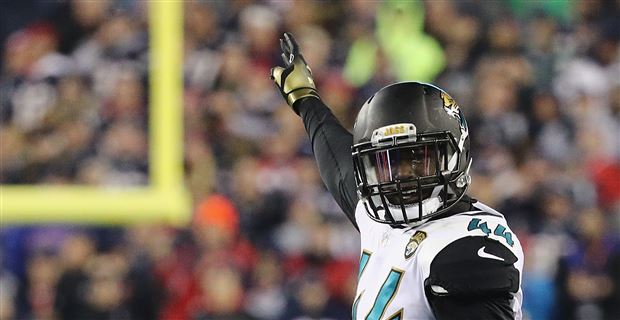 After winning the AFC South in 2017 and advancing all the way to the AFC Championship Game, Jacksonville Jaguars fans have once again found their voice. And they all have but one thing to say.
Myles Jack wasn't down.
Months after that fateful night in Foxboro, Jaguars fans are still seething over a highly-questionable call made by NFL referees late in the game between the Jaguars and New England Patriots, when Jaguars linebacker Myles Jack stripped the ball from Patriots running back Dion Lewis, and had an unabated path to run the ball back to the endzone for a fourth-quarter defensive touchdown that would have put the Jaguars up 26-10 and likely would have secured the Jaguars' first-ever Super Bowl berth. The referees, however, whistled the play dead, ruling that Jack was down by contact. And ever since the Patriots emerged victorious, all of Duval County has lamented the alleged screwjob of their beloved Jags.
According to a report by Phillip Heilman of The Florida Times-Union, Jags fans can now fill their stomachs with the call that changed their fortunes, as Intuition Ale Works in downtown Jacksonville has released a new beer called "Myles Jack wasn't down Belgian Tripel". The beer was released on-tap in early June.
The beer was masterminded by Intuition owner Ben Davis, a self-described "long-suffering" Jaguars fan. Among beer, the Belgian Tripel is known for its complexity - and its bitterness.
"We want to promote the Jaguars," Davis told Michael DiRocco of ESPN. "A lot of our biggest drinkers and supporters are Jags fans and are the demographic that kind of gets behind them. And I truly hate the Patriots."
Even if they can now drink to the statement, Jaguars fans aren't letting the NFL get away with whistling the biggest play Myles Jack has ever made dead. Throughout the offseason, Jaguars fans have proclaimed the "Myles Jack wasn't down" mantra, including it on sign at a WWE event and including it in a High School graduation speech. One Jags fan went so far as to send a direct message to U.S. President Donald Trump on Twitter, claiming that he had evidence that accusations against the President of collusion with Russia to help him win the Presidential nomination were nothing more than a witch-hunt - Only to tell President Trump that Myles Jack was, indeed, not down (The President blocked the user, Johnny M., for his funny stunt).