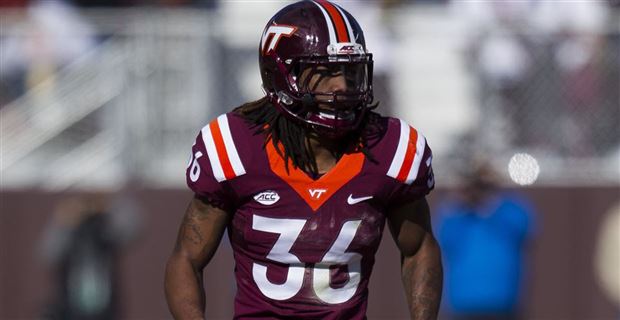 The Kansas City Chiefs were among four NFL teams to have met this week with Virginia Tech cornerback Adonis Alexander, according to a report from Tony Pauline of DraftAnalyst.com. Alexander is one of three players to have applied for this year's NFL supplemental draft that have a chance to be selected, along with cornerback Sam Beal of Western Michigan and safety Brandon Bryant of Mississippi State.
Alexander held a pro day-style workout for scouts Wednesday, during which he ran a 4.61-second time in the 40-yard dash and a 7.18-second time in the 3-cone drill while posting a 35.5. inch vertical jump and a 10-foot-4-inch broad jump. Pauline rates Alexander as a third-round pick, while CBS Sports rates Alexander as a Round 5-7 draft pick.
"Tall, man-to-man cornerback who has experience making plays on the football in zone coverage," wrote Chris Trapasso of CBS Sports. "Being as tall as he is, Alexander lacks ideal change-of-direction skills and has a tendency to watch the quarterback for too long, a combination which makes him susceptible to routes with multiple cuts or double moves. His 2016 film was much better than 2017. Not slow but certainly wouldn't be labeled as a speedy cornerback. Has moments of good, willing run-support, but he's not consistent in that area. Big plus is obviously his length, which will allow him to get his hands on some passes when there's separation. Will struggle with faster and/or quicker wide receivers at the next level. Needs to almost solely cover larger, outside wideouts in the NFL."
During a supplemental draft, NFL teams are grouped in an order based on their performance during the previous season and players are awarded to the team that bids the highest draft pick. Teams that make a successful bid will have to give up a draft pick of the corresponding round in the 2019 draft, and if two or more teams bid a draft pick of the same round, the player goes to the team that is higher in the draft order. The last player to be selected in a supplemental draft was former Clemson offensive lineman Isaiah Battle, who was chosen by the Rams in the fifth round in 2015. Other recent selections include Terrelle Pryor by the Oakland Raiders in Round 3 of the 2011 supplemental draft and Josh Gordon by the Cleveland Browns in Round 2 of the 2012 supplemental draft.
Alexander played in 34 games at Virginia Tech (15 starts) and posted 126 tackles, 4.5 tackles for loss, seven interceptions, one forced fumble, and one sack. He was selected by College Football News and Pro Football Focus as a second-team All-American as a safety during his true freshman season, then moved to cornerback as a sophomore. He also had a couple of off the field issues, including a suspension in 2016 for possession of marijuana and a suspension in 2017 for "not living up to" Virginia Tech's standards and expectations.
Alexander stated on Twitter earlier this month his decision to enter the supplemental draft had to do with him being ruled academically ineligible by Virginia Tech.
"After last season, my family and I received positive feedback from the NFL, but I decided to return to Virginia Tech to make a run at the National Championship with my brothers," Alexander wrote. "Unfortunately, I have been ruled academically ineligible for the upcoming season and have therefore decided to apply for the NFL's Supplemental Draft. I take full responsibility for not taking care of my business in the classroom. I will use this tough lesson as motivation to get better and learn from my mistakes as I become a professional. I appreciate all the support VT's coaches and athletic department have given to me during my time on campus. Thank you all again! Hokie for life!"
(h/t VT Scoop and ArrowheadPride.com)