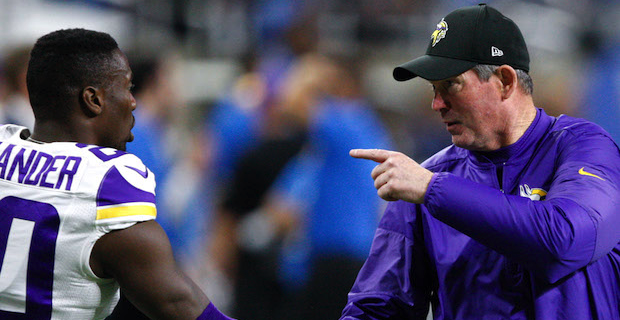 The Minnesota Vikings surpassed expectations last season when they won 13 games and made a trip to the NFC Championship game, but nobody in the Twin Cities and across the NFL is treating that like a Cinderella season. Now, they are expected to build on it and potentially surpass it in the seasons that are set to come after inking quarterback Kirk Cousins to a huge contract.
CBS Sports' Will Brinson has been taking a look at the over-under win totals set by Vegas, who set the Vikings at 10 wins for the 2018 season. He believes that there will not be a dropoff from last year and that they are going to end up winning more than the amount of games that the gambling world has set them at.
"I keep thinking back to the stretch of games after their bye last year when they almost beat the Lions, Falcons and Panthers in back-to-back-to-back weeks ... on the road," he wrote. "This is just a mentally tough team who manages to grind people out with its defense. Zimmer's a great coach who doesn't fully get the recognition he deserves. If Cousins spikes this offense, the Vikings are going to win a lot of games. "
With all of that being said, the NFL can be unpredictable and one injury or bad beat could change the outlook of the entire season. Sometimes it happens for the best, sometimes for the worst, but Brinson wants to caution people who say that it is Super Bowl or bust in Minneapolis.
"It's hard to see this team just totally cratering because of the defense and the coaching, but 10 wins is a ton in the NFL, even for a good team," he said. "A few bad breaks, a couple of injuries to key players (or a quarterback) and a disappointing 9-7 season is on you faster than you realize."
The Vikings have had one of the busiest offseasons in the NFL and it began before most did. Staring down a quarterback decision following a season that saw a breakout in Case Keenum and two other starting-caliber players in Sam Bradford and Teddy Bridgewater, they elected to let each man walk out of the Twin Cities without a contract and make a run at Cousins. He would sign a deal for a fully-guaranteed $84 million over three seasons, which at the time made him the highest-paid player in the NFL and gives them stability at the quarterback position for the first time in a long time.
The expectation in Minnesota is not just win the division and go to the playoffs anymore, it's all hands on deck. Anthony Broome of the Vikings on 247Sports joined Will Brinson on the Pick Six Podcast to break down the Minnesota Vikings offseason, their draft, what to expect out of Kirk Cousins and John DeFilippo this coming season, whether the Vikings should be the favorites in the NFC North over the Packers and much more. Want a 30-minutes-ish, daily dose of football in your podcast app inbox by 6 a.m. to get you through that commute or gym trip? Subscribe: via iTunes | via Stitcher | via TuneIn | via Google Play
The quarterback storyline did not end there as the team also traded for a former starter in Trevor Siemian to be the backup to Cousins and battle it out with Kyle Sloter for depth chart positioning. The offense received a new playmaker in the form of wide receiver Kendall Wright, a former first rounder that spent last season with the Chicago Bears.
Minnesota would make a big splash on the other side of the ball with much-needed upgrade on the league's No. 1 defense in the signing of defensive tackle Sheldon Richardson. The former Pro Bowler agreed to a one-year deal to play next to Linval Joseph up front in hopes to compete for a Super Bowl and then cash in during free agency next offseason.
With most of their needs filled heading into the 2018 NFL Draft, the Vikings were able to go into that event with an open mind and took a chance on prospects with upside. They drafted some secondary help in the form of Mike Hughes out of UCF to give them a talented piece at cornerback and followed it up in the second round with offensive tackle Brian O'Neill out of Pittsburgh. Depth at defensive tackle and at tight end was also addressed in the form of Jalyn Holmes from Ohio State and Tyler Conklin from Central Michigan.
Auburn kicker Daniel Carlson, Appalachian State guard Colby Gossett, Tulane defensive end Ade Aruna and California linebacker Devante Downs would round out the rest of their draft class. The team also brought in 17 undrafted free agents, headlined by Texas cornerback Holton Hill, Jacksonville State running back Roc Thomas and Washington State defender Hercules Mata'afa.
Training camp kicks off in late July before the team opens the 2018 preseason against Keenum and the Denver Broncos on Aug. 11.