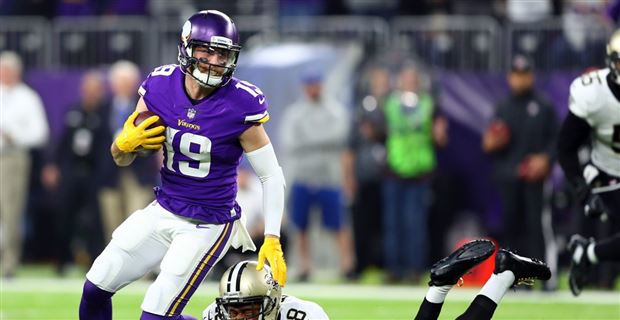 The Minnesota Vikings will have a few well-known current and past players participating in this weekend's American Century Golf Championship in Lake Tahoe this weekend.
Adam Thielen, who was a member of the Detroit Lakes (Minn.) High School state championship golf team, might be the best among them. Last year, Thielen finished 29th among celebrities in the tournament, shooting rounds of 80, 79 and 76 at Edgewood Tahoe South.
Thielen's main quarterback last year, Case Keenum, will be playing in the golf tournament this year. Keenum signed a two-year contract with the Denver Broncos that averages $18 million annually after throwing for 3,547 yards and 22 touchdowns in 2017.
Thielen was the most productive of Keenum's targets, with career highs in receptions (91) and yards (1,276) last year, becoming the first Vikings receiver to eclipse 1,000 yards since Sidney Rice in 2009.
Another famous former Viking will also be in the celebrity portion of the Lake Tahoe tournament this weekend. Former defensive end Jared Allen, who was with the Vikings from 2008-13 and was a five-time Pro Bowl defensive end, is back for more golf this year. In 2017, he shot rounds of 88, 86 and 82. Allen has also raised funds for housing projects for injured military families returning from duty who need modified homes because of their injuries.
There were indications that Vikings head coach Mike Zimmer was considering playing in the event, but he is not. Had he played, we could have compared his score to the two coaches he faced in the 2017 playoffs. New Orleans Saints coach Sean Payton and Philadelphia Eagles coach Doug Pederson are both playing in the tournament. Payton didn't play last year, but Pederson shot 82-82-86 to finish tied for 49th among celebrities.
Other Minnesota connections are also playing the popular celebrity portion of the event.
SIGN UP FOR FREE VIKINGS NEWSLETTER
FREE 7-DAY TRIAL VIP SUBSCRIPTION
Arizona Cardinals receiver Larry Fitzgerald, who grew up in Minneapolis and has been a fan favorite in his homestate, is playing in the tournament this year. He has made the Pro Bowl in 11 of 14 NFL seasons, but he has developed a love for the game of golf, too.
Mardy Fish, an Olympic silver medalist in tennis who was born in Edina but moved to Florida with his family before he reached grade school, is also a good golfer. Last year, Fish finished second among celebrities at the Tahoe tournament, shooting 71-72-76.
Green Bay Packers quarterback Aaron Rodgers is playing again this year after finishing eighth in the celebrity field with rounds of 74-76-76.
Actor and comedian Larry The Cable Guy, who has a vacation home in northwest Wisconsin, is also playing in the tournament again. He plays several times a summer in Wisconsin, but he isn't in the same category as guys like Thielen and others who regularly shots in the 70s or 80s. Larry shot rounds of 90-97-93 last year.