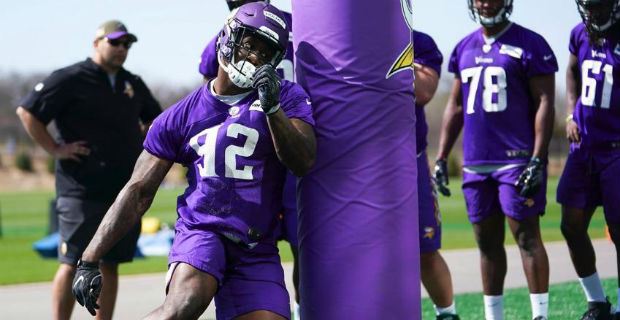 Jalyn Holmes has been getting his feet wet and getting up to speed with the Minnesota Vikings defense after being selected in the fourth round of the 2018 NFL Draft, but the start of his NFL career has hit a bit of a speed bump. Head coach Mike Zimmer spoke to Paul Allen on KFAN radio on Wednesday morning and revealed that the defensive lineman is dealing with a broken hand.
Holmes has missed the last few weeks of OTAs and will be out for the mandatory minicamp this week at the TCO Performance Center in Eagan, Minnesota. He said on Tuesday to the media that he expects to be ready for training camp when it kicks off in mid-July. The former Ohio State Buckeye is projected to slide to the three-technique spot for the Vikings, which is a role that 247Sports' Alex Gleitman thinks suits him when we spoke to him following the draft.
"I definitely could see him at three-technique for the Vikings," Gleitman said. "Ohio State used a "Rushmen" package on third downs, where they slid Holmes and (Nick) Bosa to the inside, and kept Lewis and Hubbard on the outside. Holmes was very effective in that formation, but playing the position regularly at the NFL level is a whole different beast. I think he'll need to add more weight and strength to be an every down three-tech, but he does have the ability to do that in the long term. If he can successfully make that transition, he could be very dangerous with his ability to get to the quarterback."
Despite the injury setback, the outlook for Holmes could still be positive. In the same interview with Gleitman, he sees the lineman as a candidate to be a more successful pro player than he was in college.
(The draft is over, the roster is all but set and the Vikings now prepare for a run to the Super Bowl --Don't miss out on the action. Sign up for our FREE newsletter today!)
"He's actually the type of kid, and I said this before he was drafted, that I could easily see being more productive in the league versus in college," he said. "A big reason for that could be opportunity, if he earns it, as he didn't ever get the chance to play every down for the Buckeyes. Another reason could be that he has been more of a late developing type of talent. Finally, he just may fit better, when it comes to his skill-set, in the NFL versus college."
Holmes did not play much during his first two seasons at Ohio State, but came on in the last two years. He played in 36 career games in Columbus and had 15 tackles for loss and five career sacks on his resume while being a role player for most of that time. His presence and leadership with the program was rewarded when he was named a team captain during the 2017 season.
The Vikings traded out of the third round into the No. 102 overall pick, which they used on Holmes to help boost their depth up front on the defensive line. They will sport a bit of a different look there this season after inking former Pro Bowler Sheldon Richardson to a one-year deal and losing Tom Johnson and Shamar Stephen in free agency to the Seattle Seahawks in what works out to be essentially a trade between them and Minnesota. Holmes is expected to compete with second-year pro Jaleel Johnson for snaps at defensive tackle behind Richardson and Linval Joseph.