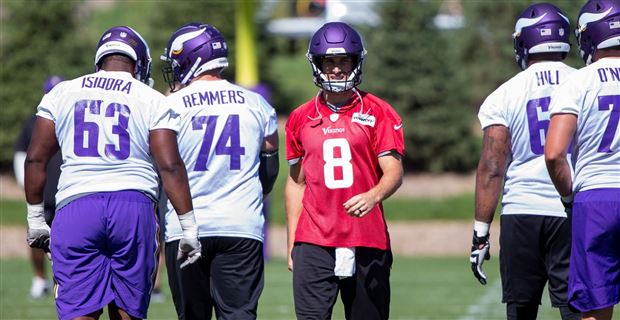 With their first training camp at their new headquarters in Eagan, Minn., this year, the Minnesota Vikings have already seen about the same number of tickets reserved for training camp this year as they averaged in Mankato in previous camps.
The Vikings had been seeing about 60,000 to 65,000 fans attending recent training camps at Minnesota State, Mankato, but after moving into their Twin Cities Orthopedics Performance Center in March, they will host their first training camp in the Twin Cities in franchise history after 52 years in Mankato and previous years in Bemidji, Minn.
Less than two weeks into the ticketing process for this year's camp, the team has seen more than 60,000 of the available 90,000 tickets reserved, according to Director of Communications Jeff Anderson. The team is limiting tickets to 5,000 fans for each of the 18 practices.
"We feel good about the number right now. We expected a surge right out of the gate, both with season-ticket members and with the general public," Anderson said. "Any time we go on sale with things we see a jump out of the gate and then we'll see a little bit of a lull and then we'll see it pick up again … as we get closer to camp, after we get back from the Fourth of July break."
Of the 5,000 daily tickets available, 1,000 of those come at a cost of $20 per ticket for reserved seating. The remaining 4,000 are general admission and free. Tickets were available to season-ticket holders starting on June 21 and to the general public on June 25, with 1,300 tickets per day held back for non-season-ticket holders.
So far, the night practice on Saturday, Aug. 4 and the two joint practices with the Jacksonville Jaguars on Aug. 15-16 are at capacity.
FREE 7-DAY TRIAL VIP SUBSCRIPTION
INTERACT WITH VIKINGS FANS ON MESSAGE BOARD
"We still have availability for most days, particularly for the rookies-only practices," Anderson said. "What's pretty typically is we see lower numbers on Mondays and Tuesdays of the week, so nothing has changed in that regard. A little lower numbers on those days."
About 8,000 tickets for reserved seating at $20 apiece and 22,000 for general admission remain available.
"We fully expect to blow through all 90,000 tickets by the time camp starts," Anderson said, "but we could have some space during those rookie-only practices the first two or three days."
The first rookie practice is July 25 and the first full-team practice is July 28. The first full-pads practice is July 29. For the full training camp schedule, click here.
The Vikings have about 2,200 parking spaces on-site that can be reserved for $10 per day. Reservations for free or reserved-seating tickets and parking passes can all be done in advance at the team's site online or through TicketMaster.com.