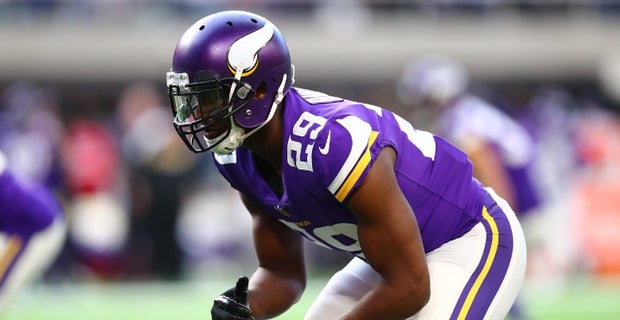 Xavier Rhodes doesn't seem to subscribe to the motto of "win some, lose some." At least that wasn't the case in Tuesday's practice for the Minnesota Vikings' top cornerback.
When the Vikings went into a full-team session, Rhodes undercut a 20-yard pass from Kirk Cousins to Adam Thielen and made a diving interception. Later in that session, Rhodes got beat.
It wasn't just that he was beaten for a 50-yard touchdown on a perfectly thrown deep ball from Cousins to Stefon Diggs, it was his reaction to it. After Diggs celebrated the play by tossing the ball into the stands, sending fans scurrying for it, Rhodes was determined to face Diggs again.
"That comes out sometimes, that competitive nature. We want to see that after a play like that, guys competing out there," safety Anthony Harris said. "Stefon makes a big play. We want to see that competitive edge, wanting to get right back in there and go back at the person and compete."
Rhodes wasn't simply competing. He was angry.
He waved off attempts to get him off the field when the second-team defense's turn came. He even stayed out with the third-team defense, calling emphatically for Diggs to return to face him.
"I've seen that before. I can't quite point out a situation where that actually happened – I can't remember the specific players – but I've seen that since I've been here," Harris said of players refusing to come off the field in practice. "I've seen it in team, I've seen it on one-on-one when the receiver gets beat and when the next guy is up and the next turn he wants to jump right back in there even if he's not the next up in line because he wants to get that matchup again."
The normally accommodating Rhodes waved off an interview attempt after practice and Diggs had other obligations immediately after practice.
Rhodes stayed on the field for about 10 more plays. If he couldn't get a Diggs rematch, a shove of backup receiver Brandon Zylstra after a short reception would have to do.
SIGN UP FOR FREE VIKINGS NEWSLETTER
FREE 7-DAY TRIAL VIP SUBSCRIPTION
"He kept it all fair. He kept it within football, which we like. You don't want to see guys out here physically getting into a fight," Harris said. "That right there brings a little edge to practice. It seemed like it picked up a little bit more right after that. Sometimes that's good to get that nice chip, the nice little spark back and forth to excite practice a little bit."
"… One day there's laughing and joking and making each other better and the next day there's competition like that. We just need to continue to make each other better each day."
Diggs has been especially good and excitable this training camp after signing a five-year, $72 million extension on July 31. One year and one day earlier, on July 30, 2017, Rhodes signed his five-year, $70.1 million extension.
The matchup pitted highly valued and highly compensated receiver vs. cornerback, but on Tuesday it also provided high entertainment, too.
TUESDAY PRACTICE NOTES
While most of the injuries have been on the offensive side of the ball, nose tackle Linval Joseph (undisclosed) was a significant player sidelined on defense Tuesday afternoon. He attended the start of practice without pads but eventually went inside.
Second-year defensive tackle Jaleel Johnson took the starting reps for Joseph.
The rest of those sitting out were on the offensive side of the ball – offensive linemen Pat Elflein (shoulder/ankle), Nick Easton (neck/back) and Mike Remmers (leg) and receiver Tavarres King. Receiver Chad Beebe and running back Roc Thomas went through some drills but were held out of full-team work.
Diggs had several crowd-pleasing catches during one-on-one work.
Kyle Rudolph made a catch in a crowd about 25 yards downfield and in between Harris, Jayron Kearse and Ben Gedeon.
Dalvin Cook rattled off some sizeable gains with interior runs.
Kicker Daniel Carlson, who was 2-for-4 on Monday after missing from 45 and 55 yards, hit a 39-yarder on Tuesday at the end of a situational drill.
Mike Hughes, Marcus Sherels an Stacy Coley were the top kick returners.
The Vikings named former Gophers linebacker Nick Rallis their defensive quality control coach.