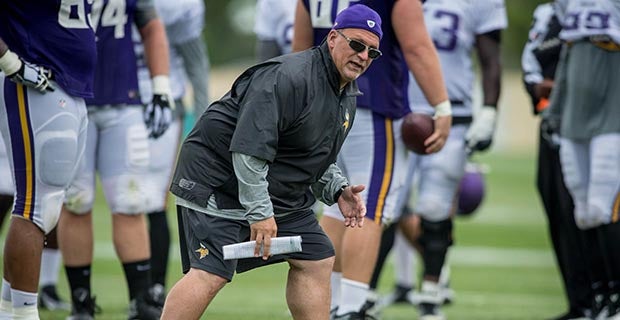 Tony Sparano passed away late last month prior to the start of Minnesota Vikings training camp, leaving the team without an offensive line coach and a veteran presence on the staff. However, it looks like the team will be commemorating him this upcoming season, starting with Saturday's preseason game against the Denver Broncos, by wearing a helmet sticker in his honor.
Below is a look at the "TS" stickers that the Vikings will be wearing, courtesy of "Life Of A Vikes Fan" (@SkolBros) on Twitter.
Vikings have 'TS' decals on the back of their helmets for Tony Sparano. pic.twitter.com/J9CFRtTSDH

— Life Of A Vikes Fan (@SkolBros) August 6, 2018
The Hennepin County Medical Examiner's office released the official cause of death report for Sparano, 56, following his untimely passing. He died at his home of natural causes stemming from arteriosclerotic heart disease at 8:54 a.m. CT Sunday after medical attention was called for at 8:07 a.m. CT on July 22.
According to the Mayo Clinic, "Arteriosclerosis occurs when the blood vessels that carry oxygen and nutrients from your heart to the rest of your body (arteries) become thick and stiff — sometimes restricting blood flow to your organs and tissues. Healthy arteries are flexible and elastic, but over time, the walls in your arteries can harden, a condition commonly called hardening of the arteries."
Sparano coached a group in 2016 that was considered one of the worst offensive lines in the league, but the unit took huge steps forward in 2017 under his mentorship and helped lead the team to a berth in the NFC Championship game. He was laid to rest on July 27 in a private funeral ceremony that a majority of the Vikings organization attended.
(Training camp is in full swing and position battles are being decided on the field for the Minnesota Vikings --Don't miss out on the action. Sign up for our FREE newsletter today!)
He had held his post with the team since the 2016 season and had been in the league as an assistant since the 1999 season. His stops included the Cleveland Browns, Washington Redskins, Jacksonville Jaguars, Dallas Cowboys, Miami Dolphins, New York Jets, Oakland Raiders, San Francisco 49ers and the Vikings. He was the head coach of the Dolphins from 2008-11 and interim head coach of the Raiders in 2014. Assistants that have worked under Sparano that have gone on to get head coaching jobs include Paul Pasqualoni at the University of Connecticut (now defensive coordinator of the Detroit Lions, John Bonamego at Central Michigan University and Todd Bowles of the New York Jets.
Sparano got his start in coaching at his college alma mater, which was Division II New Haven. He also spent time at Boston University. He is survived by his wife, Jeanette, two sons, Tony and Andrew, daughter Ryan Leigh and four grandchildren.