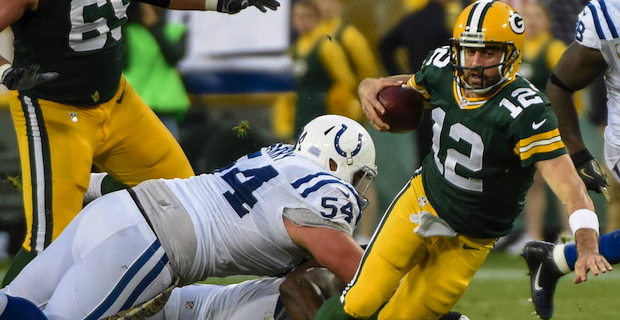 David Parry has signed with the Minnesota Vikings and the picture looks like it could be all but finalized heading into the summer and preseason in terms of the rotation at defensive tackle. General manager Rick Spielman and head coach Mike Zimmer wanted to boost their depth this offseason and the signing of the former Indianapolis Colt and New Orleans Saint gives them more of that in the trenches.
This move could be best described as insurance for Linval Joseph, who has held the fort down at nose tackle for this team and has done it as well as anyone in the league. However, the Vikings did not have a true backup for him in a situation where he needs to be substituted out or, worse, even injured. They addressed the defensive tackle position in the draft with the selection of Jalyn Holmes out of Ohio State, but he is projected to play the three-technique or even be used at times on the edge at the next level as he transitions to the NFL. Second-year Jaleel Johnson is in that same mold.
Parry was pretty much a non-factor for the Saints in 2017, suiting up for only one game before being placed on Injured Reserve, but he should not be written off because of that. Prior to joining New Orleans, he started all 32 games he played in during his first two seasons in the league with the Colts after being selected in the fifth round of the 2015 NFL Draft, where he gathered four sacks in that time. Those Indianapolis defenses have been largely bereft of talent on defense as of late, but that sort of production is difficult to overlook.
The other thing that will be pointed out is his legal history. He was arrested in February 2017 on charges of suspicion of robbery, auto theft, criminal damage, resisting arrest and DUI after stealing a golf cart in Scottsdale, Ariz. Parry would ultimately be charged on counts of felony robbery, felony unlawful use of transportation and misdemeanor threats, but was able to avoid jail time after pleading guilty to disorderly conduct and attempted unlawful means of transportation. To this point, he has not received any discipline from the league.
(The draft is over, the roster is set and the Vikings now prepare for a run to the Super Bowl --Don't miss out on the action. Sign up for our FREE newsletter today!)
Nobody is expecting Parry to push for a starting job in Minnesota, but they clearly liked what they saw when he was brought in to the team facility for a workout late last week. He will fight for a roster spot during the preseason like the other guys that are not entrenched into the lineup and as it was stated above, he could wind up being a solid backup option to Joseph as more of a nose tackle.
As far as who he is up against for a roster spot along the defensive line, here are the players currently on the 90-man roster:
Defensive Ends (8): Ade Aruna, Tashawn Bower, Everson Griffen, Danielle Hunter, Ifeadi Odenigbo, Brian Robison, Stephen Weatherly, Jonathan Wynn (rookie).
Defensive Tackles (6): Curtis Cothran (rookie), Jalyn Holmes (rookie), Jaleel Johnson, Linval Joseph, David Parry, Sheldon Richardson.
Griffen, Hunter, Robison, Holmes, Johnson, Joseph and Richardson should all be safe with about two spots remaining if the Vikings want to keep nine defensive linemen on the roster, which was the number they were at last year. Parry, Aruna, Bower and Weatherly appear as if they could be the three favorites for the final two spots in that scenario.
The top of the roster seems rather set on a team with Super Bowl aspirations, but there could be some intense competition for the guys that will fill things out on the back end. Competitive football guys like Zimmer would likely have it no other way.